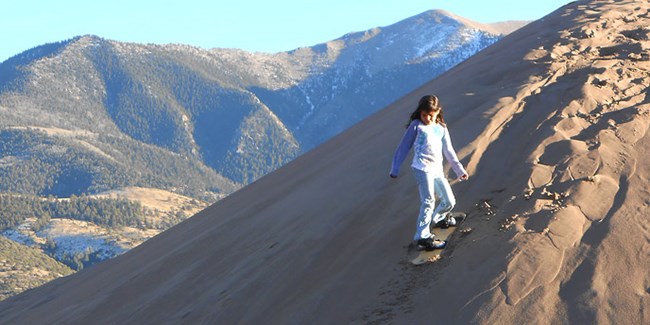 "The fundamental purpose of parks and reservations...is to conserve the scenery and the natural and historic objects and the wild life therein and to provide for the enjoyment of the same in such manner and by such means as will leave them unimpaired for the enjoyment of future generations."
- from the National Park Service Organic Act of 1916
The National Park Service has a dual mission: to conserve scenic, natural and cultural resources to leave them "unimpaired" for future generations, while providing for the enjoyment of people today. These two often seem to be in conflict, but the bottom line is that the NPS is responsible to provide for the enjoyment of parks, while never allowing that enjoyment to impair resources or the safety and enjoyment of other visitors. Futher, the dunefield and most of the Sangre de Cristo Mountains are federally designated wilderness areas. The policies below are made in accordance with the NPS Organic Act and Wilderness Act.