Special Use Permits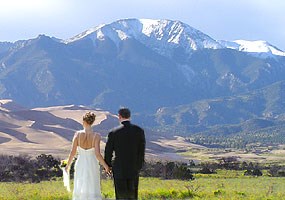 Special Use Permits Overview
Special Use Permits must be acquired:
For authorization of commercial use such as portrait photography, concessions or commercial guiding, please visit our Commercial Use Authorizations page.
For questions or for more information,
email
or call the Chief Ranger at 719-378-6321.
Please download the appropriate application below (General Special Use Permit Application, Commercial Filming Permit Application, or Commercial Use Authorization), complete all sections, and mail with any required fees to:
Chief Ranger
Great Sand Dunes NPP
11500 Hwy. 150
Mosca, Colorado 81146
Attn: Special Use Permits

Weddings and Other Special Events
General Special Use Permit Application (for weddings and other special events; Word file, updated 2017)
There are a number of locations that may be used for weddings, including locations along the edge of the dunes, the picnic areas, and the Amphitheater. View images of potential wedding locations:
Amphitheater View #2, Wide Angle View
Edge of Dunes (wedding photo at Castle Creek Picnic Area, 4WD access along Medano Pass Primitive Road).
Weddings may take place outside the wilderness boundary of the dunefield, on the close side of Medano Creek, as long as they do not hinder other visitors' enjoyment of the park.
North Ramada Picnic Area View #1
(first-come, first-served group picnic site)
North Ramada Picnic Area View #2
(first-come, first-served group picnic site)
South Ramada Picnic Area View #1
(reservation-only group picnic site)
South Ramada Picnic Area View #2
(reservation-only group picnic site)


Commercial Filming and Photography
Important Restrictions
Commercial Filming is prohibited within all Wilderness Areas within Great Sand Dunes National Park and Preserve; this includes the main dunefield (see map below).

Drone use is strictly prohibited in all National Parks, including Great Sand Dunes National Park and Preserve.
Application Forms
The National Park Service and Great Sand Dunes National Park and Preserve require an application to be submitted for review of the project. The
short form
(Word file, updated January 25, 2017) is to be used for still photography and some smaller video/film projects. The
long form
(Word file, updated January 25, 2017), is to be used for more complicated video/film projects where more information is required to evaluate the application.
Remember, you are dealing with a Federal government agency and we have guidelines and time lines we must follow when considering projects which involve potential impacts to our park resources. Moreover, we must do this within pre-existing projects and workloads. Do not expect a one-day turnaround. Provide as much lead time as possible. Include us at the idea stage. It is easier for us to adjust to changes as the plan evolves, than for us to try to rush through a review of a finished plan that needs to be implemented tomorrow. Up to two weeks may be required for administrative review of a complex proposed filming activity while smaller projects can generally be reviewed within three business days. Please allow adequate time for this review process as questions may arise that would delay a decision.
Who Needs a Permit?
Commercial,* non-profit, documentary, promotional, or educational films, including entertainment broadcasts and some student projects
Filming for stock footage REGARDLESS OF EQUIPMENT
Commercial still photography using models**, sets or props
Time-lapse photography if the final sequence will be used in a motion picture format for commercial purposes
Sound recording projects that require more than handheld equipment, more than one person or NPS oversight
Wedding/ portrait photography if final product will be used for advertisement
Use of large or unusual equipment, even for non-commercial purposes if activities warrant NPS oversight
*Commercial filming is defined as digital or film recording of a visual image by a person, business, or other entity for a market audience, such as for a documentary, television or feature film, advertisement, or similar project. Under P.L. 106-206, all commercial filming requires a permit and is subject to a location fee and cost recovery charges.
**Model means a person or object that serves as the subject for commercial filming or still photography for the purposes of promoting sales or use of a product or service. Models include but are not limited to, individuals, animals, or inanimate objects such as vehicles, boats articles of clothing, and food and beverage products.
Permits are NOT Generally Required When:
Visitors are engaged in filming/photography intended for their personal use and enjoyment.

Media Breaking News- Breaking news is an event that cannot be covered at any other time or at any other location. Filming of breaking news does not involve advertising, sets, props, or models. Coverage of breaking news does not require a permit, but film crews may not disrupt park visitors, damage park resources, or compromise public health and safety regulations. Information on breaking news comes from the Park's Information Officer.

Other Media- Frequently there are opportunities for news organizations to focus on park programs, or increase public awareness of park-specific issues. Filming related to these stories must be coordinated and planned in advance. A permit will be issued if it is determined that the park would benefit from the increased public awareness. The National Park Service may assist with your research and/or offer interviews, if staff members are available. Contact the Special Park Use Coordinator at 719-378-6321.
Permit Types and Fees
The application fee includes two hours of administrative time; including phone calls, correspondence, application review, and project consultation, scheduling park staff, permit issuance, follow-up and billing. Additional administrative time will be billed at a rate of $50/hour.
Production Film or Still Photography Permit: $200
Projects with greater oversight and coordination (more complexity; often called a production permit).
Commercial videographers, photographers, or cinematographers with crews of three or more, involving one or more of the following: crew larger than 2 people, interviews, NPS staff research or monitoring requests, compliance, sensitive locations, filming in wilderness areas, commercial vehicles, props and additional equipment (i.e. monitors, lights, etc). May be valid for the duration of the project not to exceed 1 year.
Student Film or Still Photography Permit: $100
(valid for a single production OR annual stock permit only for students with proof of current enrollment of an accredited school).
Location Fee
Public Law 106-206 instructs the Secretaries of the Interior and Agriculture to "establish a reasonable fee for commercial filming activities or similar projects on Federal lands…" Early in April, 2006, the National Park Service published a final rule removing the prohibition against the NPS charging a fee "for the making of motion pictures, television productions or sound tracks…" Beginning May 15, 2006, a location fee will be charged for all commercial filming and still photography permits. The location fee is in addition to cost recovery charges that are currently being collected.
Beginning May 15, 2006 the following location fee schedule is in effect:
Motion Pictures/Videos Commercial Still Photography
Motion Pictures/Videos
Commercial Still Photography
1-10 people
$150/day
1-10 people
$50/day
11-30 people
$250/day
11-30 people
$150/day
31-49 people
$500/day
31-49 people
$250/day
Over 50 people
$750/day
NPS Monitors
Great Sand Dunes National Park and Preserve staff will be required to monitor certain filming, photography and sound recording activities. Crews are responsible for paying daily location fees and for monitors as well as any staff costs associated with the project (at $50/hour). This fee will be paid before the permit is issued. Monitors are generally required for large crews or projects with extensive equipment, or when there is potential for impacts to visitor use or resource damage.
On-Camera Appearances
On-camera appearances by employees are allowed under the following conditions:
The employee is selected and/or approved by park management, and is depicted performing his or her normal duties, or serving as a subject matter expert.
The employee's appearance supports NPS goals and has a beneficial effect for the Service.
The role is not scripted.
The employee is paid by the park as part of his or her regular working hours. The permittee will reimburse the park for this cost as part of the monitoring cost recovery ($50/hour).
If the filming requires overtime or back filling of positions, the NPS will be reimbursed for any such additional costs through the permitting process.
The Standards of Ethical Conduct for Employees apply. Generally, employees are forbidden from accepting gratuities from prohibited sources. However, there are exceptions that allow employees to accept modest items of food and refreshment.
Off duty Government employees may work for filming companies only if they do not perform or appear to perform official duties. Personnel engaged in actual supervision of the permittee are not allowed to engage in off-duty employment with the filmmaker under any circumstance. The Superintendent must approve off-duty employment requests.
Insurance
General liability insurance is required. This is an original certificate of insurance with a rider stating that the United States of America is named as additionally insured and must be provided to the park before the permit is issued and filming begins. Insurance amounts may vary depending on the complexity of the project as well as risks. The general bond schedule is:
Personal liability: $300,000
General commercial liability for video or film production companies: $1,000,000
When employing stunts or other higher risk activities: between $2,000,000 to $5,000,000
Performance Bonds

Some projects may require a performance bond or cash deposit. The purpose of the bond is to insure that the natural area or historic feature is left in as good a condition as it was prior to the filming, and to cover any unpaid costs incurred as part of the project. Generally, bonds or deposits will be required in amounts at least equal to the estimated cost to the Government for clean up and/or restoration that would be necessary if the permittee fails to perform the restoration process to the satisfaction of Great Sand Dunes National Park and Preserve's personnel.

Termination of Permit

All filming permits issued by the National Park Service are "revocable" on 24-hours notice or without notice if the terms of the permit are violated. Deliberate infractions of terms contained in the filming permit or the deliberate making of false or misleading statements concerning intended actions in order to obtain a permit are causes for immediate termination of the permit and for possible prosecution.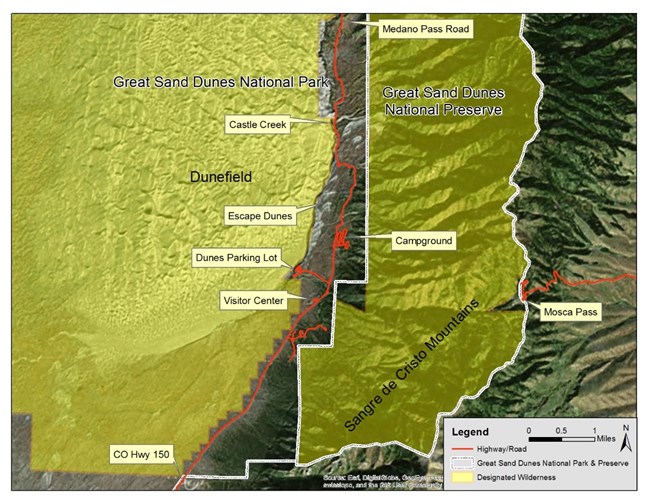 Approved Filming Locations
Commercial filming is prohibited within designed wilderness areas. Great Sand Dunes National Park and Preserve contains two designed wilderness areas. The map at left highlights the wilderness areas in yellow. This includes the main dunefield.
The Special Park Use Coordinator can help you find a location outside of the wilderness areas.

Some commercial filmers/photographers use the Escape Dunes area, just outside the main dunefield. These small dunes provide a dune foreground, while the main dunefield is highly visible behind them. See these photos of the Escape Dunes:
Escape Dunes #1
Escape Dunes #2
Escape Dunes #3
Escape Dunes #4
Last updated: July 23, 2020