Special Use Permits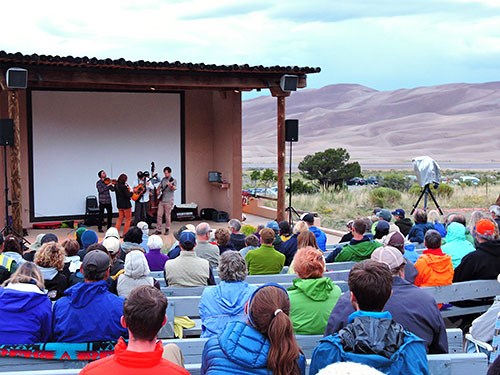 The National Park Service may require a special use permit for certain activities to occur in Great Sand Dunes National Park. These include organized gatherings like weddings or church services, public assemblies and demonstrations, special events, filming and some commercial activities like commercial travel or still photography. A special park use is defined as a short-term activity that takes place in a park area, and that:
provides a benefit to an individual, group or organization rather than the public at large;

requires written authorization and some degree of management control from the National Park Service (NPS) in order to protect park resources and the public interest;

is not prohibited by law or regulation;

is not initiated, sponsored, or conducted by the NPS; and is not managed under a concession contract, a recreation activity for which the NPS charges a fee, or a lease.
Please note that while a special park use may meet the above criteria, not all activities are approved based on park specific resources, visitation and potential impact.

What Activities May Need a Permit
The following list includes but is not limited to what activities may need a permit; please contact us to inquire if your requested activity will require a Special Use Permit.
Filming, Still Photography, and Sound Recording: Including sets, props, products, models or large equipment) or sound recording. All compensated photographers hired to photograph weddings or other ceremonies/events, or portraits (weddings, family, senior, pets, engagement, etc.) in the park are required to obtain a Commercial Use Authorization.

Wedding or Other Ceremonies: Go to our Wedding and Ceremony Permits page for more information.
Special Events
First Amendment: Church services or demonstrations (non-fee) available on a first come-first service basis.
Ash Scattering
Special Events
The term Special Events includes sport events, pageants, celebrations, exhibitions, and other activities that the general visitor does not participate in. The event must have a direct connection to Great Sand Dunes and fits within the park's mission. The event, which is not a demonstration, must have a permit if it engages one or more persons and/or the conduct of which has the effect, intent or propensity to draw a crowd or onlookers.

An event, if permitted, will carry an application/permit fee of $200, cost recovery, and liability insurance indicating United States of America as additionally insured. The amount may vary depending on the activity. The minimum amount is $1,000,000.00 USD and the insurance company must have an office in the United States.

Events will not be permitted if they alter movement of visitors, wildlife or traffic. No roads or trails will be closed and no event will be allowed in areas managed as wilderness. This map represents those areas: insert map/link here. Signs and commercial logos/banners will not be permitted nor will any tent-like structures. Upon evaluation of your application, a monitoring fee may be added depending on the event.

To apply for the above at least thirty days before the planned date:
Great Sand Dunes National Park
Attn: Chief Ranger
11500 State Hwy 150
Mosca, CO 81146
For more information email us or call 719-378-6322.
First Amendment
It is the policy of the National Park Service to permit groups to assemble peaceably and exercise freedom of speech on park lands. To carry out our mission to preserve Great Sand Dunes' cultural and natural heritage and protect park resources, we manage a public assembly through a permit system. Groups of 25 or more must obtain a permit from the park superintendent. The permit regulates conditions for assembly such as site location, dates, time, distribution of literature (the how not the content).The National Park Service is mindful of the responsibility to protect the rights of all visitors, and equally alert to provide for the safety of all persons practicing their First Amendment rights. A decision on whether a permit is to be issued – whether approved or denied – will be rendered within two business days. Please contact the Permit Office directly by email or phone 719-378-6322.

Scattering of Ashes
The scattering of ashes is permitted in the park with certain restrictions and conditions. A permit is also required. Please contact the permit office directly by email or phone 719-378-6322.
Last updated: August 10, 2023