News Release
Greenbelt Park is about to get a major face lift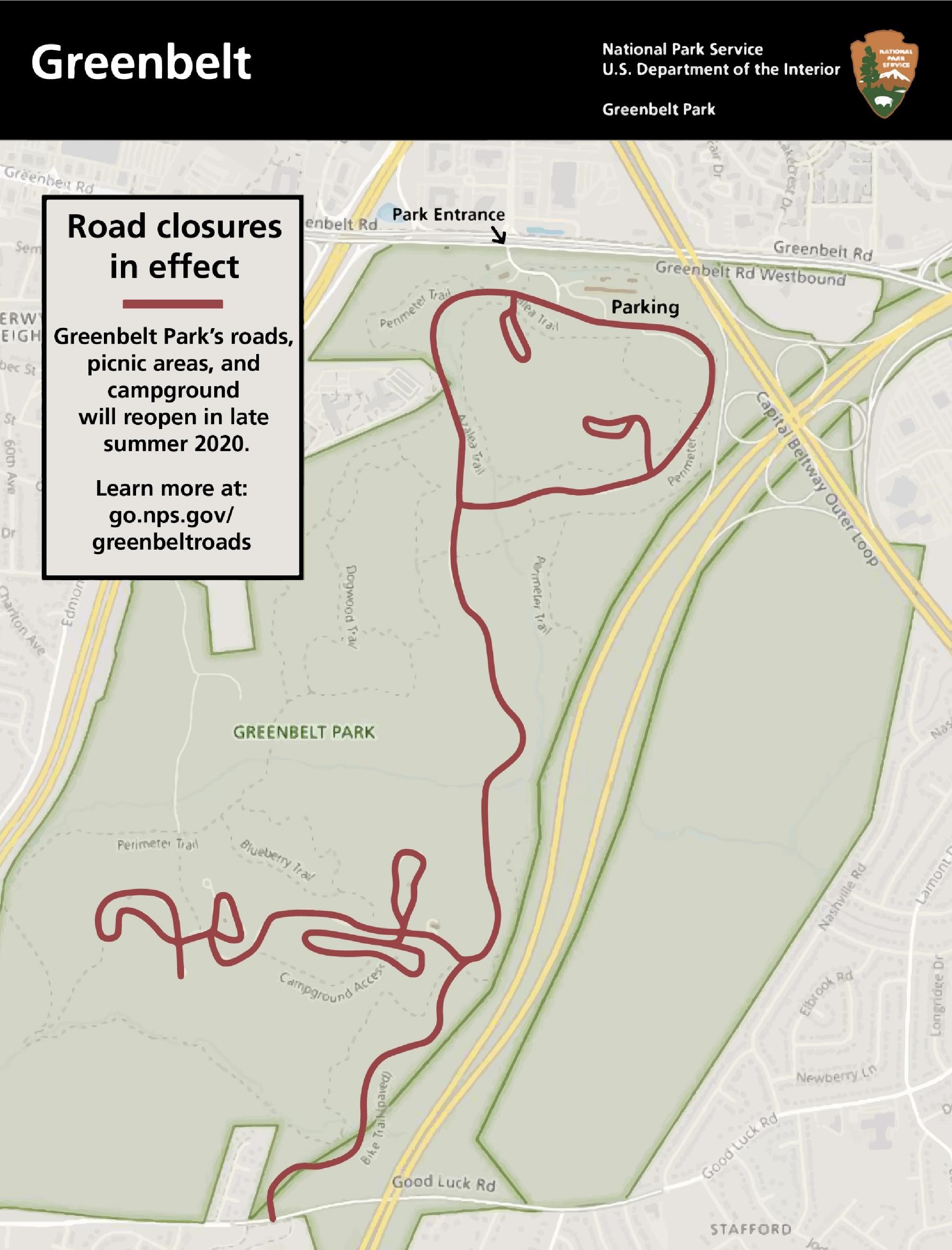 News Release Date:
June 25, 2019
Contact: Jonathan Shafer, (202) 619-7186
UPDATE-The Greenbelt Park campground is closed until late spring 2020. Park trails will remain open but the main Park Central Road and Sweetgum Picnic Area are closing on October 1.

UPDATE: August 16 — The National Park Service (NPS) will maintain access to park roads as far as the Sweetgum Picnic area until September 23, 2019. The park campground will remain closed. This release has been updated to show that construction will not happen according to NPS's original schedule. NPS is sharing a new timeline.

Beginning on Monday, July 15, the National Park Service will begin a project to repave all of the roads in Greenbelt Park. Workers will close the park's roads and facilities in phases. The closures will apply to drivers, pedestrians and bicyclists.
During the work, visitors will have access to park trails, but picnic areas and campground will remain closed until spring 2020. The NPS will open a temporary visitor contact station in the park's administrative offices. Visitor parking will be available at Greenbelt Park Headquarters throughout the project.
"The work we're doing now is an investment in the future and will significantly improve the experience for visitors to Greenbelt Park," Superintendent Matt Carroll said. "These repairs will provide smooth roads to great hiking and camping for years to come."
The phased closures will begin:
July 15, 2019 - Park Central Road from Dogwood intersection to the Goodluck Road parking lot.

September 23 - Park Loop Road from Sweetgum and Holly Picnic Areas to the Dogwood intersection

October 1, 2019 - Park Loop Road between Sweetgum and Holly Picnic areas.
All areas will reopen in late spring 2020. Neither drivers nor pedestrians should enter areas that are closed for construction.
The work will include replacing Still Creek Bridge, resurfacing all park roads and parking areas, and installing new stormwater drainage culverts. This project addresses part of the NPS maintenance backlog. In 2018, the value of deferred maintenance, which is work that has been postponed for more than a year due to budget constraints, exceeded $1.9 billion in the NPS's National Capital Region.