Place
Bright Angel Bicycles & Café —Visitor Center Plaza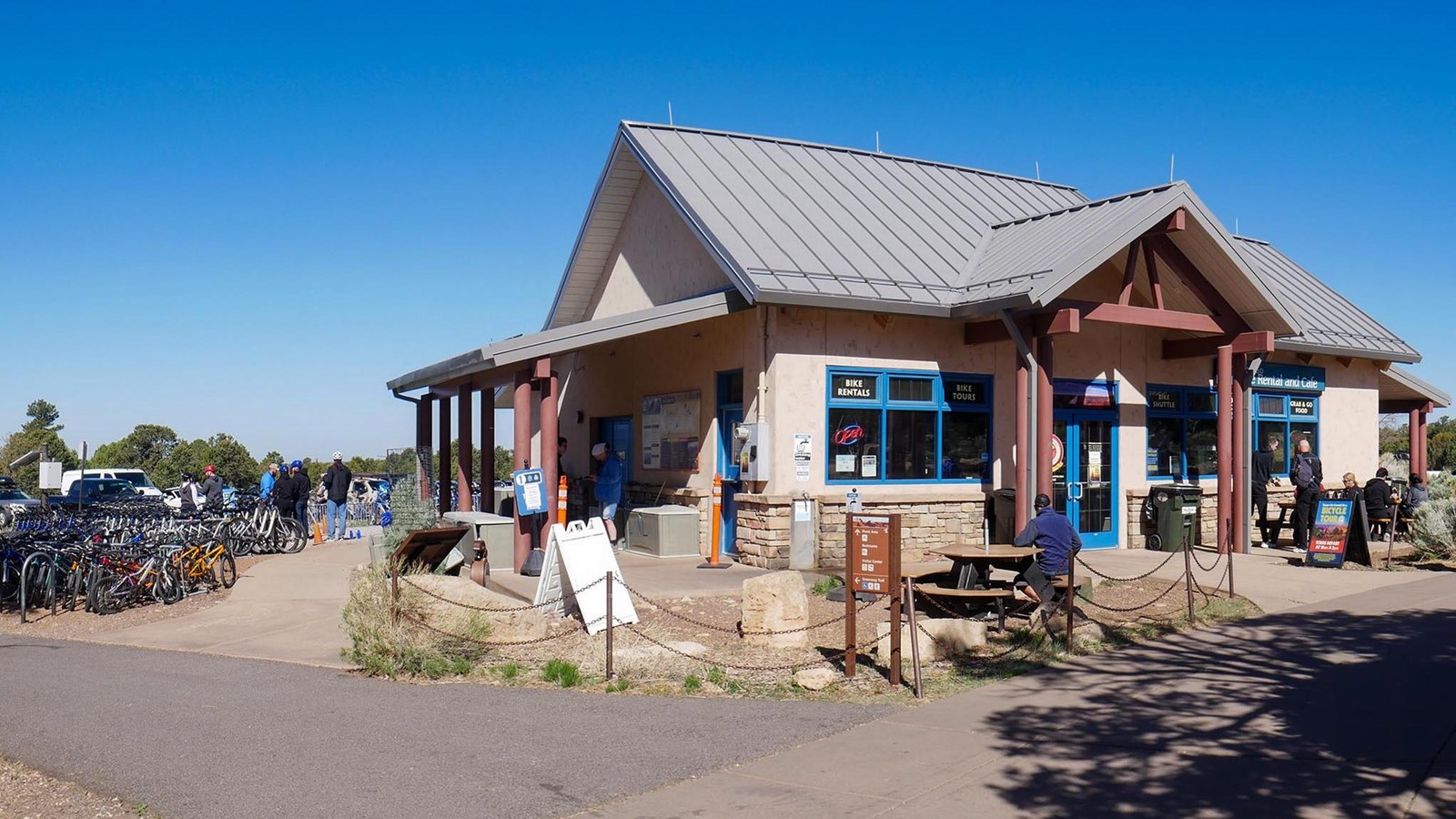 Location:
Grand Canyon Visitor Center Plaza
Significance:
Bicycle Rentals, Tours & Grab-and-go Café
Audio Description, Benches/Seating, Bicycle - Rack, Bicycle - Rental, Bicycle - Repair, Food/Drink - Cafeteria, Food/Drink - Coffee, Food/Drink - Ice Cream, Food/Drink - Snacks, Gifts/Souvenirs/Books, Parking - Auto, Parking - Bus/RV, Picnic Table, Recycling, Supplies - General, Trash/Litter Receptacles, Water - Bottle-Filling Station, Water - Drinking/Potable, Wheelchair Accessible, Wheelchairs Available
Hours of Operation
Open daily:
Bicycle rentals: 10 am - 4 pm (weather permitting) 
Café: 7 am - 5 pm

Note > early closure on Sunday, January 8, 2023, at 3 pm for annual inventory. 

Located in the South Rim Visitor Center Plaza, adjacent to Parking Lot 4, Bright Angel Bicycles & Café offers bicycle rentals and guided tours, as well as a full espresso bar and grab-and-go sandwiches, salads, pastries, drinks, and more.

This is the only place in the park to rent bicycles, so stop in if you're interested in going for a ride along the rim or joining a guided bicycle tour. Bicycles may be rented for a few hours or the entire day, and Bright Angel Bicycles will even drop off and pick up bicylces from various locations or provide transportation for you and your bicycles to different starting locations for your ride.

Daily wheelchair rentals are also available on a first-come, first-served basis. Regular or large sizes upon request. Some outdoor accessories are available, like hats, sunglasses, water bottles and trekking poles. 

*Though open year-round, Bright Angel Bicycles may not offer bicycle rentals due to weather or safety concerns.
Contact Information
Email: reservations@bikegrandcanyon.com
General Inquiries: BABrentals@gmail.com
Phone: 928-679-0992
Website: bikegrandcanyon.com
Last updated: January 3, 2023