South Rim Fitness Opportunities
Fitness opportunities abound on the South Rim of Grand Canyon National Park. There are activities for every fitness level and every visitor, from short walks on paved trails to strenuous backcountry hiking adventures.
Before engaging on your fitness adventures please consider that the South Rim of Grand Canyon averages 7,000 feet / 2,134 meters above sea level. Visitors with respiratory or heart problems may experience difficulties. Walking, hiking, and exercising at this elevation is strenuous, your normal fitness level may not coincide with your fitness level at the park. Please use caution when engaging in any physical activities. Plan for extreme heat when hiking into the canyon in summer.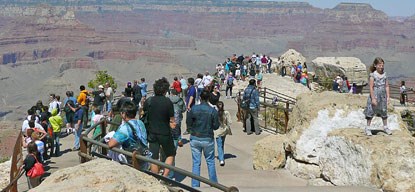 Some fitness activity suggestions:
Last updated: October 20, 2017