Walking, Hiking, Running, and Jogging
Walking For Fitness
Walking Grand Canyon trails can provide an excellent source of fitness while allowing you to enjoy the breathtaking scenery and views of the canyon. People of all ages may enjoy walks along the scenic Rim Trail on the South Rim of the canyon. This trail offers views from many different vantage points and connects with many points of interest within the park. The Rim Trail offers the easiest walking in the Grand Canyon and is a good option for all ages, including those with young children.
Walking along the Rim Trail is excellent choice, offering almost everyone the option to get some exercise while taking in the scenery. The trail goes from the Grand Canyon Visitor Center west to Hermits Rest. The Rim Trail is approximately 13 miles in length and is partially paved, from the Mather Point to Powell Point. The paved sections of the trail are mostly wheelchair accessible. The unpaved portion of the trail, between Powell Point and Monument Creek Vista is narrow and close to the edge. Restrooms are available along the Rim Trail.
Hiking for Fitness
Numerous hiking opportunities are found throughout the canyon. For the physically fit and adventurous, day hikes and overnight backcountry hikes are great ways to see the canyon up close. Hiking in the canyon is difficult and hikers should be prepared. Lack of preparation can lead to exhaustion and even death. Trail etiquette gives the person hiking uphill the right of way. For more information visit www.nps.gov/grca/planyourvisit/backcountry.htm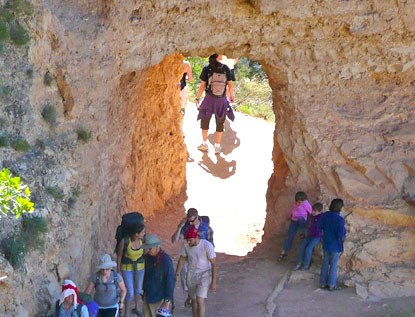 Running and Jogging for Fitness
Paved trails throughout the park provide mostly level surfaces for runners and joggers to get outside. Running along the paved Rim Trail can be spectacular, but be aware that the Rim Trail can be congested between the rim hotels and Mather Point during mid-day. Another option would be one of the Greenway trails which may provide a way to escape mid-day congestion. When running on the road, wear bright colors and yield to traffic. Please be courteous by alerting visitors when you come up from behind.
WARNING: The South Rim of Grand Canyon averages 7,000 feet / 2,134 meters above sea level. Visitors with respiratory or heart problems may experience difficulties. Exercising at this elevation can be strenuous. Please use caution and when engaging in any physical activities and use care not to push yourself. Always check the weather before exercising outside.
Last updated: October 20, 2017