Virtual Tours and Ranger Programs

Grand Canyon USA - Virtual Tours
Experience Grand Canyon Virtual Tours on your own, or dig deeper through a guided exploration. From Arizona State University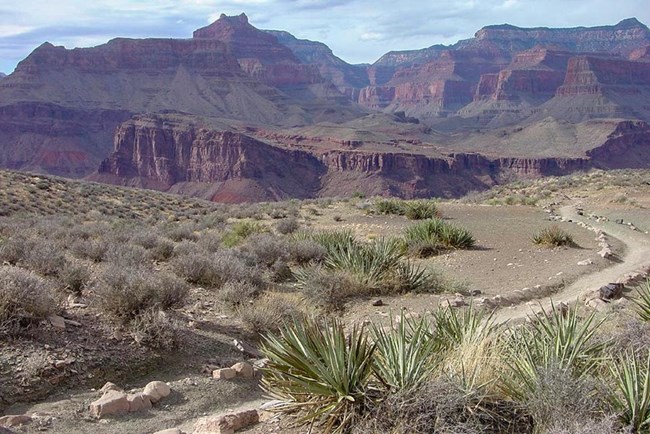 A Virtual Hike to Phantom Ranch on the Corridor Trails
Take a virtual hike into Grand Canyon with the USGS, descending South Kaibab Trail to Phantom Ranch. Then returning to the South Rim by ascending Bright Angel Trail. -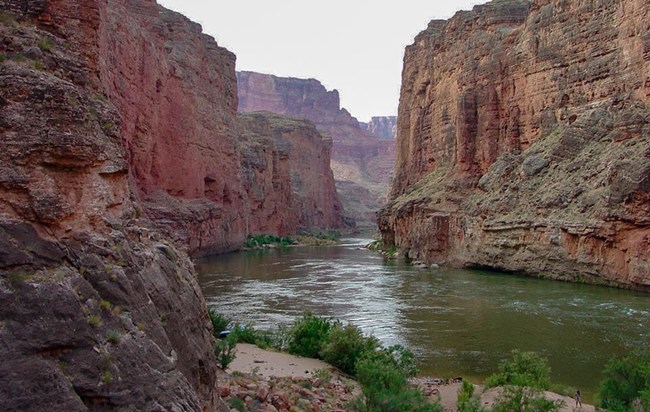 A Virtual Raft Trip through Grand Canyon
Travel with the USGS on a Geological Tour down the Colorado River through Grand Canyon - starting at Lees Ferry (River Mile 0) and ending at the Lake Mead National Recreational Area. (River Mile 215).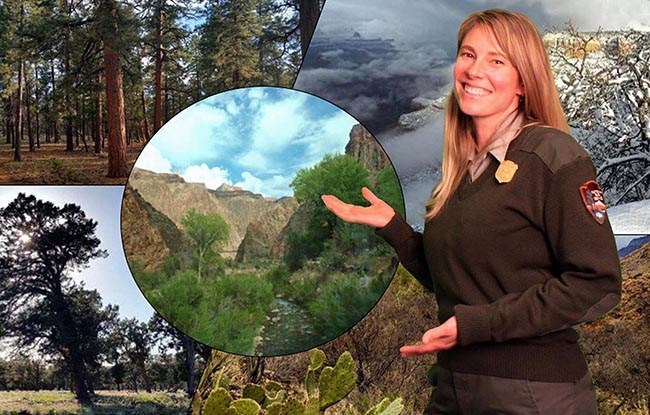 Canyon Field School @Home
Looking for learning? The Canyon Field School is an exciting environmental education program that brings the wonders of Grand Canyon National Park to youth across the country.
This collaboration between Grand Canyon Conservancy and the National Park Service provides engaging, curriculum-based activities and experiences for middle and high school-aged students.
Learn More >
Visit our keyboard shortcuts docs for details
Duration:

11 minutes, 28 seconds
Do you enjoy a warm cup of java in the mornings? So do our rangers! Join Ranger Joe and Ranger John for coffee on the rim as they discuss where the water in that steaming cup comes from.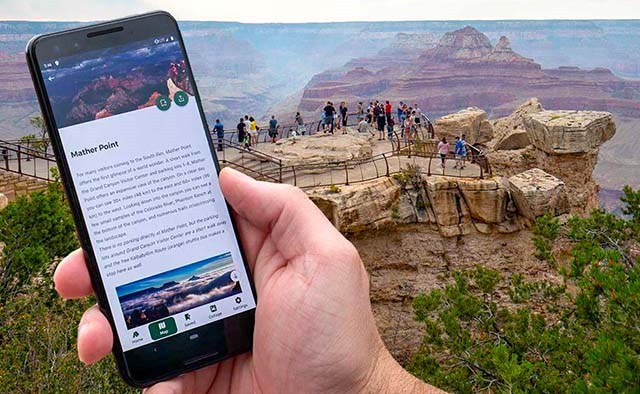 The Official Mobile App
The Grand Canyon Mobile App from the National Park Service
is free, and provides detailed information about things to do, lodging, campgrounds, and services throughout the park. It also enables you to discover rich natural and cultural resources through
self-guided walking tours.
iOS Version for iPhones and iPads (Apple Store) >
Android Version (Google Play Store) >
How to Use the Mobile App
Cellular service within the park is extremely limited. In order to make use of the app while visiting Grand Canyon, follow these simple steps
before you arrive
:
.
Download the app.
In the app, select the "Settings" option.
Tap the choice "Download Offline Content."
By doing this, most of the app content will be available for use in the park (the exceptions being alerts, calendar updates, and real-time updates—accessing those items before leaving service will at least keep that information in the app).
Even without cellular service, the app will be able to share your location on the map and bring up all site content.
Although, continued use of GPS running in the background can dramatically decrease battery life.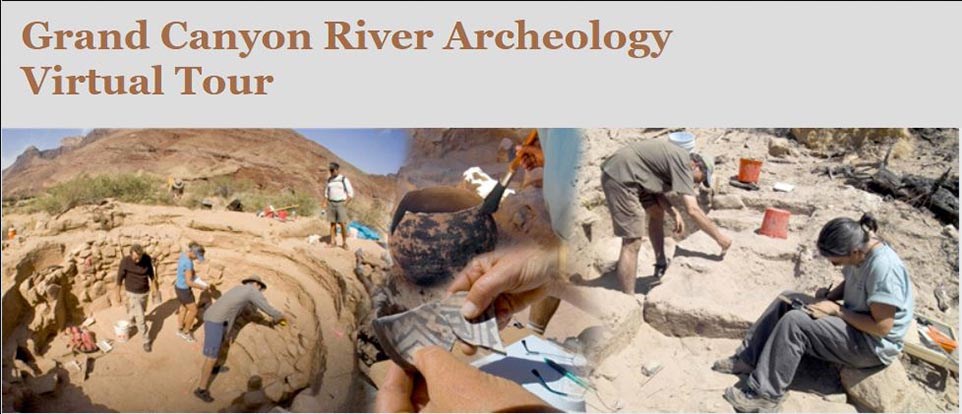 Grand Canyon Archeology Virtual Tour
Discover ancient places within Grand Canyon where people lived long ago.
What did the archeologists find during the first major excavation to occur along the Colorado River corridor in nearly 40 years?

Interactive 360° photos, show archeologists at work, along with their tools, such as shovels, trowels, screens and buckets.

https://www.nps.gov/features/grca/001/archeology/index.html

Learn more by watching a video of these Archeological Excavations here.
---
Canyon Sketches is an archive of short articles about Grand Canyon's natural, cultural and recreational resources.
They highlight the ongoing work that Grand Canyon's Science and Resource Management staff does to monitor, inventory, restore, and rehabilitate park resources.
The Canyon Sketches eMagazine is designed to provide specific information on resource challenges and Science and Resource Management activities.
Last updated: November 19, 2020