News Release
Test Well Installation at Phantom Ranch March 29 to April 5, 2018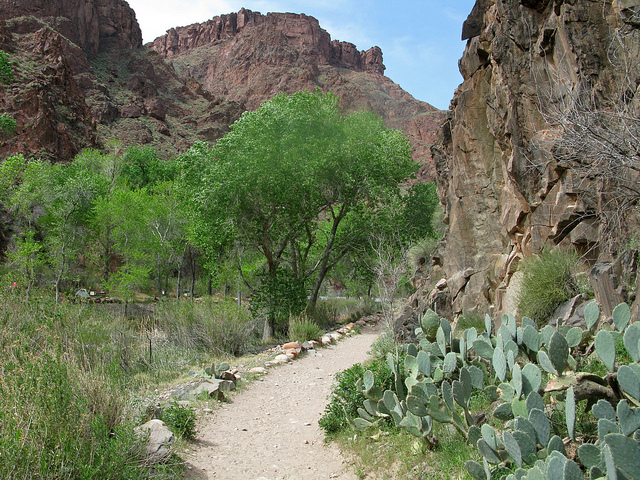 News Release Date:
March 27, 2018
Contact: Emily Davis, 928-638-7609
Grand Canyon, AZ– On March 29, 2018, the National Park Service (NPS) will begin installing one test well and two monitoring wells next to Bright Angel Creek near Phantom Ranch. The NPS will use a K-MAX helicopter to fly in a drill rig, supplies, and other equipment. The wells will help the NPS determine if this is a feasible water source option for the replacement of Grand Canyon National Park's critical drinking water supply, the Transcanyon Waterline (TCWL).
Replacement of the TCWL is in the preliminary design phase. National Environmental Policy Act (NEPA) compliance is underway to identify the preferred alternative and evaluate the environmental consequences of the range of alternatives.
In one alternative, wells along Bright Angel Creek near Phantom Ranch would replace the water supplied by Roaring Springs via the TCWL. The test well will help determine how much water can be drawn from the area, the water quality characteristics needed for design, and will also help the NPS more fully understand potential impacts to Bright Angel Creek. During the test, water drawn from the well will be returned to Bright Angel Creek about 300 feet downstream from the work area.
As proposed, the new system could provide drinking water to Phantom Ranch, Indian Garden, and the South Rim. The North Rim, Manzanita Rest Area, and Cottonwood Campground would continue to have water from Roaring Springs.

During installation of the wells, all trails to and through Phantom Ranch will remain open to trail users; however, the lower campground bridge will be closed during work hours and may be closed overnight. Work hours will be from 7:30 am to 6 pm each day and the drill rig will shut down while mules enter the construction zone.
An on-site program manager will oversee the test well installation and will answer visitor questions about the project. For more information about the test well installation, contact Kris Provenzano, Denver Service Center Program Manager, at 303-969-2878.
While in the park, the K-MAX will also remove several vehicles from below the rim of the canyon. 
 -NPS-  
Last updated: March 28, 2018