Shorthaul Rescue of Stranded Boaters from Havasu Canyon, August 17, 2008
The video below (Flash) should begin playing automatically. If the playback is uneven, try pausing the video and waiting for it to load before viewing. Help with videos
Shorthaul Rescue of Stranded Boaters - Duration 01m 17s
NPS Video by Brandon Torres.
Available Downloads
Video for Windows
Video for iPod/Mac
Transcript
3.92MB_WMV File
3.87MB_MOV File
no narration
Late in the afternoon on Saturday, August 16, Havasu Canyon, a popular side canyon of the Grand Canyon, flash flooded as a result of heavy, localized, monsoon rains.
That evening, the Grand Canyon Regional Communications Center received word that five unmanned rafts had been seen floating down the Colorado River with supplies and personal floatation devices aboard. Initial investigation by the National Park Service (NPS) indicated that these rafts belonged to a single, private boating party of 16 individuals whose itinerary would have put then in the vicinity of Havasu Canyon at the time of the flood.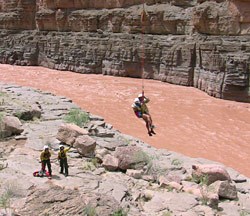 At approximately 10:45 a.m. on Sunday, August 17, an NPS helicopter found the party of 16 stranded on a ledge at the confluence of Havasu Creek and the Colorado River. The NPS used a short haul rescue technique to move group members, one at a time, from the ledge to the shore of the Colorado River where they could be picked up by helicopter and flown to Hualapai Hilltop. From there, the group was transported by bus to a Red Cross shelter in Peach Springs, Arizona
To ensure the safety of park visitors, NPS river rangers contacted groups who were still upriver from the confluence of Havasu Creek and the Colorado River to inform them of the conditions at the confluence.
The group's five rafts and three kayaks were found approximately 35 miles downstream of Havasu Canyon. The boats were secured to shore by other river trips. The River Ranger Crew then towed the boats to Diamond Creek where they were returned to their outfitter.
---
Havasu Canyon and the village of Supai are located on the Havasupai Reservation adjacent to Grand Canyon National Park.
Within the national park, no flood damage was reported and all roads, facilities and trails are currently open.

Anyone concerned about friends or family members who may have been evacuated as a result of this event should visit the American Red Cross web site at www.redcross.org then click on "Registers" and "Safe and Well".

For information regarding visitation to the Supai area or the status of trails leading to and within the Supai area, please call the Supai Canyon Information Center at 928-444-2121, 2141, 2170, or 2180, or visit the Havasupai Tribe web site at www.havasupaitribe.com.
Last updated: December 11, 2017