News Release
Rangers Strongly Urge Visitors to Hike Smart at Grand Canyon National Park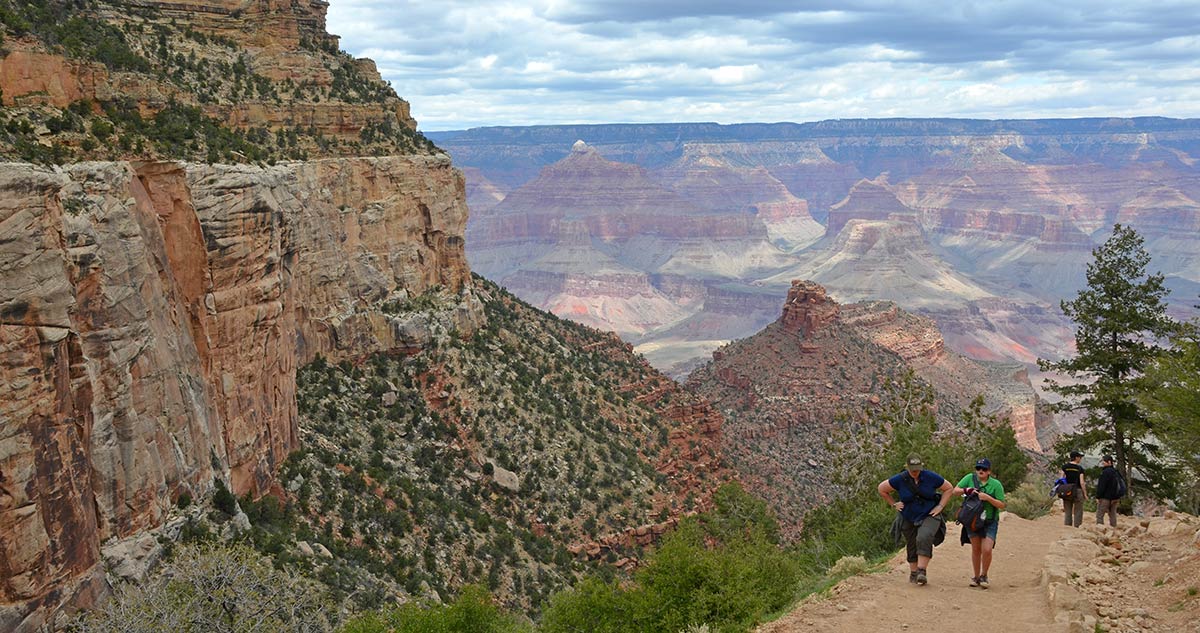 News Release Date:
June 25, 2018
Contact: Office of Communications, 928-638-7779
Grand Canyon, AZ
- National Park Rangers at Grand Canyon National Park are strongly urging visitors to Grand Canyon, especially inner canyon hikers, mule riders, and backpackers to be prepared for excessively hot days in the coming weeks. In the summer, temperatures on exposed parts of the trail can reach over 120 F (49 C) in the shade. Hiking in extreme heat can lead to serious health risks including heat exhaustion, heat stroke, hyponatremia, and hyperthermia and death.  
Anyone still planning to hike into the canyon should take extra precautions to hike smart. Hikers should always check-in at the Backcountry Information Center to review their itineraries prior to beginning their backcountry hike. Hikers should hike before 10 am and after 4 pm and rest in shade and near water during those times to avoid the worst heat of the day.  
Rangers advise that anyone hiking in heat needs to balance food and water intake, drink when thirsty, and get wet to stay cool. Heat related illness strikes individuals quickly. If you or a hiking partner begin to exhibit signs of heat related illness, which include nausea, disorientation, dizziness, and hallucinations, immediately stop moving. Attempt to cool yourself or hiking companion, if possible seek shade, and stay put until the air temperature begins to cool. Continuing to hike, ignoring the symptoms of heat illness, and not taking care of yourself or others can lead to serious if not fatal outcomes.  
All visitors to Grand Canyon should ensure they are drinking plenty of fluids, resting in shade during the heat of the day, watching for signs of distress in traveling companions, and dressing appropriately for the weather, which includes light-colored and loose-fitting clothing. Visitors are also reminded they should be prepared to self-rescue while on the canyon's trails. Multi-day hikers in the backcountry should consider carrying emergency beacon devices that can alert Rangers to emergency situations.  
In 2017, heat contributed to 82 search and rescue (SAR) incidents at Grand Canyon National Park, many of which occurred in June. Over the weekend, Rangers responded to a second fatality in the inner canyon due to heat. Giancarlo Mayor-Valencia, age 22 of Scottsville, New York, was on day two of a multi-day backpacking trip when he succumbed to heat related illness.
Learn more about Hike Smart by visiting 
https://www.nps.gov/grca/planyourvisit/hike-smart.htm
-NPS-
Last updated: June 25, 2018