News Release
Excessive Heat Warning Issued for Grand Canyon National Park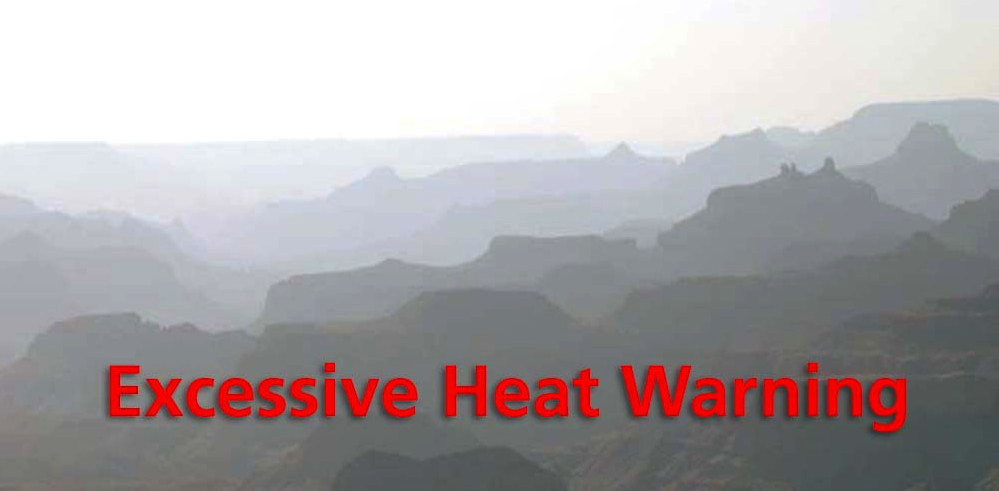 News Release Date:
July 23, 2018
Contact: Chelsea Sullivan, 928-638-7609
GRAND CANYON NATIONAL PARK, Ariz. - The National Weather Service in Flagstaff, Ariz. has issued an excessive heat warning for the surrounding area, including Grand Canyon National Park at Phantom Ranch and Indian Gardens. This warning will be in effect from Monday, July 23 to Wednesday, July 25 at 8 p.m.
Areas near the Colorado River in the canyon will be at a high of 113 degrees Fahrenheit with the lows between 75-82 degrees Fahrenheit.
Grand Canyon National Park encourages its visitors to take proper precautions at the canyon.
Don't force fluids. Drink when you are thirsty. Rest and eat often.

Plan your day so you are not hiking between the hours of 10 a.m. and 4 p.m. Take a break near shade and water to avoid the worst heat of day.

Whenever you are near water, make sure that you wet, or soak, yourself down.

Be aware of heat related illnesses and the immediate steps to take.

Heat exhaustion: nausea, vomiting, headache, and cramps; move to shade for 30-45 minutes, drink water with electrolytes, eat high-energy foods (with fats and sugars) and cool the body by getting wet.

Heatstroke: weak and rapid pulse, high core body temperature, confusion, unconsciousness, seizures; must be cooled immediately, continuously pour water on head and torso (immerse in cold water if possible), fan to create an evaporative cooling effect, move the victim to shade and remove excess clothing. The victim needs evacuation to a hospital. Someone should go for help while attempts to cool the victim continue.

Hyponatremia: nausea, vomiting, altered mental states, and confusion. This can occur when there is an imbalance of food and water in the body. The victim may appear intoxicated and in extreme cases seizures may occur; have the victim eat salty foods, slowly drink sports drinks with electrolytes, and rest in the shade. If mental alertness decreases, seek immediate help.
Every year unprepared hikers experience severe illness, injury, or death from hiking in the canyon. Be aware that efforts to assist may be delayed during the summer months due the large size of the park, the number of rescue calls, employee safety requirements, and limited helicopter flying capability during periods of extreme heat or

inclement weather.
H

ikers should always check in at the backcountry office for status of water on the trail or other important information about trail conditions

. For more information about hiking in the summer, please visit the

Summer Hiking webpage

.
-NPS-
Last updated: July 23, 2018