News Release
Grand Canyon National Park Ranger Elyssa Shalla Wins Prestigious Award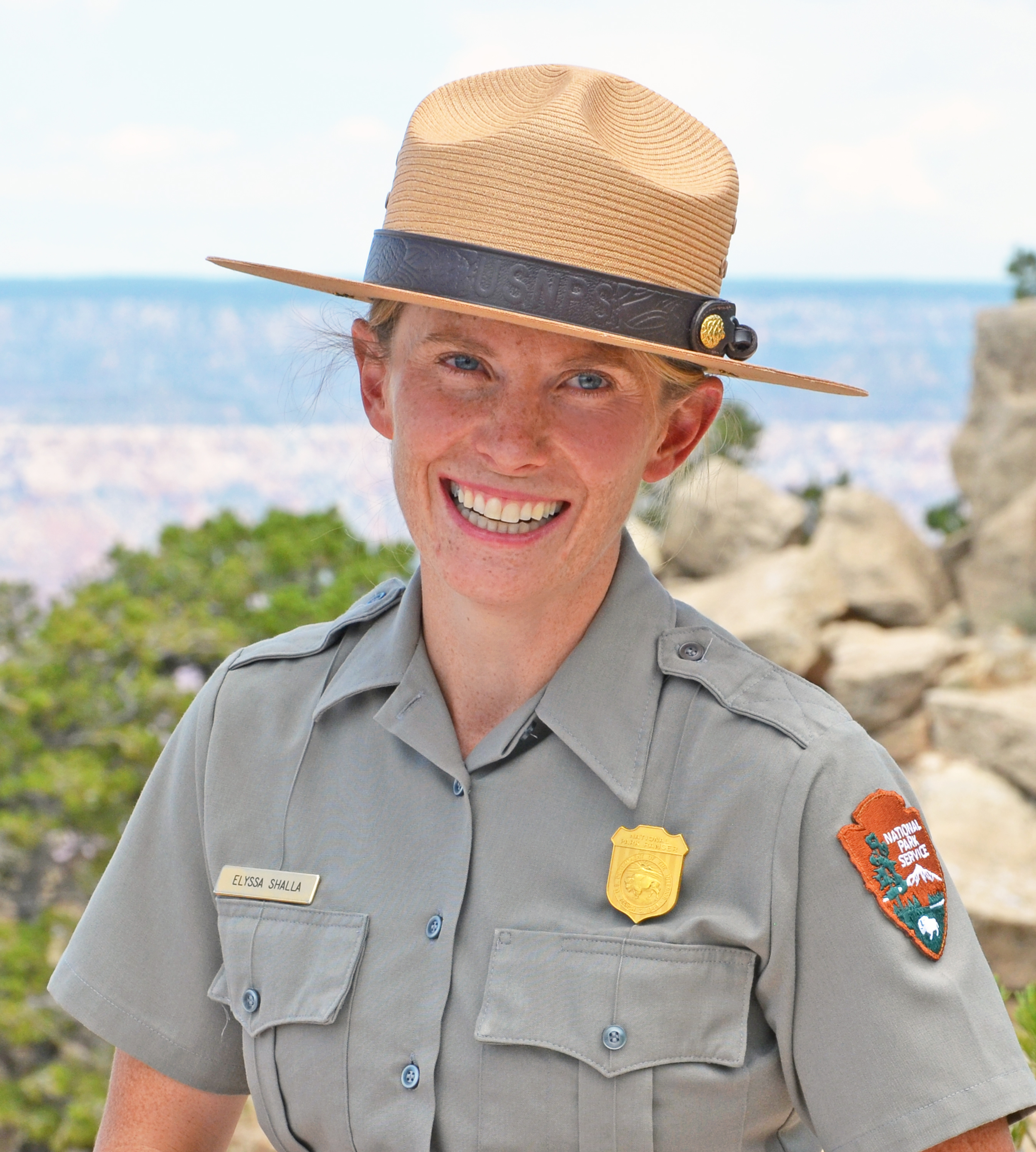 News Release Date:
October 22, 2018
Grand Canyon, AZ
- Elyssa Shalla, park ranger at Grand Canyon National Park, has been selected as a recipient of the Intermountain Region 2018 Freeman Tilden Award. The award was created to stimulate and reward creative thinking that results in positive impacts upon the preservation of the parks and the visiting public. Shalla was specifically recognized for creating the "
Towers & Type
" program at the park. 
Shalla's "Towers and Type" program is an example of an audience-centered experience (ACE). For this particular program, Shalla set up a typewriter for three days at Plateau Point, a popular backcountry destination below Grand Canyon Village. Plateau Point offers a well-known scenic view and requires a 12-mile round trip hike. Visitors to Plateau Point do not usually have the opportunity to connect with park staff or other visitors.
An innovative way for visitors to connect with the park, the typewriter and its setting inspired responses as deep and colorful as the canyon itself. Shalla digitized the entries and created an Adobe Spark page to capture and share the ACE pop-up beyond its instillation. Shalla's example of ACE demonstrated creativity and originality, which provided meaningful visitor experience and inspired and motivated her peers.
"Grand Canyon provides so many opportunities to connect with the park. Some of the most powerful connections occur when visitors are immersed in the backcountry. This project allowed us to tap into those connections by providing a venue for visitors to share their stories," Shalla remarked about the project.  
Shalla will represent the Intermountain Region of the National Park Service in the National Tilden Award competition. The overall winner will be announced during the Excellence in Interpretation Awards Ceremony on Thursday, November 29th at the National Association for Interpretation Conference in New Orleans, Louisiana.
Shalla has worked for the National Park Service for eight years. She started her career at Grand Canyon as a volunteer before moving on to become a park guide in 2010 and a park ranger in 2014. Shalla is currently the North Rim and Canyon District Seasonal Supervisor for the Division of Interpretation.   
-NPS-
Last updated: October 22, 2018