News Release
Grand Canyon National Park Announces 2019 Centennial Logo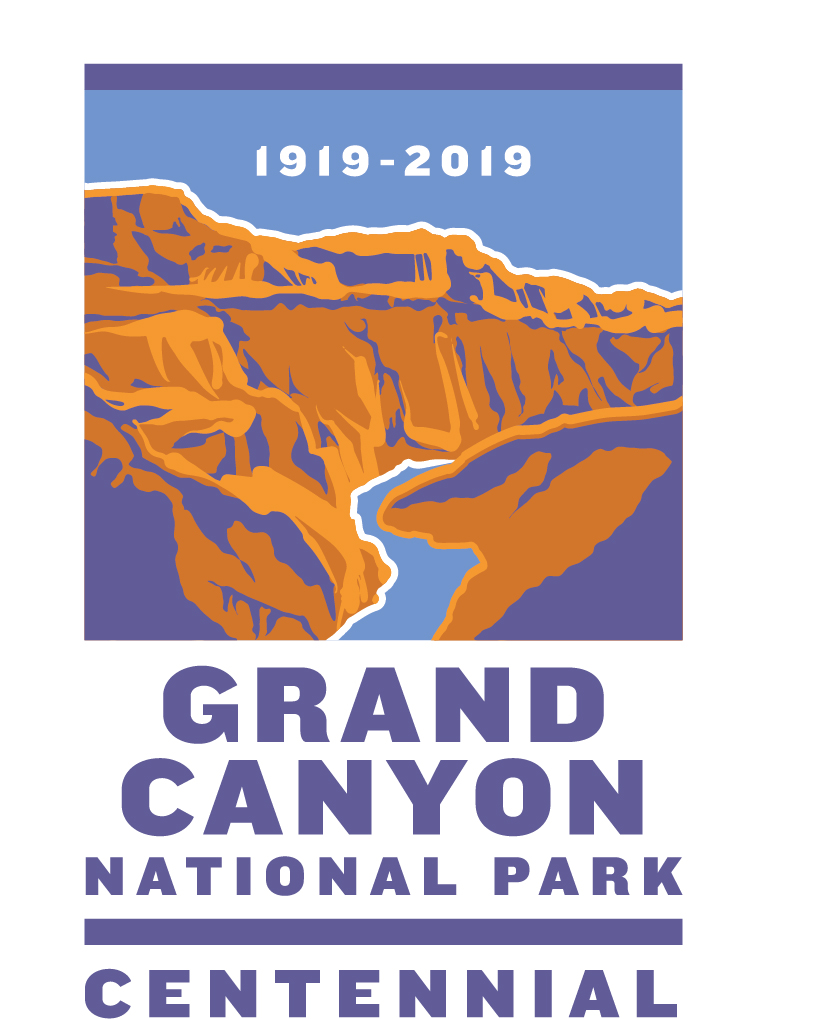 News Release Date:
February 26, 2018
Contact: Vanessa Ceja-Cervantes, 928-638-7728
Contact: Mindy Riesenberg, 928-863-3878
Grand Canyon, AZ
- In recognition of Grand Canyon National Park's 99
th
 birthday, the National Park Service and Grand Canyon Association unveiled the logo for the park's upcoming 2019 Centennial.    
Depicting one of Grand Canyon's most significant elements, the Colorado River, the logo is a visual reminder of the rich natural, cultural, and historical resources found at GrandCanyon National Park. The accompanying tagline, 
Go Grand, 
encourages inspiration andgrand adventures.  
The logo was the result of a collaborative effort between the park's official nonprofit partner, Grand Canyon Association, Grand Canyon National Park employees, and marketing firm Off Madison Avenue.
The 2019 Centennial will commemorate 100 years of the National Park Service at GrandCanyon and acknowledge Grand Canyon's significant cultural history and relationships with the park's 11 traditionally associated tribes
. 
To prepare for a new century of stewardship, the park's Centennial goal commemorates the past and inspires future generations to experience, connect with, and protect the canyon's unique resources. To accomplish this goal, Grand Canyon National Park is working with employees, gateway communities, and tribal and park partners. Grand Canyon Association will continue to work hand in hand with the National Park Service to support the park's 2019 Centennial.  
"As Grand Canyon National Park gets ready to celebrate its next 100 years, we are grateful for the support of Grand Canyon Association. With this support, we continue building a future that is inclusive and reflective of our nation, while honoring those who have called Grand Canyon home and those who have fought to protect this special place for future generations," said Chris Lehnertz, Superintendent of Grand Canyon National Park.  
To increase Grand Canyon's public engagement, the centennial year will feature events throughout 2019 at the South Rim, North Rim, Desert View, Inner Canyon, and surrounding gateway communities. The 2019 centennial logo will be part of a comprehensive brand and visual identity key to the promotion and marketing of the park's anniversary.  
"The Centennial year is a reminder for us to look back at our successful partnership withGrand Canyon National Park, and to celebrate the the last 100 years while we prepare for the next 100 years," said Susan Schroeder, Grand Canyon Association CEO. "We look forward to using the logo to build awareness of the Centennial, as well as the vital conservation, restoration, and education efforts supported by Grand Canyon Association donors."  
For more information visit, 
nps.gov/grca
/getinvolved/centennial or 
grandcanyon.org
.  
-NPS-
 
About Grand Canyon Association
Grand Canyon Association (GCA) is the official nonprofit partner of Grand CanyonNational Park, working hand-in-hand with the National Park Service to support projects 
including trails and historic building preservation, educational programs for the public, and the protection of wildlife and their natural habitat. GCA inspires people to protect and enhance Grand Canyon National Park for present and future generations.
For more information, visit 
grandcanyon.org
.
About Off Madison Ave
Off Madison Ave (OMA) is an integrated strategic marketing and communications agency driven by a behavior design methodology. OMA's services utilize the principles of human behavior in order to facilitate change and produce client results. As an agency, OMA focuses on the intersection between traditional branding and the interactive technologies necessary to reach today's consumers. Clients include Arizona Office of Tourism (AOT), The National Academy of Sports Medicine (NASM), GlobalTranz, Arizona Game & Fish Department, Visit Phoenix, Grand Canyon Association, OdySea Aquarium, and P.F. Chang's China Bistro Inc. Visit o
ffmadisonave.com
 for more information.
Last updated: March 6, 2018