News Release
Business Opportunity Announced for the Hospitality Contract on North Rim of Grand Canyon National Park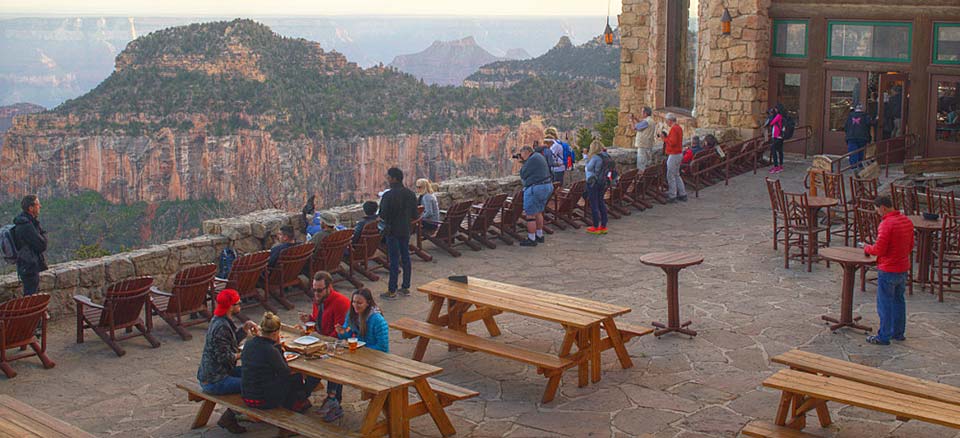 News Release Date:
September 19, 2018
Contact: Jennifer Parker, 303-969-2661
Grand Canyon, AZ
- Grand Canyon National Park Superintendent Christine Lehnertz has announced the availability of a prospectus for a business opportunity in the park to provide lodging, food and beverage, retail, and other visitor services on the North Rim. The prospectus released today outlines this business opportunity, describes the existing business, and provides details on how to submit a responsive proposal.  
The services provided under the new contract encompass the majority of the commercial visitor services on the North Rim.  It includes services currently provided by Grand Canyon North Rim, LLC, a subsidiary of Forever Resorts, LLC.
This contract currently earns gross revenues of approximately $13 million per year, with 219 guest rooms, four restaurants and bars, gift shop, general store, public showers and laundry, and gas station. 
In addition to continuing the current services, the new concessioner must make improvements to the main lodge kitchen, restrooms and deli; remodel the motel units, including establishing new hostel-type rooms; develop new food service at the general store; implement new interpretive bus tours; and establish a new visitor shuttle.
Concessions contracts are developed and issued under the authority of the Concessions Management Improvement Act of 1998, P.L. 105-391, and its attending regulations in 36 CFR §51. 
This new opportunity is being advertised on the Federal Business Opportunities web site,
www.fbo.gov
.  Copies of the prospectus can be found online at
https://www.nps.gov/subjects/concessions/grca002-20.htm
.  To obtain paper copies of the prospectus, please contact Jennifer Parker at 303-969-2661.
Responsive proposals must be received by the Intermountain Regional Office by January 24, 2019 by 4:00 PM (MST). For additional information, please contact Jennifer Parker, Chief of Concessions, Intermountain Region at 303-969-2661.    
Last updated: September 19, 2018