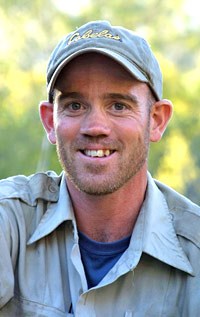 Lori Rome, Seasonal Supervisor - Interpretation

Autumn had arrived at Grand Canyon. The days grew shorter and the nights turned cold. The mountain lion research program changed from vibrant reality to a darkened memory.
In late October 2007, Eric York, wildlife biologist at Grand Canyon, picked up a mortality signal from female mountain lion P13's radio collar. P13 had been trapped in April 2007 and fitted with a collar equipped with a global positioning system unit and a radio transmitter. Eric inferred from data collected by her collar that she had a litter of kittens early that summer.

He found and tagged the three kittens in July and hoped to learn about survival rates in the canyon's lion population. Having accompanied Eric in the field on the day the kittens were ear tagged, I was struck by his skill, professionalism and compassion for his work with lions.