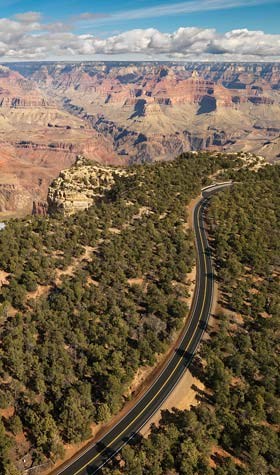 Between March 1st, and November 30 (our busy season)
During the winter months of December, January and February, Hermit Road is open to all vehicles.

Improved in 2008, Hermit Road (formerly known as the West Rim Drive) has some of the best Grand Canyon views that you can see anywhere. Once you get out to Hopi Point, the Colorado River comes into view, and on a quiet day at Pima Point, you can hear the roar of the Colorado River as it crashes through Granite Rapid.

Nine months of the year, access is by commercial tour bus or free park shuttle bus, which gives you the chance to look at the scenery, while someone else does the driving. (March 1 through November 30)

The shuttle buses are great when you use them in conjunction with the rim trail - you can get off at one stop, enjoy a scenic walk along the rim, and then get back on the bus at the next stop. Photos >

If you feel like taking a longer walk, fill a backpack with food and water, then take the shuttle bus out to Hermit's Rest and day hike the Canyon Rim Trail the 8 miles (11 km) back to the Village.
Winter visitors should be advised that the road can close with little notice, particularly in the evenings, as refreezing snow melt creates the potential for black ice.
If you enjoy bicycling, Hermit Road is probably the best place in the park. There is far less traffic out here because of the limitations on private vehicles. The three miles of Greenway Trail are also a great addition for cyclists as well as hikers.