Fire Information and Activity
Fire Updates / Advisories / Restrictions / Closures
Week of October 17, 2016
Fire managers at Grand Canyon National park anticipate initiating two prescribed burns on the North Rim this week as weather and fuel moisture conditions allow. Please visit http://inciweb.nwcg.gov/unit/313/ for more information.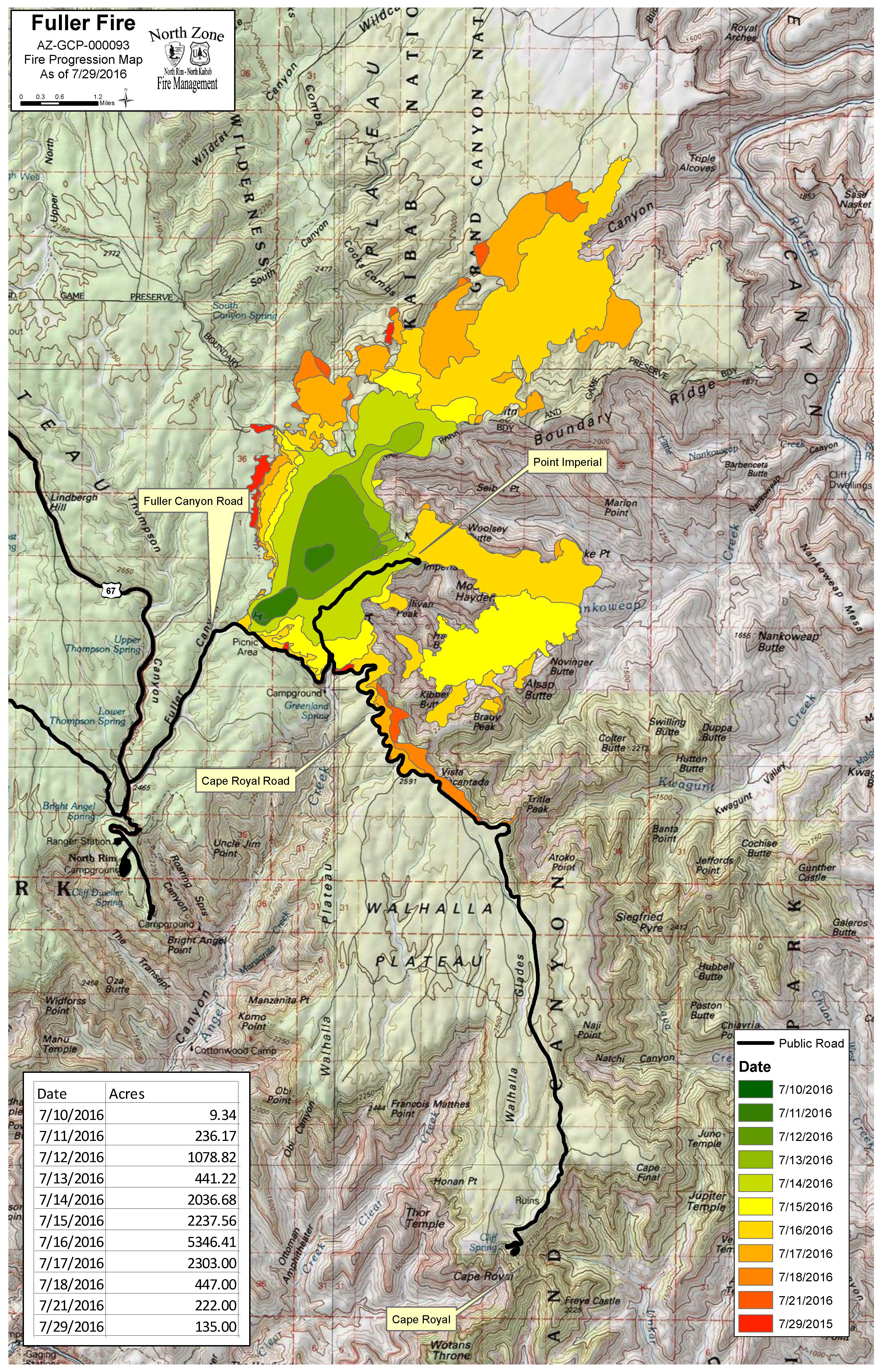 Updated September 12, 2016
OPEN TO VISITORS: Highway 67; North Rim Visitor Center, Lodge and Campground; Fuller Canyon Road; Point Imperial and Cape Royal Roads; Cape Royal Trail; Cape Final Trail; Cliff Springs Trail; Nankoweap Trail via FR 610; and FR 22 and Rainbow Rim Trail on the Kaibab National Forest.
Monday, September 12, 2016
Fire: Fuller Fire
Acres: 14,541
Start Date: June 29,2016
Cause: Lightning
Location: Point Imperial, North Rim Grand Canyon National Park
Fuels/Topography: Timber, grass, rugged terrain
As of September 1, the closure order for the Saddle Mountain Wilderness area associated with the Fuller Fire on the North Kaibab Ranger District has been modified to reflect a smaller closure area due to increased moisture and decreased fire danger.
The boundary of this area closure starts east of Highway 67 at the South Canyon Trailhead off Forest Road 610, heading northeast along South Canyon Trail #6 to the junction with FR 211, then continuing northeast along FR 211 to the junction with FR 8910, then just south of the FR 8910 heading east, then along the Saddle Mountain Wilderness boundary, and back to the South Canyon Trailhead off FR 610. Closed roads include FR 211 and the portion of FR 8910 that runs north and south in the closure area.
This order only affects lands on the Kaibab National Forest. Visitors may call the Kaibab Plateau Visitor Center at 928-643-7298 or the North Kaibab District Office at 928-643-7395. View the closure map here.
Access is open to the Nankoweap Trail via Highway 67 from Jacob Lake, and then FR 610 to the Nankoweap Trail #57, which travels east along the south border of the Saddle Mountain Wilderness Area of the Kaibab National Forest.
Fire is a natural part of the landscape in Grand Canyon National Park and Kaibab National Forest and fire managers use it to help clean up dead down trees and debris from the forest floor. The extended absence of wildfire increases the risk of catastrophic fire in this area, which could have negative impact on vegetation, soil, wildlife, and other natural resources. The Fuller Fire reduces the likelihood of catastrophic wildifre in the future by restoring the natural fire cycle and improving forest health.
Fire Information:
During an active fire, more detailed information is available from:

The park's Twitter feed:
https://twitter.com/GrandCanyonNPS
Grand Canyon National Park News Releases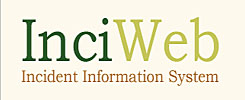 The park's InciWeb site:
http://inciweb.nwcg.gov/unit/313/
Current Fire Information from Our Neighboring National Forests:
---
Fire Restrictions / Regulations
Please review the year-round fire regulations in place at Grand Canyon:
- Within the park, fires are only allowed in designated campgrounds and may only be ignited in grills or designated fire rings.
- If you are hiking and camping below the rim, cook stoves may be used, but campfires and other open fires are never allowed.
- If you are on a river trip, campfires are only allowed in elevated metal pans, and use of a fire proof blanket under the pan is required.
For information about fire restrictions on other public lands in Arizona and New Mexico call the Southwest Area Fire Restriction Information Line at 877-864-6985.

South Rim: Moderate


North Rim: Moderate

---

Learn more about the Fire Management program at Grand Canyon National Park.
View photos of Grand Canyon's Fire and Aviation program.
To view interagency wildland fire photos, click here.
Wildland Fire QUICKLINKS:
Smoke and Air Quality Resources
NPS Fire & Aviation Management - Twitter - Facebook
Fire In-Depth

Northern Arizona Weather Forecast (NOAA)

For more fire information in and around Grand Canyon National Park, visit the Arizona Emergency Information Network, the official site for alerts and bulletins on emergencies and disasters in Arizona, including public health and safety advisories, homeland security alerts and disaster relief bulletins.
Also, Arizona Fire News
Loading the player...
Visit JWPlayer docs for keyboard shortcuts
Duration:

3 minutes, 45 seconds
The secret to the Ponderosa pine's success is how well it has adapted to fire. What can people who live in fire-prone areas learn from the tree's defenses?