Fire Management, Information and Activity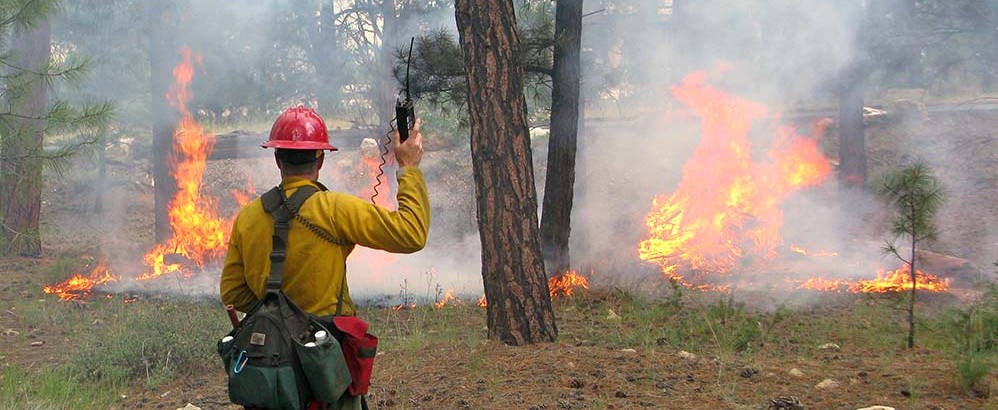 ---Fire Updates / Advisories / Restrictions / Closures
Grand Canyon National Park is operating under Stage 1 Fire Restrictions.
Campfires must be contained in designated fire rings within maintained campgrounds.

If you are hiking and camping below the rim, gas cook stoves may be used, but campfires and other open fires are never allowed.
Boating trips on the Colorado River are required to contain any fires in a metal fire pan placed on a fire blanket.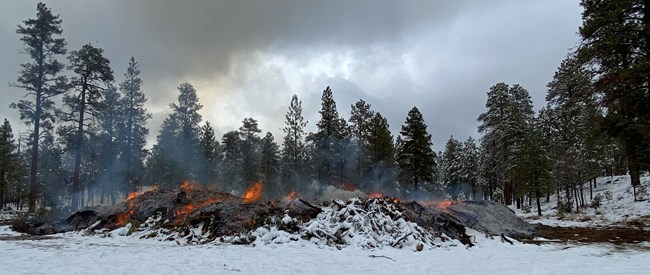 Grand Canyon National Park Active Fire Information: Prescribed Pile Burns, Winter 2020-2021
Fire managers will continue to ignite piles composed of woody debris along the Highway 64 corridor on the South Rim of the park throughout the winter season, as conditions allow.
These piles were created in order to reduce understory hazardous fuels in the park's forested areas and to enhance site protection at high-priority locations.
Prescribed fire plays a vital role in decreasing wildfire risks to life, resources, and property by reducing available hazardous fuels. Fire personnel carefully plan prescribed fires, initiating them only under environmental conditions that are favorable to assuring firefighter and visitor safety and to achieving desired objectives.
Prescribed fire smoke may be visible during ignition operations and will likely diminish after ignitions are completed.
During an active fire, additional information will be available here: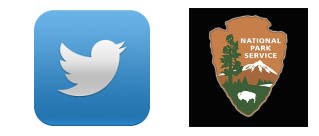 Also check:
Grand Canyon National Park's Twitter Feed:
https://twitter.com/GrandCanyonNPS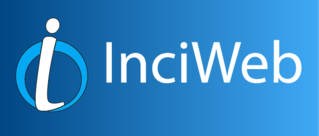 InciWeb Website:
https://inciweb.nwcg.gov/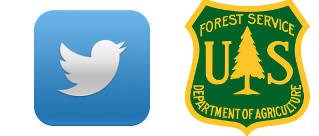 Current Fire Information from Our Neighboring National Forests:
---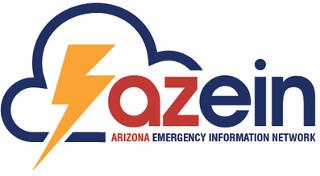 For more fire information in and around Grand Canyon National Park, visit the Arizona Emergency Information Network, the official site for alerts and bulletins on emergencies and disasters in Arizona, including public health and safety advisories, homeland security alerts and disaster relief bulletins.

Also, Arizona Fire News
Grand Canyon Fire Restrictions
Please review the year-round fire regulations in place at Grand Canyon National Park:
Within the park, fires are only allowed in designated campgrounds and may only be ignited in grills or designated fire rings.
If you are hiking and camping below the rim, cook stoves may be used, but campfires and other open fires are never allowed.
If you are on a river trip, campfires are only allowed in elevated metal pans, and use of a fire proof blanket under the pan is required.
There are no additional Fire Restrictions at this time.

South Rim:

Low

North Rim:

Low
Fire Management at Grand Canyon National Park
Fire has the potential to change park landscapes more often than volcanoes, earthquakes or even floods. Such forces of change are completely natural and often necessary. Plants and animals have evolved with, and many depend on, the role fire plays in creating and maintaining a diversity of habitats.
Fire managers at Grand Canyon National Park follow a comprehensive fire plan that allows the restoration of fire regimes through a full range of management tools. Natural fire, prescribed fire, hazard fuel reduction, and fire effects monitoring help restore natural processes while providing for firefighter and public safety.

Grand Canyon National Park has one of the most active fire management programs in the National Park Service. Select a topic below to learn more.

Fire Ecology and Education
Learn about the history and importance of fire in shaping the plant communities above the Rims of Grand Canyon.

Community Wildfire Prevention & Safety
Is your home and property firesafe?
Here is information on how to reduce the risk of fire loss and damage.

Helicopter Training Academy
Work on your taskbooks at the Grand Canyon! We offer two-week sessions to federal and non-federal employees interested in completing their HECM, HELB, and HELM certifications.

Fire Management Planning
Check here for planning documents that guide our fire management operations.
Visit our keyboard shortcuts docs for details
Duration:

4 minutes, 9 seconds
Fire can be utilized to shape the landscape and achieve large-scale resource goals. Conversely, wildland fire can also adversely impact our resources, both natural and cultural. The Grand Canyon Fire Management Program views the wise use of fire as an important tool in the effort to reduce the impacts and restore balance to our ecosystems.


Last updated: January 26, 2021