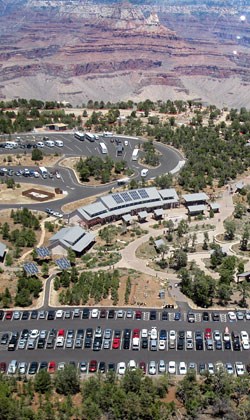 What has taken place ?
Over the course of the last three years, a number of improvements have occurred in the Mather Point/Grand Canyon Visitor Center area, creating an improved and more enjoyable visitor experience.
The South Entrance Road was realigned, taking visitors directly to the Grand Canyon Visitor Center where plenty of parking for both private and commercial vehicles is now available.
A vehicle-free visitor experience was created at Mather Point with improved opportunities to view the canyon, an accessible viewing platform and a new rim-side amphitheater for informal ranger programs.
At the Visitor Center, family-friendly interpretive and educational elements were incorporated into the plaza area; and a theater was added to the Visitor Center where the park's new interpretive orientation film is shown daily on the hour and half-hour. A new
shuttle bus transit center
also created improved and simplified access to the park's free shuttle bus system.
These improvements were called for in the
2008 South Rim Visitor Transportation Plan.