National Park Service offers new interpretive/orientation film at Grand Canyon National Park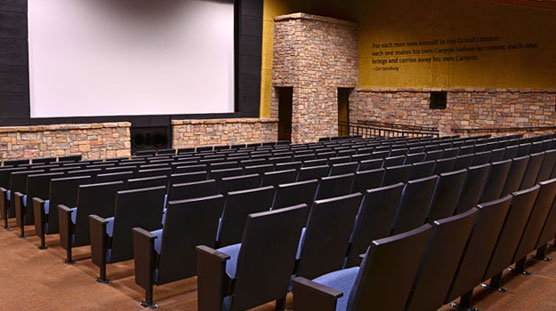 News Release Date:
April 14, 2011
Contact: Maureen Oltrogge , 928-638-7779
Grand Canyon, Ariz. – Beginning Monday, April 18, 2011, the National Park Service will begin showing an interpretive/orientation film at a newly constructed theater located at the Grand Canyon Visitor Center on the South Rim of Grand Canyon National Park. The film, titled Grand Canyon: A Journey of Wonder, takes visitors on a rim to river and dawn to dusk journey through the park. It introduces visitors to the park's interpretive themes by telling stories about Native American connections to the canyon, pioneer history, the Colorado River and water, geology of the Grand Canyon, the canyon as a place of inspiration, and the efforts to preserve and protect the Grand Canyon as a sanctuary for plants, animals, and humans.
The film was produced and directed by Joshua Colover of Aperture Films, Ltd., located in Newport Beach, Calif. Work began on the project in the spring of 2008 with initial filming in the spring of 2009 and continuing through four seasons. The film, narrated by  well-know actor Peter Coyote, was written by Robert Goldberg of Chatham, N.J., and includes an original score composed by Hillary Thomas of Los Angeles, Calif.  "Our goal with the film was to take people on a journey into the Grand Canyon…to not just watch the film, but experience it," stated Josh Colover. He added, "We worked very hard to put the camera in places that capture one-of-a-kind images – especially in places most visitors would not venture."
Grand Canyon: A Journey of Wonder will be shown at the newly completed orientation theater attached to the Grand Canyon Visitor Center. Work on the theater began in June 2010 and it was constructed through a partnership between Civil Design and Engineering and Loven Construction, both located in Flagstaff, Ariz. The theater addition was designed to blend into the existing visitor center and landscape, and includes both photovoltaic cells and a water harvesting system which demonstrate the park's commitment to the use of renewable energy and water conservation.
"Over the past 10 years, the park has received numerous visitor comments about our lack of an orientation program like those offered in most national parks, so it is very exciting that we are now able to provide them with this experience," stated Judy Hellmich-Bryan, Chief of Interpretation at Grand Canyon National Park. She added, "In addition, it will allow us to introduce our visitors to the park interpretive themes and provide them with opportunities to connect with park resources." The film will be shown on the hour and half hour during the hours that Grand Canyon Visitor Center is open.
Both the film and theater projects were funded through the Federal Lands Recreation Enhancement Act at a cost of $3.1 million. The film will be distributed by Grand Canyon Association (www.grandcanyon.org) and will be available for purchase at sales outlets throughout the park and on line beginning in May.
For more information on the film and theater, please contact Judy Hellmich-Bryan at 928-638-7760 or e-mail us. Additional information on Grand Canyon National Park can be found at www.nps.gov/grca or by calling 928-638-7888.
-NPS-
Last updated: February 24, 2015