Museum Collection
What is the Grand Canyon Museum Collection?
The Grand Canyon Museum Collection is a storage and research facility dedicated to preserving the physical artifacts that tell the various aspects of the Grand Canyon story. The storage facility, completed in 1999, has over 6,000 square feet of climate-controlled storage and research space, and houses over 1.6 million objects from seven different disciplines: archeology, ethnology, history, archive/ manuscripts, biology, geology and paleontology. Staff receive more than 2,000 research requests each year.
The Grand Canyon Museum Collection is open for study and research purposes to any interested researcher. In order to maintain its integrity, the collection may be used for reference only in a non-consumptive manner.

Museum staff must be present and will assist visitors in their searches. Because objects are irreplaceable, their use is generally restricted to onsite examination.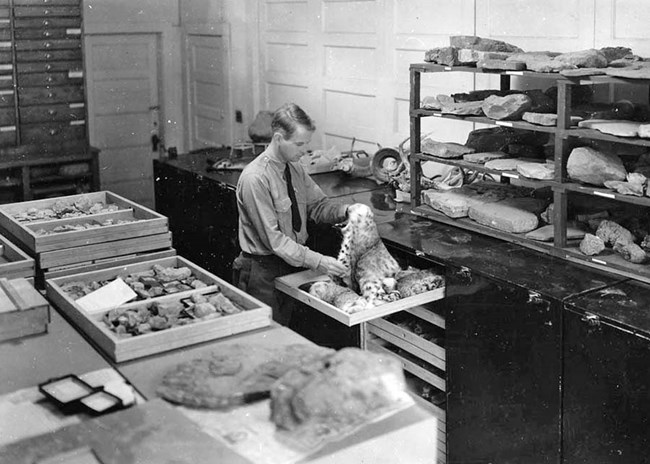 Contact Information
2C Albright Avenue, Grand Canyon, AZ 86023
(Located across from Albright Training Center)
Monday through Friday 8:00 am - 4:00 pm
Appointments are strongly recommended

Call the staff at (928) 638-7769
Email The Museum Collection Staff
Collections:
Archaeology Collection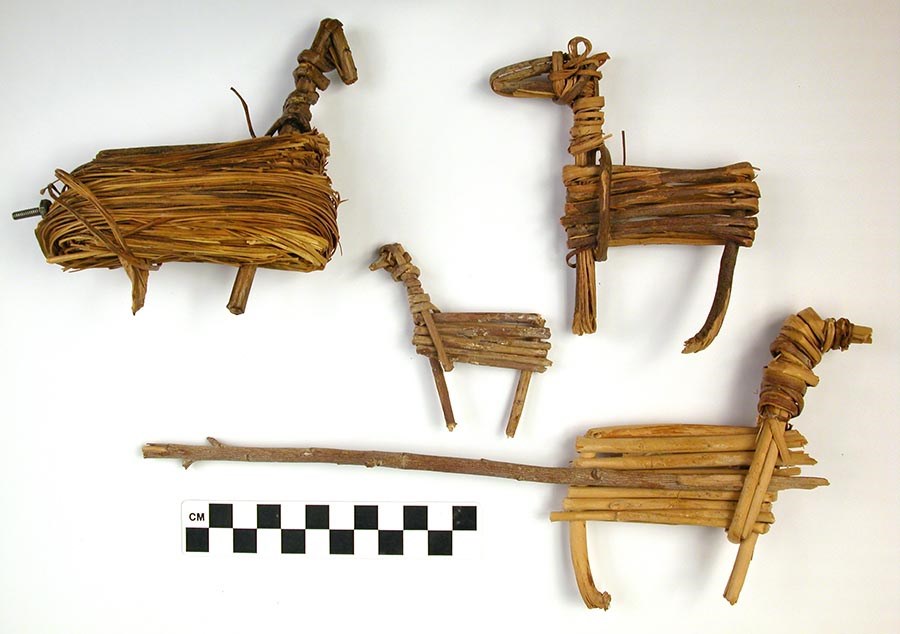 The material remains of past human life and activities at Grand Canyon, including:
Lithic tools dating back 12,000 years to the Paleo-Indians
Archaic split- twig figurines
Prehistoric basketry
Ancestral Puebloan pottery
Prehistoric sandals, textiles and adornment artifacts
Mining and early tourism artifacts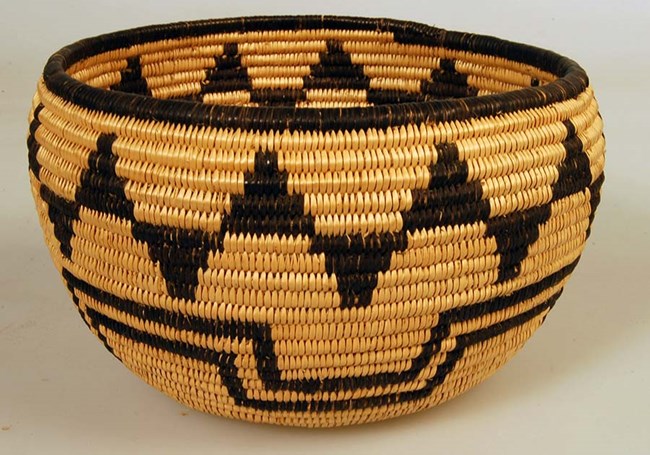 The material artifacts of the indigenous cultures that have inhabited the Grand Canyon region from the historic period through the present, including:
Havasupai baskets
Hopi kachinas, pottery, baskets
Navajo silver, rugs, pottery
Paiute baskets
Ethnobotanical materials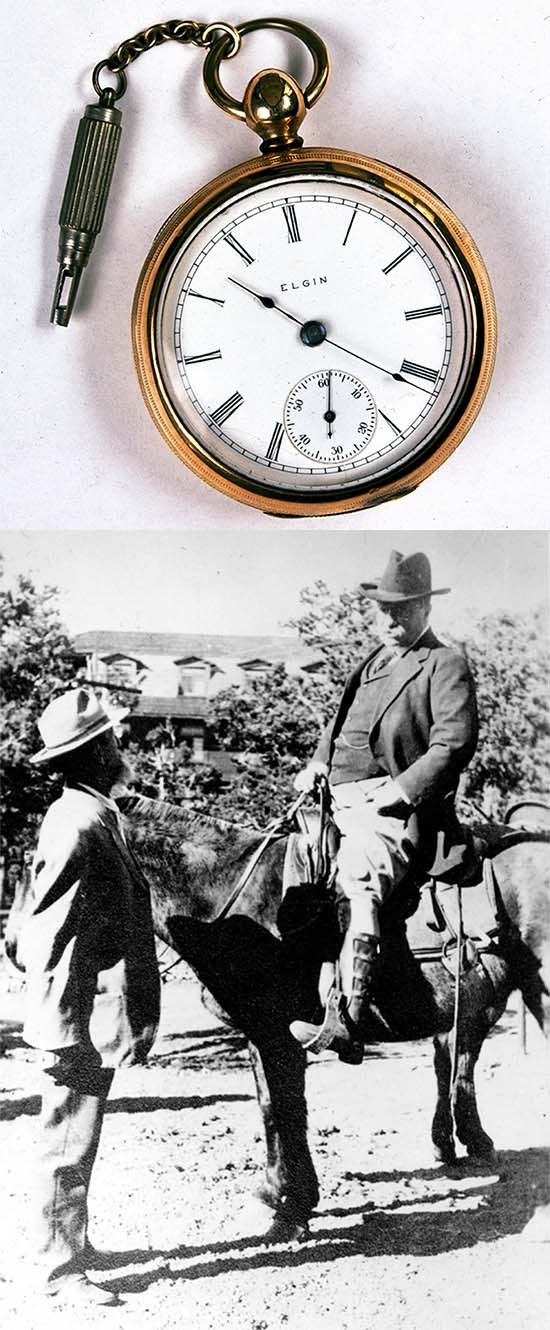 Non-archaeological material artifacts of the non-native cultures at Grand Canyon, including:
John Wesley Powell's pocket watch
The Walter Clement Powell diaries from the second Powell expedition
A pen used by Woodrow Wilson to sign the act creating Grand Canyon National Park in 1919
Photos from the 1873 George Wheeler expedition
Over 200 oral history tapes, videos and transcripts
Over 1,000 maps and blueprints
More than 24,000 black and white photographs
Over 200 rare or out-of-print books
Over 80 hours of historic film footage
Original paintings by Thomas Moran, Louis Akin, Gunnar Widforss, Hiroshi Yoshida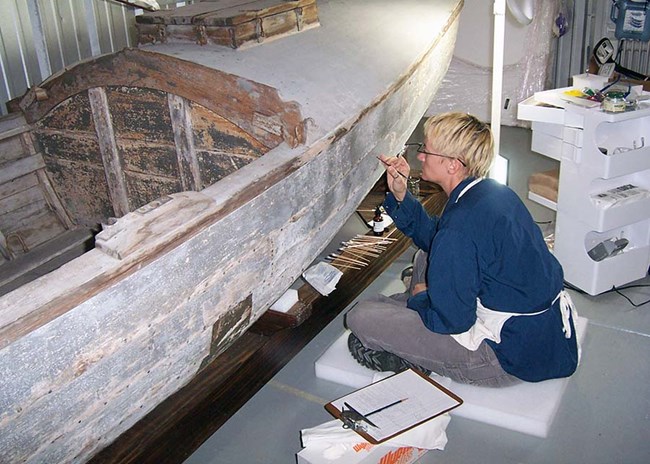 Historic Boat Conservation
The Grand Canyon historic boat collection is comprised of 19 boats that comprehensively illustrate the history of river running on the Colorado River through the Grand Canyon, with the oldest boat dating back to 1909.

The project to conserve this unique collection started in July 2003, with the removal of the boats from unprotected exhibit. The conservation efforts continue with each boat receiving a meticulous cleaning and stabilization treatment from professional conservators.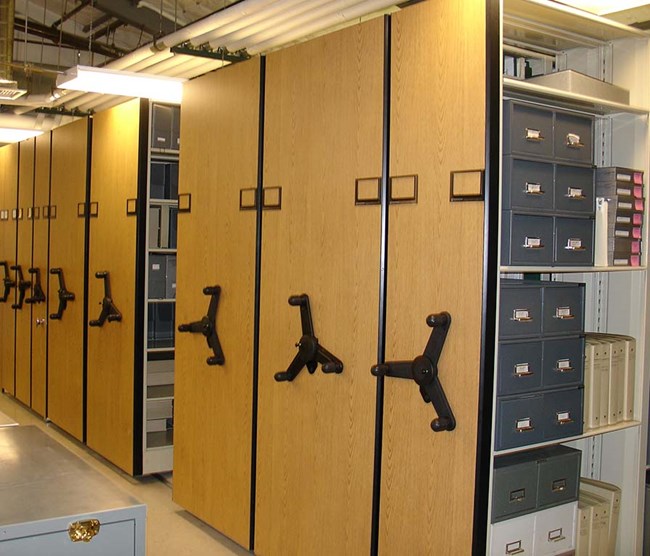 Archive/ Manuscript Collection
The document collection tells the Grand Canyon story through photos and in writing, including:
350 linear feet of park archives
1930's CCC project reports
Superintendents' Monthly Reports, 1931-1967
The Mary Colter Desert View Watchtower collection
The Louise Hinchcliffe park library vertical files
The 1935 Vegetative Study record
TWA - United airlines 1956 air accident files
---
Biology Collection
A collection of plant and animal specimens that document the life zones of the Grand Canyon region, including: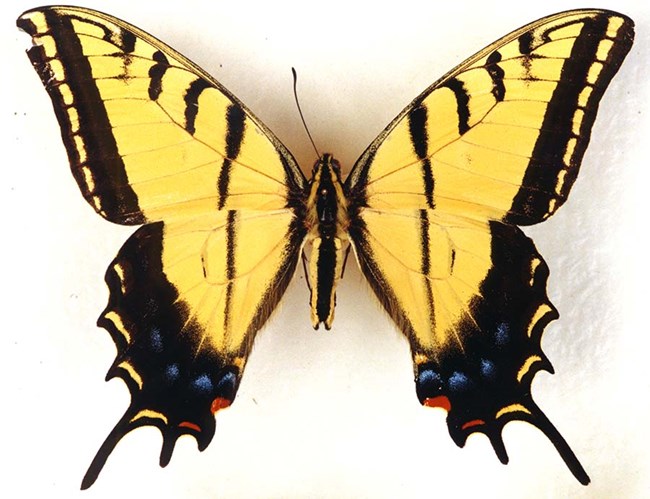 Over 14,000 herbarium specimens, including the Rose Collom, Walter Cottam and Merkle collections
Over 9,000 entomological specimens
Over 2,000 animal study skins, skeletons and scat materials
An alcohol collection with over 300 reptiles and amphibians
More Grand Canyon herbarium specimens are stored at the Museum of Northern Arizona Herbarium, the Northern Arizona Deaver herbarium, and the Desert Botanical Gardens, near Phoenix.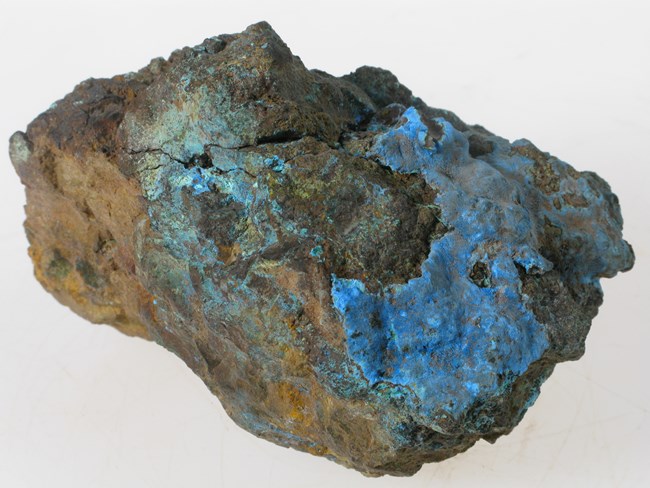 Rock samples tell the geologic history of the Grand Canyon region, including:

The John Maxson schist collection

The Eddie McKee study collection

Mining cores and ore samples

Mineral specimens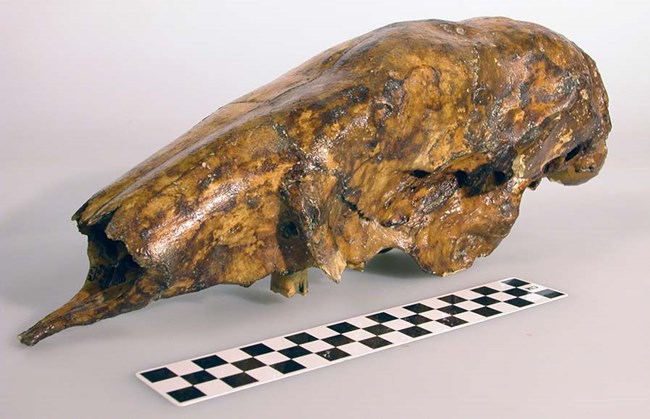 Fossil remains from past geologic periods at Grand Canyon, including:
Bass limestone stromatolites
Cambrian eocrinoids
Hermit shale ferns and insect wing
Coconino sandstone reptile tracks
Pleistocene ground sloth remains
---
Services
The Museum Collection has a collection of over 22,000 black and white photographs that may be loaned, scanned or purchased for exhibit, research and publishing projects. Several photos can also be copied onto CD-Rom's for purchase.
Onsite photocopying services are available.
We Need Your Help
The park is always seeking donations to enhance the collections. Contact Museum Collection staff for information about donating photographs, documents, or other materials.
---
Frequently Asked Questions about the NPS Review of Potential Uranium Exposure in the Museum Collection
Grand Canyon National Park 2019 Safety and Health Review Report (8.2 MB PDF File - July 2019)
Q: Why was an investigation initiated?
A: In June 2018, Grand Canyon National Park hosted a team of safety inspectors for a recurring environmental safety audit. During that audit, three 5-gallon radiation-labeled buckets of stored rock samples, some of which contained uranium, were identified in the Museum Collection facility as a possible safety risk.

Q:Who made up the safety team?
A: The safety team was an interagency team of experts—
Timothy Radtke, DOI Office of Occupational Safety and Health and Co-Team Lead

Michael May, NPS Office of Risk Management and Co-Team Lead

Kate Flanigan Sawyer, DOI Chief Medical Officer

Stacy C. Wertman, NPS Office of Safety, Health and Wellness (PWR)

Michael M. Quinn, DOI Chief Industrial Hygienist

Hillary A. Smith, NPS Mining and Abandoned Mineral Lands Program Lead

Maria Said, NPS Epidemiology Branch Chief

Ashley Hines, NPS Administrative and Budget Specialist

Veronica Dickerson, NPS Contaminants Cleanup Branch

AECOM Technical Services, Inc., Certified Health Physicist

Q: How did the safety team conduct their work?
A: The review team was tasked with investigating the exposure of park employees or visitors to radioactivity from uranium ore stored in the park's collection, determining whether the health and safety of any park staff or visitors may have been materially impacted, and recommending next steps to strengthen park safety. The investigative team:
Conducted a facility assessment including a radiation dose reconstruction to determine the level of exposure when rock samples were stored in the facility.

Interviewed employees to document the manner in which the materials are/were stored, employee work practices and likely exposure pathways.

Analyzed past assessment reports and available radiation safety practices.

Developed recommendations for managing collection samples in the future.

Q: What were the safety team's findings pertaining to radiation exposure?
A: The investigation's exposure-modeling estimates indicate that past employee and visitor exposures are not a health risk, and that current radiological conditions in areas of concern do not post a health risk.

Q: Why were original radiation measures so high?
A: Based on a review of pertinent records, information collected during interviews, site observations, and conclusions of the technical report, the radiation measurements provided in initial reports were inaccurate and indicated radiation levels approximately 200 times higher than expected based on background levels and historical survey data. The review found that the safety officer reporting the readings was unfamiliar with the operation of the Ludlum Model 3001 Multi-Detector Digital Survey Meter and did not have prior experience or specific training related to the instrument. This tool was more than likely improperly configured during the survey conducted by the safety officer.
Q: Was the safety team's work reviewed?
A: Yes, the interagency safety team's report was reviewed by the National Institute for Occupational Safety and Health (NIOSH) of the U.S. Centers for Disease Control and Prevention (CDC).
Q: What are the safety team's recommendations regarding museum collections moving forward?
A: The safety team recommended that the National Park Service 1) develop written policies and procedures to ensure that employees and managers are aware of potential hazards within their workplace and take appropriate actions to mitigate risk; 2) provide appropriate safety and health training for employees based on their workplace exposures and potential exposures—including training for chemical, physical, and biological hazards arising from museum objects; 3) implement an ongoing facility inspection program to identify, document, and correct hazards in the workplace; and 4) while there is no immediate health concern, wipe down cabinets were park employees stored the uranium ore with lint-free cloths and mild non-hazardous cleaning solution to remove the low-level residual contamination.
Q: Why did the report take so long to complete?
A: The report required assembling a team of experts, contracting with a technical contracting firm (AECOM Technical Services, Inc.) for the estimated dose reconstruction, employee interviews and site visits, and third party review by the National Institute of Occupational Safety and Health (NIOSH) prior to completion. In the public interest (and understanding the report would require proper vetting and review), the safety team released its preliminary findings in March 2019. The team's preliminary findings are confirmed in the final report.
Q: What are the next steps?
A: The NPS is finalizing a corrective action plan to strengthen the workplace safety culture at Grand Canyon National Park and implement recommendations developed by the interagency safety review team.
Last updated: May 1, 2023