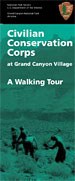 Civilian Conservation Corps Walking Tour (1.15 MB PDF file)

Severe economic depression challenged the confidence of the people of the United States. One in four people was unemployed. Many were homeless. The Civilian Conservation Corps was created in 1933 to put young men to work on worthwhile conservation projects. At Grand Canyon the CCC built roads, trails, walls, shelters and much of the infrastructure that still is in use today.

The walking tour travels a circular route in the Historic District of Grand Canyon Village of approximately 1.5 miles (2.4 km), although you can begin at any point and walk as much of the loop as you wish.


---