CCC Symposium: Speaker Biographies - May 30 - June 1, 2008
This page has been retained for reference and serves as a record of the 2008 event.
---
Below is a list of the speakers who presented during:
Saving the Land and Saving the Boys, the Civilian Conservation Corps, 1933-1942
May 30 - June 1, 2008 - Grand Canyon National Park
Michael F. Anderson, PhD in history Northern Arizona University, researcher & writer of Grand Canyon history since 1990, formerly trails archeologist & cultural resource specialist for Grand Canyon National Park. He has authored the following books: Living at the Edge: Explorers, Exploiters, and Settlers of the Grand Canyon Region (1998); Polishing the Jewel: An Administrative History of the Grand Canyon National Park (2000); Along the Rim: A Guide to Grand Canyon's South Rim from Hermits Rest to Desert View (2001). He has edited A Gathering of Grand Canyon Historians: Ideas, Arguments, and First-Person Accounts (2005) and authored articles in Nature Notes, Canyon Views, Plateau Magazine & Sojourns. He was project director of the first Grand Canyon history symposium in 2002. He lives in Snowflake, AZ where he is an history consultant.
Robert W. (Bob) Audretsch, BA in history & MSLS Wayne State University, historian, park ranger & writer has authored articles & edited publications for Colorado Libraries, The Guide, Nature Notes, Canyon Views & Arizona Highways. He is a devoted canyon hiker and has written numerous (unpublished) trail & route descriptions. He has written National Park Service site bulletins & the park pamphlet "The Civilian Conservation Corps at Grand Canyon Village, a Walking Tour." Awarded Best Story of the Year 1995 (with Gary Ladd) by Arizona Highways for "Bushwacking to Cheyava Falls." He is chairman of the CCC2008 Kolb Studio exhibit committee. He is slated to write a history of the CCC at Grand Canyon for the Grand Canyon Association (2009-2010).
Peter Macmillan Booth, BA University of Texas, MA University of Arizona, and PhD Purdue University, all in history. He is an historian and author of articles about the CCC including "Cactizonians: The Civilian Conservation Corps in Pima County, 1933-1942", Journal of Arizona History, Autumn, 1991 and University of Arizona Masters Thesis "The Civilian Conservation Corps in Arizona, 1933-1942" (1991). Peter has taught history at the college level and served as Assistant Director of Education at the Arizona Historical Society. He is a member of the Tucson-Pima County Historical Commission and a board member of the Santa Cruz Valley Heritage Alliance. He is employed by Tucson-based Assessment Technology Inc. assisting schools and students achieve statewide education standards.
William (Bill) Collins, MS, PhD in history from Arizona State University is Deputy State Historic Preservation Officer and has researched and written numerous nominations to the National Register of Historic Places. He is the author of two books: The New Deal in Arizona (1999) and The Emerging Metropolis: Phoenix, 1944-1973 (2005). Bill finds working with small communities to encourage the preservation of historic structures very rewarding.
Pam Cox, BS in Geological Sciences University of Washington, has been a ranger at Phantom Ranch since 1997. She has researched the CCC at Grand Canyon for her CCC interpretive programs she gives frequently at Phantom Ranch. She is involved with bat monitoring and bat inventory at Grand Canyon frequently going to many remote canyon sites to study the impact of humans on the bat populations.
Jane E. Jackson, MA Northern Arizona University, is a retired teacher with an ardent interest in the CCC camps of the Flagstaff area. She has been a volunteer interpretive ranger with the Forest Service and the National Park Service. She recently authored "Monumental Tasks: Flagstaff's Mt. Elden Civilian Conservation Corps Camp" Journal of Arizona History, Autumn, 2007.
Renee Corona Kolvet, BA and MA in anthropology from University of Nevada Reno, is a doctoral candidate at University of Leicester (UK) in archaeology and ancient history. She is research archaeologist with the US Bureau of Reclamation in Boulder City, NV and has published articles and field reports on Nevada archaeology. Over three years she has located the physical remains all the Nevada CCC camps and some spike camps. She is co-author with Victoria Ford of The Civilian Conservation Corps in Nevada: from Boys to Men (2006). Ms. Ford has interviewed over a dozen CCC alumni and those interviews are being compiled by the University of Nevada Oral History Program. Ms. Kolvet's most recent research is the effects of the New Deal on Nevada's Native Americans.
J. J. Lamb, is Education Director & Museum Coordinator at Colossal Cave Mountain Park near Tucson. Compiler (with Sharon Hunt & Martie Maierhauser) of Civilian Conservation Corps Scrapbook, Camp SP-10-A, Colossal Cave Mountain Park (2004).
David E. Lorenz, BA Central Michigan University, MA Michigan State University, avid researcher of fire lookouts, helped found the Forest Fire Lookout Association, register for the National Historic Lookout Register (NHLR), author of Tree Towers of the Grand Canyon; Fire Lookouts Towers of the Grand Canyon (1997). Dave has hiked to all fire lookout towers in Arizona and New Mexico. He is a retired administrator of higher education and resides in Flagstaff, AZ.
Neil M. Maher, PhD New York University, is Graduate History Coordinator and Associate Professor of the Federated Department of History, New Jersey Institute of Technology-Rutgers University, Newark, NJ. He is author of environmental history articles and the book Nature's New Deal: The Civilian Conservation Corps and the Roots of the American Environmental Movement (2007).
Richard Melzner, professor of history at University of New Mexico's Valencia Campus. He is author of numerous books and articles on the Southwest including: Ernie Pyle in the American Southwest (1996), Madrid Revisited: Life and Labor in a New Mexican Mining Camp in the Years of the Great Depression (1976), and Coming of Age in the Great Depression: the Civilian Conservation Corps Experience in New Mexico, 1933-1942 (2000). He is currently president of the Historical Society of New Mexico.
John C. Paige, BA in history University of Wyoming, MA in history Oklahoma State University, has worked 30 years as an historian and planner for the National Park Service. He has written numerous book reviews, articles, monographs and historic structure reports. He is author of The Civilian Conservation Corps and the National Park Service, 1933-1942: An Administrative History (1985). He recently retired and lives in Denver, CO.
Robin Pinto, Masters of Landscape Architecture and presently doctoral candidate in the School of Natural Resources of the University of Arizona. She has worked with the National Park Service researching parks and monuments in southern Arizona. She recently completed a National Register nomination for the CCC-constructed landscape entitled "Chiricahua National Monument Historic Designed Landscape." She is researching the cultural and environmental history of the Rincon Valley for her dissertation.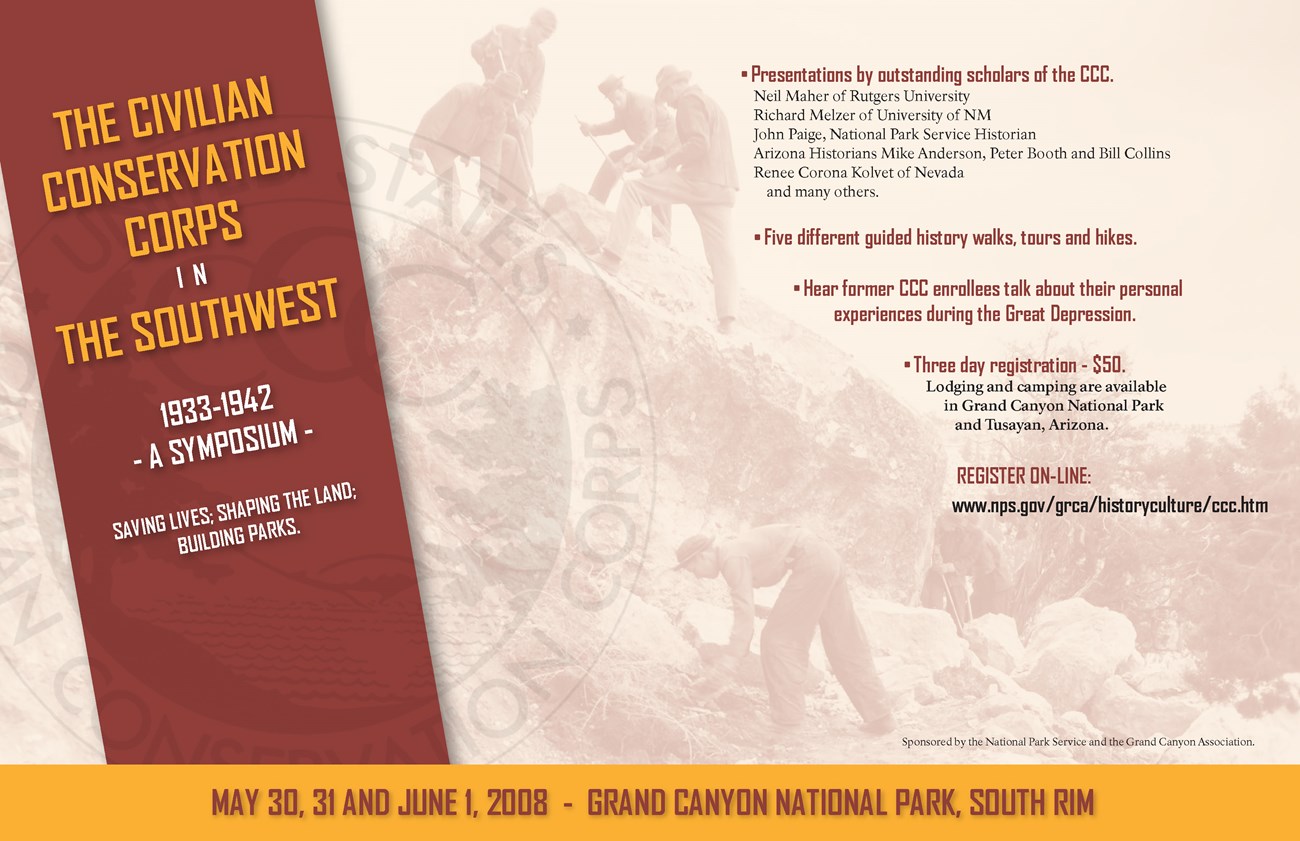 Last updated: February 18, 2023