Fort Mason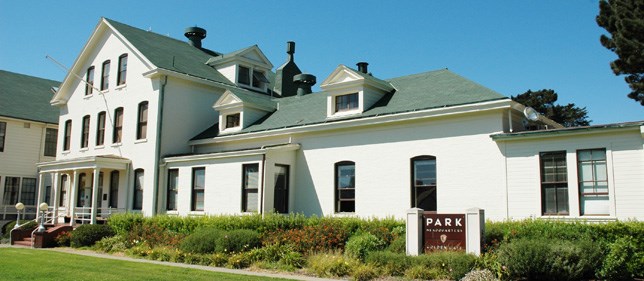 Golden Gate National Recreation Area Headquarters
Bldg 201, Fort Mason
San Francisco, CA 94123
What are some Fort Mason activities?

Paved, accessible trails and steep steps connect Fort Mason's upper and lower units. In between, the Great Meadow slopes down from upper Fort Mason to the Marina. These grassy hilltops and hollows are great for picnicking, sunbathing, walking, or sports activities. The meadow also offers wonderful views of San Francisco's hilly skyline and the Golden Gate Bridge.

The Visitor Information Center at the GGNRA Headquarters building provides maps, brochures, self-guided tours and park-wide information. The office is open Monday through Friday, 8:30 AM to 4:30 PM. The phone number is 415-561-4700.

Visit the Parks Conservancy's activities calendar to learn more about events at Fort Mason and throughout the park.

Explore the Fort Mason Center with its historic piers and warehouses, home to a wide variety of environmental, cultural and art organizations.

Download the upper Fort Mason History Walk, "A Reflection of San Francisco Through Time" for a self-guided tour of the historic army post.

Download the lower Fort Mason Center History Tour "Gateway to the Pacific" to learn how the vital San Francisco Port of Embarkation functioned as the army's largest shipping center for the Pacific Theatre
Where can I eat?

From the Fort Mason Headquarters Building 201, you can walk about ¼ mile west to the Marina Safeway. There are also places to eat at Fort Mason Center. "Greens", the famous vegetarian restaurant, is open for lunch and dinner and also serves beverages and pastries. Take-out service is available during the day (415-771-6222). "Cooks" offers sandwiches and soups at this small facility (415-673-4137).
What is the history of Fort Mason?
For information on this historic army post, please visit the Fort Mason history page. You can also download the Fort Mason self-guided walking tour (pdf file, 445 kb).
Can I walk my dog at Fort Mason?
Please visit the park's pet management page to learn more about walking your dog at Fort Mason.
Who are the park partners at Fort Mason?
Parks Conservancy
Fort Mason Center
San Francisco Fisherman' Wharf Hostel

How do I get a permit for my event at Fort Mason?
Please visit the Golden Gate National Recreation Area's permit page.
What are some of the current Fort Mason park projects?
In December 2016, GGNRA will remove the plum trees at the Fort Mason entrance and replace them with drought tolerant native plants. Please visit the
Park in Progress Blog
to learn more about the project.
Last updated: March 22, 2017