Baker Beach Accessibility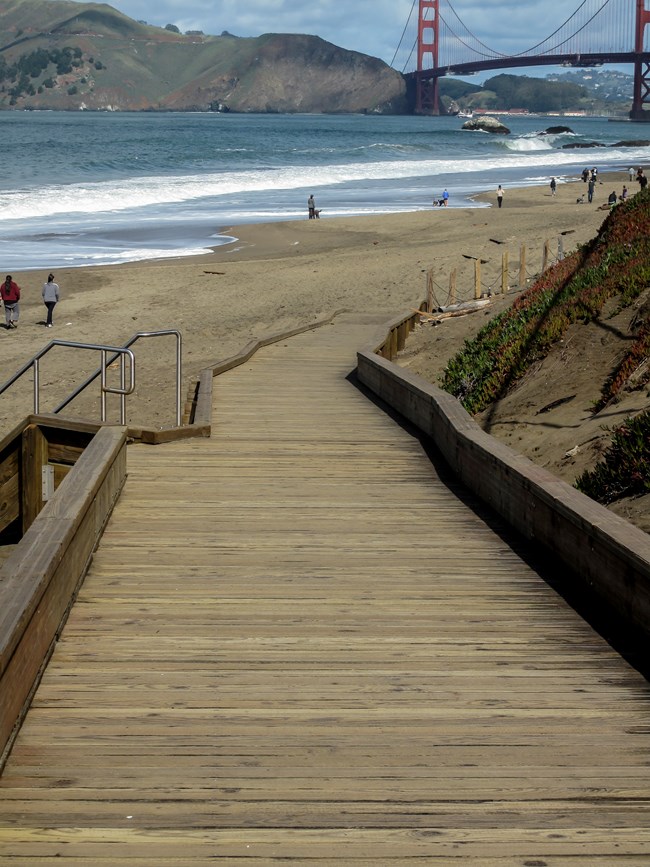 Accessible Features
Upon Arrival:
As you arrive at Baker Beach you will encounter the entrance to the North parking lot on your Right. If you precede straight ahead you will find the South parking lot. The North parking lot provides greater access to visitors and contains six accessible parking spaces. These spaces are signed and provide Van access. The restroom in the North lot is accessible; look for the brown building. The South lot contains designated accessible parking spaces; however, they do not provide access aisles. The only restroom available in this area is an accessible portable toilet.
Inside the Park:
If you choose to park in the North Lot you will find an adjacent picnic area. There is a picnic site behind the restroom building that has an accessible route and contains 2 accessible picnic tables and BBQ grills. There are 3 other picnic sites with a total of 5 accessible tables and grills north of the restroom area with accessible routes.
There is a permanent accessible ramp to the beach. Beach Wheelchairs are stored on site and can be made available upon request for use out on the beach, please click here for contact information.
Adjacent to the North parking lot is a service road that leads to Battery Chamberlin. The service road is usable. There are regular Disappearing Gun Demonstrations at Battery Chamberlin. Click here to find out when the demonstrations occur.
See what others have to say: www.wheelchairtraveling.com
Departure:
For more information about Baker Beach, click here.
Golden Gate National Recreation Area strives for full and equal participation for all visitors and continually upgrades facilities to make them more accessible. Please feel free to e-mail us comments and suggestions.
Last updated: October 23, 2019