Military History of Hawk Hill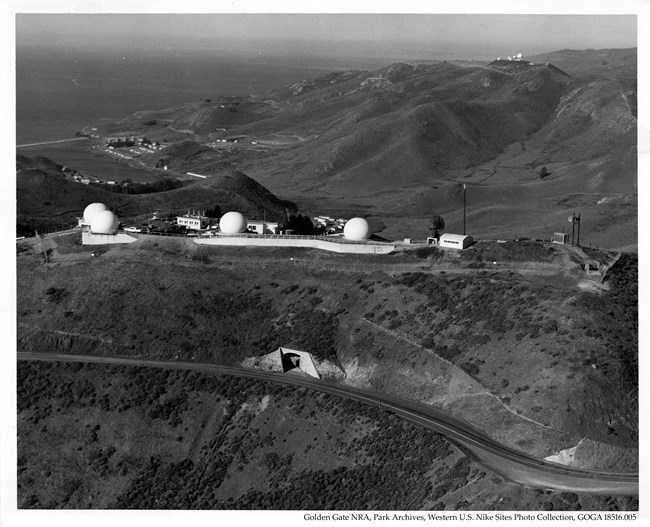 Unfinished Business

Hawk Hill, standing 923 feet above the entry to the Golden Gate in the Marin Headlands, offers unobstructed views of San Francisco and the surrounding area. Thus, Hawk Hill's location was of great interest to the United States Army during the Second World War. In 1942, army engineers began constructing a coast artillery battery to protect the entrance to the Bay. Two gun positions and underground storage areas were carved into the mountain. Designated as "Battery Construction #129," it would be similar to Battery Townsley, located a few short miles northwest. Yet by 1944, the two 153-ton guns were already obsolete. Designed to fend off battleships, they couldn't protect against aircraft, so construction was abandoned. Of the many gun batteries located throughout the Marin Headlands, Battery Construction 129 was the only one to never receive an official name.
Radar and Launch Control Center During The Cold War
The Cold War brought a new military purpose for Hawk Hill. The Marin Headlands was the site of two Nike nuclear missile defensive sites. Each of these missile sites needed its own radar and guidance sites. The top of Hawk Hill served as the radar and launch control center for Nike Site SF 87L, which is located at what is now The Marine Mammal Center. Construction started in 1954, and the site was operational until SF-87 was deactivated in 1971. All of the buildings on Hawk Hill were removed, but traces such as concrete foundations and radar pads remain today.
Last updated: September 21, 2020