Battery Townsley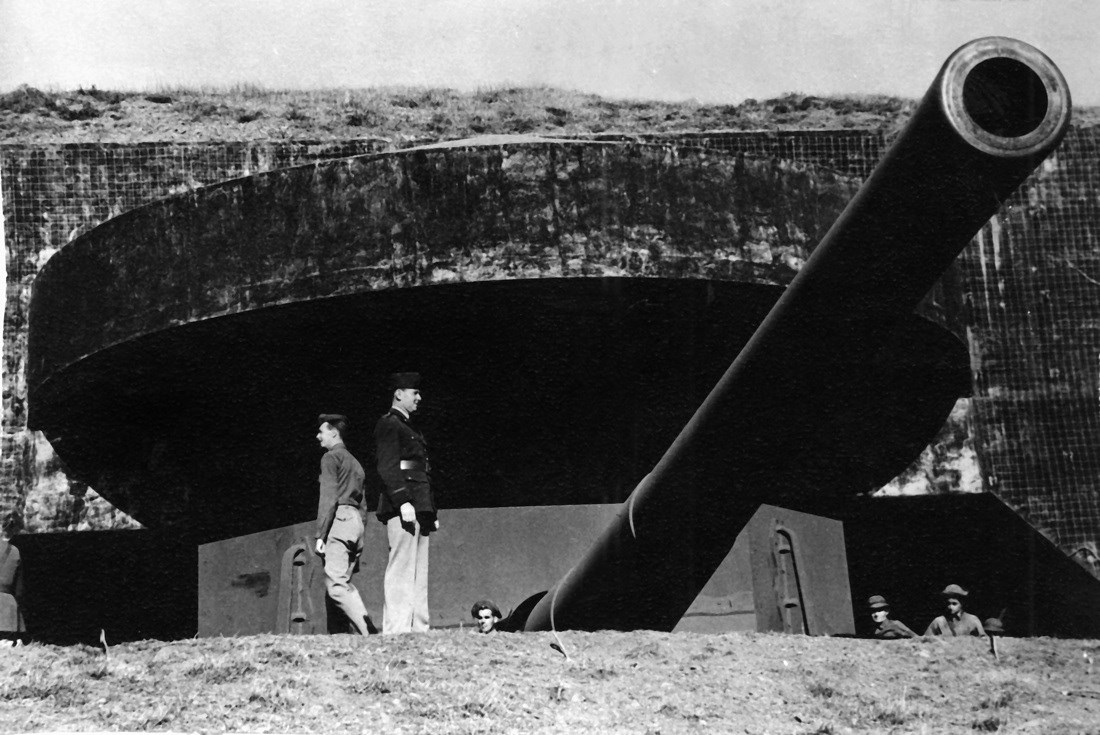 Homeland Security of the 1930s
Battery Townsley was a casemated battery that mounted two 16-inch caliber guns, each capable of shooting a 2,100 pound projectile 25 miles out to sea. Completed in 1940, the guns and their associated ammunition magazines, power rooms, and crew quarters were covered by dozens of feet of concrete and earth to protect them from air and naval attack.

This battery, named in honor of Major General Clarence P. Townsley, a general officer in World War I, represented the zenith of American military technology and became the prototype for subsequent coastal defense batteries. As early as 1915, the army considered mounting the 16-inch guns to protect San Francisco, and by 1928, the War Department made the decision to construct two batteries, one on either side of the Golden Gate straits. Battery Townsley at Fort Cronkhite in Marin was finished first, followed several months later by Battery Davis at Fort Funston.
Successful Testing
By summer of 1940, Battery Townsley was ready for testing with live ammunition. Waiting for a non-foggy day in July took some patience, but finally, the fog cleared and several test shots were fired. As the mountain shook with the power of this incredible machine, a resounding roar was heard throughout San Francisco. The army calculated that the 16-inch guns' farthest range would be 25 miles out to sea, about the distance to the Farallon Islands. Battery Townsley, together with Battery Davis at Fort Funston on the coast south of the Golden Gate, became the prototypes for the army's future coastal defenses; the army planned to construct at least 25 additional 16-inch gun batteries along both the nation's eastern and western seaboards.
Top Secret

Battery Townsley was a high security operation; civilians living in San Francisco knew that there were batteries in the Marin Headlands but their exact locations were not revealed. A battery of Townsley's design had never been constructed, so the soldiers underwent several months of practice before holding firing practice for the first time. The men were subjected to endless drills, often under difficult situations: in the rain, in the pitch dark with all the electricity shut off, or with the roads blocked leading up from the barracks. Dealing with any contingency ensured that the soldiers could operate their guns at a moment's notice (and almost in their sleep) if ever under enemy attack. During World War II, over a hundred soldiers lived within the battery, ready to fire on five minutes warning. They fired Townsley's guns nearly 100 times each, but only in practice.
Obsolescence
The growing threat of long-range bombers and nuclear weapons made Battery Townsley obsolete at the end of World War II. Its long-range guns, designed to shoot at battleships far at sea, were useless against aircraft flying at tens of thousands of feet. The big guns were scrapped in late 1948, and the battery converted to use as a warehouse, temporary barracks, and underground test facility. Sealed for many years, the National Park Service began restoration work in 2006. Work continues to this day, carried out by a group of dedicated Volunteers in Parks (VIPs).
Visiting Battery Townsley
Battery Townsley is located one ½ mile up from the Fort Cronkhite parking lot, following the Coastal Trail; the walk up to the battery is strenuous so please allow at least 45 minutes.

Battery Townsley is open the first Sunday of every month from 12:00 pm to 4:00 pm.
You can also visit the Marin Headlands page for more information about volunteering in the battery's preservation efforts, as well as directions and other programs and activities.
Last updated: April 25, 2023