Cold War Era, 1952-1974
Antiaircraft Defenses
During the Cold War era that followed World War II, the threat of foreign attack on U.S. soil shifted from naval assault to air attack, particularly by aircraft carrying nuclear weapons. Thus, the Army Air Defense Artillery took responsibility from the Coast Artillery branch for defending the continental United States. In the San Francisco area, antiaircraft defenses were at a continual high state of readiness from the Korean War and through to the implementation of the Strategic Arms Limitation Treaty of 1972. Coastal defenses around San Francisco during this period largely depended on the Nike antiaircraft missile system. The Nike system was not only the most expensive missile system ever deployed, it was also the most widespread (300 sites in 30 states) and longest-lived (25 years nationwide). The system was deployed to protect urban areas throughout the U.S., bringing Doctor Strangelove to suburban backyards and into the national consciousness.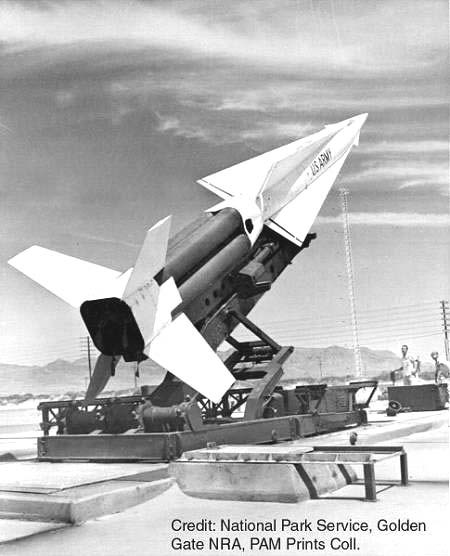 The Nike-Ajax, and its successor the nuclear-capable Nike-Hercules, were medium range antiaircraft missiles. Guided by a complex system of radars and tracking computers, they had ranges of up to 37 miles (Ajax) and 87 miles (Hercules) and could shoot down planes traveling at two to three times the speed of sound.
Beginning in 1954, 12 permanent launch sites and their associated control, housing, and command sites were constructed around the Bay Area (on San Pablo Ridge, Rocky Ridge, Lake Chabot and Coyote Hills in the East Bay; Milagra Ridge, Fort Winfield Scott and Fort Funston to the south of the Golden Gate; and Fort Cronkhite, Fort Barry, Angel Island and San Rafael to the north). Under the command of the Sixth ARADCOM region (Army Air Defense Command), the missile sites received initial targeting information from an early-warning radar station at the Mill Valley Air Force Station on Mt. Tamalpais (SF-90D on map above). Radars and computers in a Control Area near each launch site would then track a formation of planes and relay targeting information to the site and to each missile after it was launched.
In the 1970s, changing military technology made the Nike missiles obsolete. Inter-Continental Ballistic Missiles (ICBMs) replaced long-range bombers as the major offensive weapons in both the Soviet and U.S. arsenals. ICBMs fly at altitudes and speeds beyond which AJAX or HERCULES missiles could reach, leaving them without targets. After twenty years of constant readiness, the Nike missile system was declared obsolete by 1974 and the last missiles were taken out of service in 1979.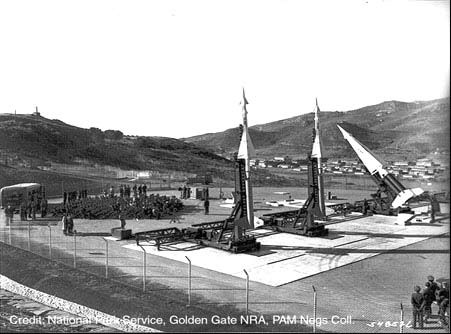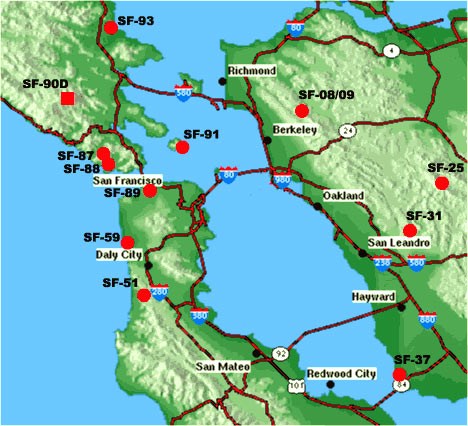 Last updated: March 19, 2015