News Release
Rising Lake Powell Water Level Increasing Access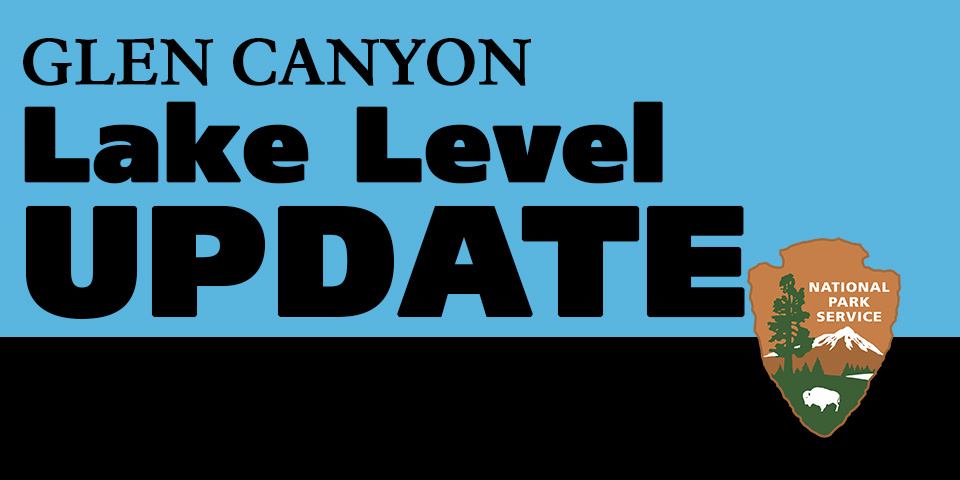 News Release Date:
June 2, 2023
Contact: Mary Plumb, 928 608 6200
Glen Canyon National Recreation Area is pleased to announce that spring runoff continues to increase Lake Powell's elevation, resulting in increased access in north lake Powell. The Halls Crossing Boat Ramp is open to vessels of all sizes. A courtesy dock is available at the ramp. To reduce congestion, boaters are asked to please limit use of the courtesy dock to 10 minutes or less. All launch and retrieval of vessels is at your own risk.  A wakeless zone is marked with buoys and signs alerting boaters to the requirement to travel at wakeless speed. The Halls Crossing Marina is located in San Juan County, Utah and is accessed via Utah Highway 276. Visitor services include a boat ramp comfort station and campground with family units. The Marina Office is open. The boat pumpout, boat fuel dock, Village Store and snack bar are closed but land-based pay-at-the pump gas is open 24 hours. The closest alternative boat fuel dock and pumpout are located at the Bullfrog Marina. The Halls Crossing Marina is located on Lake Powell, about 95 (153 km) miles upstream from Glen Canyon Dam, directly across the lake from the Bullfrog Marina.  
As previously announced, midlake fuel is unavailable. Due to low lake levels the Dangling Rope Marina closed in 2022 and dilapidated structures have been removed. We continue to seek funds to explore new options for mid-lake essential services (including fuel) to replace the services previously offered at Dangling Rope Marina. Dangling Rope Marina had been the only place to obtain boat fuel between the Wahweap area in south Lake Powell and the Bullfrog/Halls Crossing area in north Lake Powell, a distance of approximately 100 miles. Boaters should plan ahead for their needs. For boaters averaging 20 to 25 MPH, the trip to Bullfrog from Wahweap takes at least four to five hours. Boat fuel is available at Wahweap, Antelope Point, and Bullfrog Marinas.  
An overview is available of potential NPS operations on Lake Powell this season at this link: https://www.nps.gov/glca/learn/news/20230428.htm Please be aware that due to many dynamic factors affecting Lake Powell's water elevations, it is not possible to know when a specific water level will be reached. The park is monitoring changing water levels and when conditions allow will adjust visitor services. Please be sure to check the park's Changing Lake Levels webpage for the status of lake levels and all Lake Powell boat ramps, prior to the heading to the lake. (Information is available 24/7 at this link: https://www.nps.gov/glca/learn/changing-lake-levels.htm.).  Lake Powell's daily elevations are also posted on this webpage: LAKE POWELL AT GLEN CANYON DAM, AZ - USGS Water Data for the Nation  
Use caution when anchoring your vessel or parking your vehicle, since during spring runoff lake levels can rise up to two feet per day and result in rapid changes to the shoreline. Property left near the shoreline can quickly become submerged in mud and/or water. Depending on the grade of land, a foot of water rising vertically will cover approximately 30 to 50 feet of land horizontally. Visitors should park 300 to 400 feet away from water's edge, as a week-long visitor's vehicle could be inundated (depending on the inflow of water).  
Always approach the shore with caution and watch for shallows and submerged debris. Due to the spring runoff, boat operators need to use extreme caution while navigating the lake, as large debris is present above Halls Crossing.  More safety information is available here: Safety - Glen Canyon National Recreation Area (U.S. National Park Service) (nps.gov). Please follow Leave No Trace principles.    
A safe and enjoyable park experience begins at home. Prior to visiting, visitors are encouraged to become aware of current alerts available here: Alerts & Conditions - Glen Canyon National Recreation Area (U.S. National Park Service) (nps.gov)  Please follow the Leave No Trace Principles outlined at this link: https://lnt.org/why/7-principles/ 
We will provide updates as they become available. The park wishes everyone a safe and enjoyable visit to Lake Powell in 2023!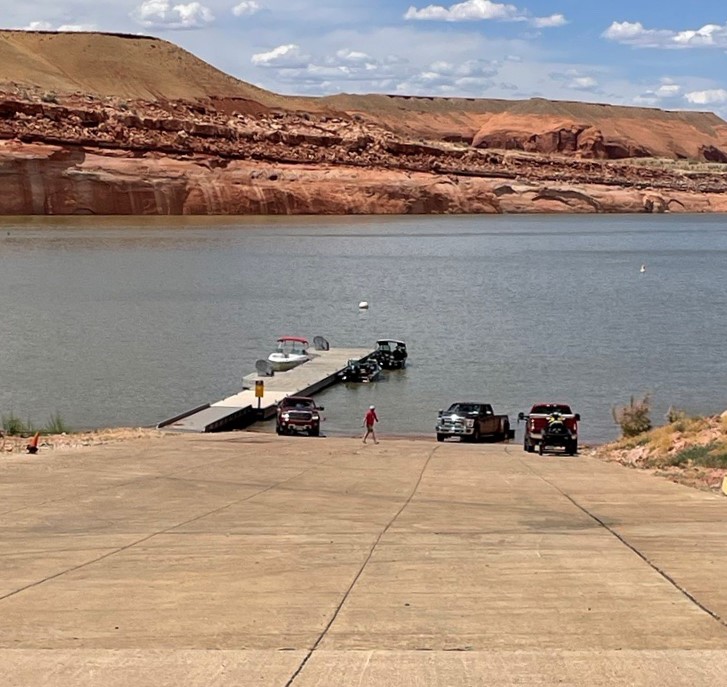 Last updated: June 2, 2023