News Release
Alternative Anchoring Pilot Program Underway on Lake Powell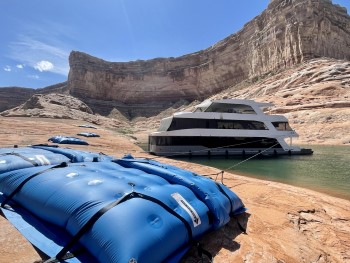 News Release Date:
May 26, 2022
Contact: Mary Plumb, GLCA_Media@nps.gov
Glen Canyon National Recreation Area is pleased to announce an Alternative Anchoring Pilot Program is underway on Lake Powell. The pilot program currently includes one commercial use authorization permit holder, Beach Bags, that offers a new technology designed to provide a non-destructive houseboat anchoring system for use on sandstone outcroppings previously inaccessible using conventional anchoring methods. This non-destructive anchoring method can provide a viable alternative to the growing practice of illegally securing houseboats using rebar and other types of metal pins drilled into sandstone along the shoreline.   
According to Superintendent William Shott, "Lake Powell is one of the most unique and scenic boating locations in the world and provides a houseboating experience like no other in the heart of the Colorado Plateau. Unfortunately, some houseboaters have learned to become dependent on drilling holes in the fragile sandstone to anchor their vessels. The accumulative effects of this illegal practice have caused significant resource damage while also becoming a larger safety issue. Pins and rebar that have been left behind injure swimmers and damage vessel hulls. If this practice were to continue it would detract from the very reason boaters travel to Lake Powell. We are excited to launch a pilot program that focuses on providing non-destructive anchoring alternatives to address this issue. Through piloting new technologies, providing public information about the nexus between pin anchoring and damage to park resources, and strengthening our enforcement efforts, we hope to put an end to this destructive practice. I couldn't be prouder of the park's team, our engaged public, and all of our partners in taking on this challenge."   
During the alternative anchoring pilot study, boaters should continue to utilize traditional anchoring methods or alternative anchoring methods that do not cause damage to natural and cultural resources in the park. For more information on alternative anchoring options, please visit the park's commercial use authorization webpage at:
https://www.nps.gov/glca/learn/management/vesselservices.htm
. 
As part of the pilot program, the park will welcome additional alternative anchoring technologies.
Please contact the
Glen Canyon Commercial Use Authorization Program
for more information at
GLCA_CUA@nps.gov.  
Boaters are reminded that pin anchoring is illegal. This practice damages resources, creates safety hazards, and is a form of vandalism. Houseboaters that utilize any form of pin anchoring are subject to enforcement actions, including the requirement to relocate or end their journey. For more information on safe and legal conventional methods for anchoring your vessel, please visit:
https://www.nps.gov/glca/learn/news/houseboat-staking.htm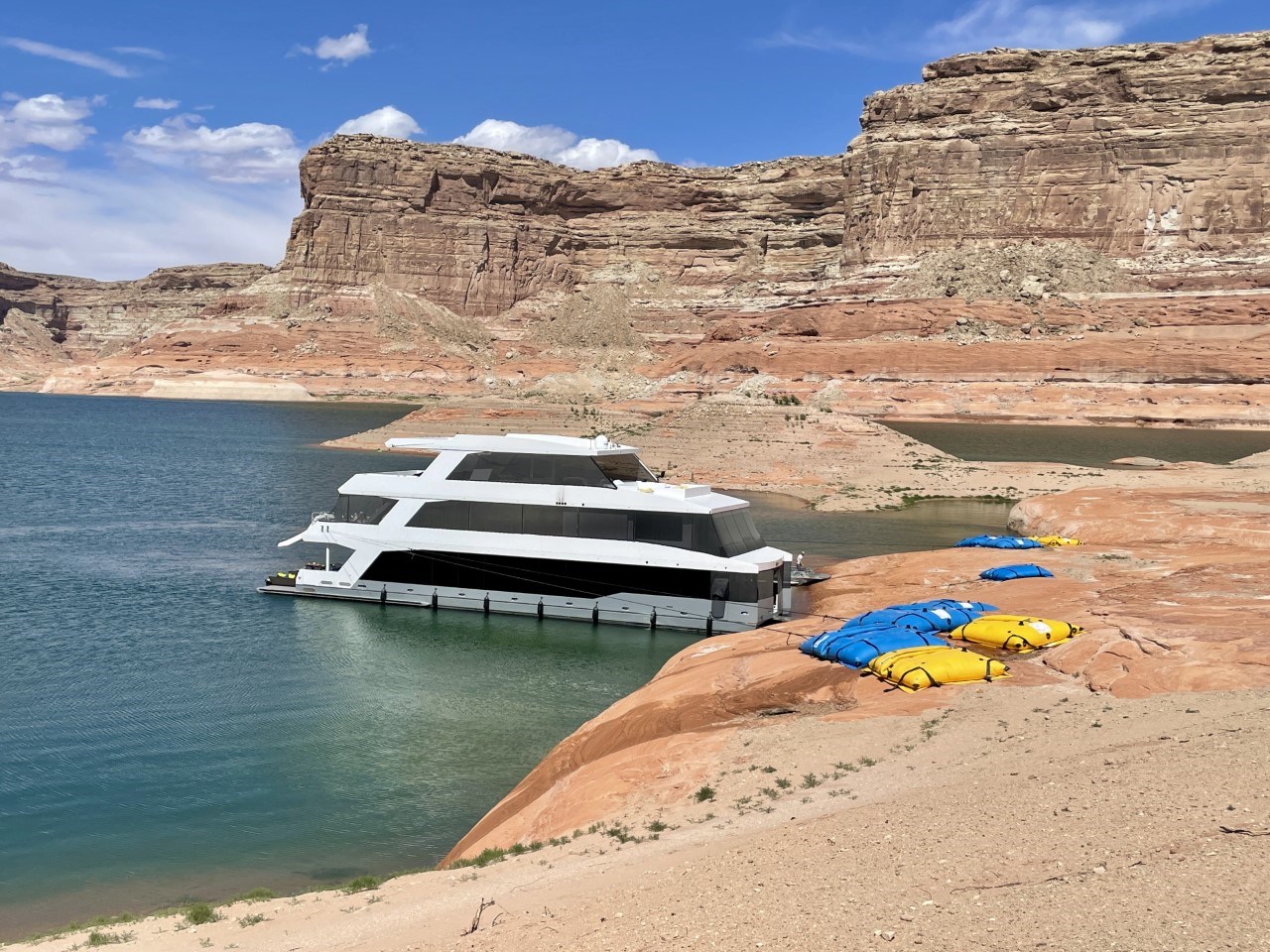 Last updated: May 26, 2022