Weather and Climate Monitoring Stations Proposed for Glacier Bay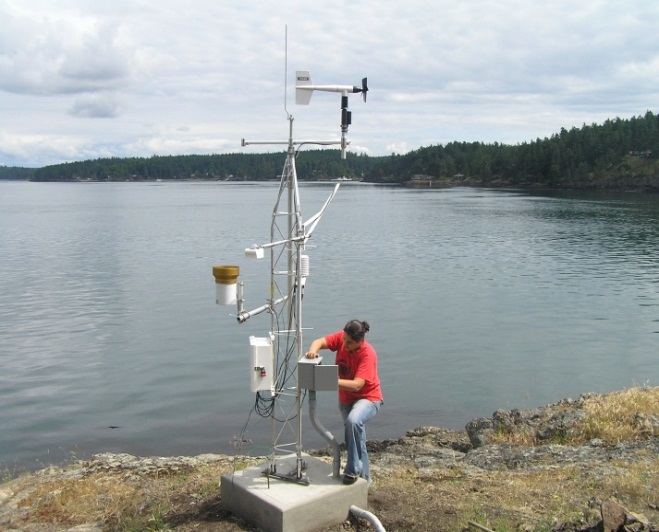 News Release Date:
June 14, 2013
Contact: Allison Banks, 907-697-2611
Weather and Climate Monitoring in Glacier Bay National Park and Preserve
Why monitor climate in Glacier Bay?
The National Park Service Southeast Alaska Inventory & Monitoring Network (SEAN) designs and operates long-term ecological inventory and monitoring programs for Southeast Alaska parks including Glacier Bay National Park and Preserve. Weather and climate is one of the park's 12 priority Vital Signs.  Detecting changes in climate will inform managers about a broad range of resource effects including glacial ice mass wasting, shifts in marine salinity and nutrients, timing and abundance of marine mammal prey, forest and early successional plant community advance, spread of invasive species, and adjusting park infrastructure to more intense storm events or rising sea levels.
What would monitoring stations do?Remote Automated Weather Stations (RAWS) record air and soil temperature, precipitation, relative humidity, wind, solar radiation, and snow depth data.  Stations are powered by solar panel, wind generator, or methanol fuel cell. In addition to storing data, each station also transmits hourly weather conditions and sensor condition by satellite.
Where would stations be located?
A grid of stations would be designed to capture conditions along the west-east, north-south, and high-low elevation gradients in the park.  Sites in Lituya Bay, Dry Bay, Deception Hills, Queen Inlet, Lone Island, upper Muir Inlet, and Brady Icefield, are being considered.
Where can I learn more about the SEAN Climate and Weather monitoring program?
Read more about the SEAN Climate and Weather Inventory and Monitoring program.
What's Next?
The National Park Service (NPS) is asking for your questions and comments on the climate station program so they can be considered early in the development of the Environmental Assessment (EA). Park resources that may be affected by such installations include wilderness value and character, visitor experience, vegetation and soils, terrestrial wildlife, and culturally sensitive areas.  If you have questions about the proposed climate station program please contact Allison Banks by phone at 907-697-2611, by email at e-mail us or by postal mail at: Glacier Bay National Park and Preserve, P.O. Box 140, Gustavus, AK 99826
An informational public meeting will be held at the
Gustavus Public Library
Wednesday, June 26, 2013, 4:00-6:00 pm and 7:00-9:00 pm
Please submit your issue comments by July 17, 2013.  An EA analyzing the potential effects of climate station installations will be prepared this summer.  A 30-day public review of the environmental assessment could take place by September, 2013.  Station installations may begin in 2014
Last updated: March 8, 2018