Huna Tribal House Environmental Assessment Available for Comment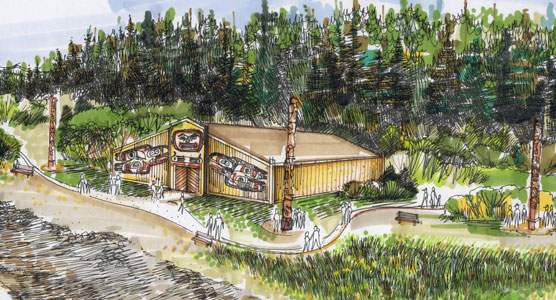 News Release Date:
October 19, 2012
Contact: Mary Beth Moss, 907-209-7795
Contact: Allison Banks, 907-697-2230
The National Park Service (NPS), in cooperation with the Hoonah Indian Association (HIA), is proposing to construct a 3,500 square foot Huna Tribal House on the Bartlett Cove waterfront in Glacier Bay National Park, Alaska. Learn more about the project here.
We are pleased to announce that the Huna Tribal House Environmental Assessment (EA) is ready for public review and comment. The EA analyzes the proposed action and alternatives and their impact on the environment. Your ideas and concerns about the EA are welcomed and encouraged. Comments can be shared at public meetings, sent by mail, submitted electronically or by calling the Project Leader directly. Comments must be received no later than Monday November 19, 2012.
This fall, the park will host meetings in Hoonah and Gustavus, Alaska, to hear ideas, concerns and thoughts about the EA. In addition, the NPS will be hosting a booth at the Alaska Federation of Natives Convention, October 18 through 20 in Anchorage, Alaska. Meeting times and locations are:
Hoonah City School Auto Shop (tribal house carving shop)
October 23, 2012 from 6:30-8:00 pm

Gustavus Public Library
November 5, 2012 from 5:00-7:00 pm
You may submit a comment using the website https://parkplanning.nps.gov/glba
(Select "Huna Tribal House", Click the Project Link button "Open for Comment", download or read the document, and when you are ready, click on the "Comment on Document" button)
You may mail or fax your comment form or letters to:
Mary Beth Moss, Project Leader
Huna Tribal House EA
Glacier Bay National Park and Preserve
PO Box 140
Gustavus, AK 99826
Fax: 907-697-2654
Email: e-mail us
If you wish to comment in person or to receive an individual copy of the EA, please contact Mary Beth Moss directly at 907-209-7795.
Please note: Before including your address, phone number, electronic mail address, or other personal identifying information, you should be aware that your entire comment (including your personal information) may be made publicly available at any time. Although you can ask us to withhold your personal information from public view, we cannot guarantee that we will be able to do so.
The planning team will consider all comments submitted. Following this review, we will complete the National Environmental Policy Act (NEPA) evaluation and announce our decision. We appreciate your interest in the management and stewardship of the park and look forward to your continued involvement in this important planning process.
Sincerely,
Susan L. Boudreau
Superintendent
Last updated: February 3, 2019