News Release - Johns Hopkins Inlet Vessel Closure Extended Through July 15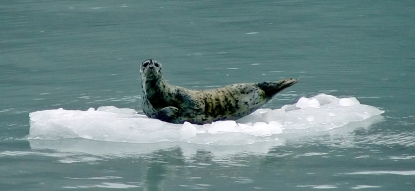 News Release Date:
June 27, 2011
Contact: Allison Banks, Public Information Officer, 907-697-2230
Contact: Susan L. Boudreau, Superintendent, 907-697-2230
Contact: Lisa Etherington, Chief of Resource Management, 907-697-2230
Glacier Bay National Park Superintendent, Susan Boudreau, has extended the closure of Johns Hopkins Inlet to all vessel traffic through July 15, 2011 to protect unweaned seal pups. A recent harbor seal survey found that pupping continued through mid-June, resulting in pups that will be highly dependent on their mothers through the middle of July.
Mariners are asked to exercise caution to avoid harbor seals hauled out on floating glacier ice. Harbor seals are especially vulnerable to disturbance during the summer pupping and molting seasons. When disturbed, seal pups can be separated from their mother, with potentially fatal consequences. Mariners are urged to maintain at least one quarter mile distance from seals hauled out on ice. Mariners should also reduce speed and maintain a greater distance if the seals appear agitated by the vessel's approach.
Superintendent Boudreau recommends that mariners keep a sharp lookout for seals in these and other areas, and take early action to minimize any disturbance. As a reminder, park regulations and the Marine Mammal Protection Act prohibit the harassment of harbor seals and other marine mammals.
For detailed vessel use regulations and other boating information, please follow the link below:
Boating Regulations Map/Guide PDF
Last updated: April 14, 2015