Boating in Glacier Bay

Alert: There will be helicopter activity in the park on July 11th to 16th. Read more via the
alerts page
.

Imagine waking to the sound of a whale blow! You fix your coffee and sit on the back deck while your boat gently rocks, looking out over the magnificent expanse of water and mountains. Suddenly up pops a curious harbor seal only a few yards from your boat and it is checking you out! These are only a couple of the common occurences while visiting Glacier Bay National Park on your own boat.
Obtaining and Using a Private Vessel Permit

Vessel use in Glacier Bay is regulated by the National Park Service to protect park wildlife and other resources while providing a range of recreational opportunities to park visitors.

Applications will be accepted no sooner than 7:00 AM on the day the application may be submitted. Applications sent/recieved sooner than 7:00 AM on the date application may be submitted, but are considered early and may be denied or moved to a later priority. Please refer to the Advanced Notice Permit Date Reference Guide for accepted Advanced Notice application dates.
Under the vessel permit system, motorized pleasure boat operators are required to obtain a non-fee permit prior to entering Glacier Bay anytime between June 1 and August 31. Because Bartlett Cove is one of the most heavily used whale feeding areas, the permit is required to enter Bartlett Cove as well as the rest of the bay. Vessels entering without a permit may be denied access to the bay, asked to leave and issued a citation.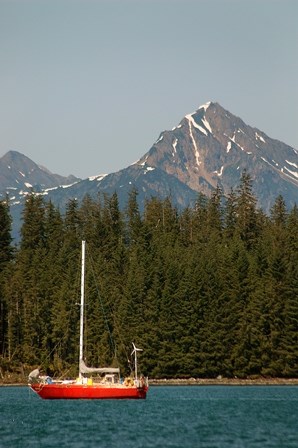 Regulations provide that no more than 25 private vessels may be permitted each day from June 1 through August 31. Thirteen (13) of these are designated advanced notice permits and twelve (12) are short notice permits.

Advance notice permits (up to 13 per day) may be issued to boaters applying no more than 60 days in advance of the entry date. Check our Advanced Notice Date Reference Guide to determine the earliest day to apply. (You may apply no earlier than 7am on that date)

Advance application is strongly advised, particularly from June 11 through August 2, as permits are limited. You may reserve up to seven consecutive days. At the peak of the summer season, permits may be difficult to get. If you are denied an advanced notice permit because the 13 allotted are all taken, you may wish to apply for a short notice permit later.

Short notice permits (up to 12 per day) may be issued to boaters applying no more than 48 hours in advance of the requested entry date. (You may apply no earlier than 7am on that date)

Vessel operators may apply for private vessel permits by fax, phone, radio, email, in person at the Bartlett Cove Visitor Information Station or by USPS mail. In addition, vessel operators may apply for private vessel permits at the Hoonah office during normal business hours M-F. Please note that this office is staffed only intermittently.

Applications are time stamped and handled in order received at or after 7am. However, applications received in person are given priority over all other applications. Applications with the same date/time stamp are prioritized by 1) fax and email; 2) radio and phone; 3) USPS letter.

Applications will be reviewed upon receipt and a response form will be sent to the applicant.

Permits are issued to the vessel operators and an operator may hold up to 2 permits at any one time. Each permit may be for up to 7 days, for a maximum of 14 days out of any 21 days.

In planning your trip, please note that pets are not allowed on shore anywhere in Glacier Bay National Park except on a leash at Bartlett Cove. Before arriving at Glacier Bay you may want to be familiar with other park regulations, particularly those that apply to boaters.

All boaters are required to call immediately upon entering the bay and proceed directly to the Visitor Information Station in Bartlett Cove for a required boater orientation prior to continuing into the bay.

Glacier Bay Boater Permit Application
Vessel entries are limited during the summer months.
Complete this application and email back to us at glba_vis@nps.gov
Boating Regulations
Whale waters, wildlife closures, dock rules, etc.
Whale Waters Regulations
Whales most often feed within 1 mile from shore. Learn how to protect them in Glacier Bay
On The Water
Glacier Bay Boater's Orientation Film
Please email, mail, fax, or phone requests for an application, completed applications, or requests for further information to the address below.
Glacier Bay National Park and Preserve
PO Box 140
Gustavus, AK 99826
e-mail us
(907) 697-2230,
Fax (907) 697-2654
October through March
(907) 697-2627,
Fax (907) 697-2647
April through September
VHF marine radio Channel 12 or 16, KWM20 BARTLETT COVE
during regular business hours.


Last updated: June 8, 2018