Mammals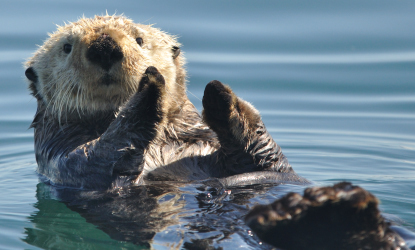 Marine Mammals
Among the cetaceans, humpback and gray whales, harbor and Dall's porpoises, and killer whales occur commonly in park waters. Humpback whales spend the summer foraging throughout all but the most glacially influenced fjords. Gray whales are generally restricted to the waters adjacent to the outer coast during spring and fall migration. Dall's porpoises are largely citizens of open waters, while harbor porpoises tend to favor more sheltered waters. Killer whales commonly transit park marine waters during all seasons.

The harbor seal is a commonly seen marine mammal. In the early 1990s researchers counted over 7,000 seals in Johns Hopkins Inlet, where they haul out on icebergs for pupping and molting. However, yearly censuses have shown steep population declines in the last decade at both ice and terrestrial haulouts, with much of the decline since 1996. In 2002, researchers counted between 1,670 and 1,740 seals in the bay, with numbers dropping to 1,140 after a big storm. These decreasing seal numbers mirror more widespread declines throughout the northeastern Pacific, and scientific research is underway to better understand the causes.
Steller sea lions are less numerous than harbor seals but still widespread in the park, and in contrast to seals their numbers in Glacier Bay (but not elsewhere in southeastern Alaska) have risen steeply since the late 1980s. A non-breeding Steller sea lion haulout on South Marble Island has increased to over 500 sea lions in recent years, compared with fewer than 200 in the early 1990s. Researchers recently confirmed a new sea lion rookery with around 400 animals at Graves Rocks near Cape Spencer. The population of which they are a part is apparently thriving, unlike endangered populations in the western Gulf of Alaska and Bering Sea.
Sea otters were extirpated from the region during the 19th century and were reintroduced near the park in the 1960s. Their thriving populations have spread throughout the lower bay, and their numbers are now at over 8,000 in Glacier Bay. The burgeoning sea otter numbers drastically change the populations of their favorite prey such as mollusks, crabs and sea urchins, and consequently the structure of shallow-water ecosystems.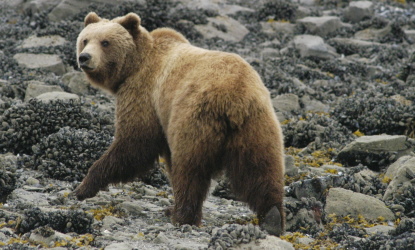 Alaska is Bear Country!
Know how to be safe around bears.

Glacier Bay Bears
Biology, distribution, diet, safety, identification, photo gallery, and more...
Land Mammals
About 30 of the 40 or so species of land mammals known from Southeast Alaska have been documented in the park. Species already present in mature areas of the park, such as black bear and wolf, continue to press northward into the Glacier Bay watershed as the vegetation matures. A few others, notably moose, coyote, and snowshoe hare on the park's outer coast have made it through the coast range more recently and are spreading into suitable habitat as it develops. Fishers and cougars may be poised to follow suit. Yet other species such as beaver and marmots may be periodically exterminated in certain localities by predation or disease, then re-invade when the opportunity allows.
Black bears are widespread and common in forested areas, while the less numerous brown bear is most often found in open habitats and in proximity to salmon streams. Five species of terrestrial mustelids are present: short-tailed weasel, mink, marten, river otter and wolverine. Taken together, they occupy virtually all freshwater, terrestrial and marine shore habitats. Wolves appear to have increased in abundance since the establishment of moose in the park and preserve, and may be responsible for a corresponding decrease in coyotes. Red foxes patrol the outer coast beaches. A single cat, the lynx, is occasionally spotted around the Gustavus/Bartlett Cove area and occurs rarely in the Dry Bay area.
Among the ungulates, moose occur widely throughout thickets, meadows and open forests of lower elevations. The moose population in the Gustavus area has grown significantly in recent years. While Sitka black-tailed deer reach the northernmost portion of their natural range in the mature communities fringing Icy Strait, they are only occasionally spotted in Bartlett Cove and Gustavus forests. Mountain goats occupy massifs that offer the combination of precipitous escape terrain, good alpine meadows and sufficient high-altitude forests for winter shelter.

Rodents are also well-represented throughout the park, although their distribution is still very patchy. Among larger ones, the hoary marmot and porcupine are common, while beaver occur along Icy Strait and in the preserve. The chatter of the ubiquitous red squirrel echoes throughout the spruce forests of the southern portion of the bay.

Who lives Here?
Mammal Checklist

Alaska Wildlife Notebook Series
From bats to whales, this is an online ADF&G guide to over 150 Alaskan animals