Bear Distribution and Genetics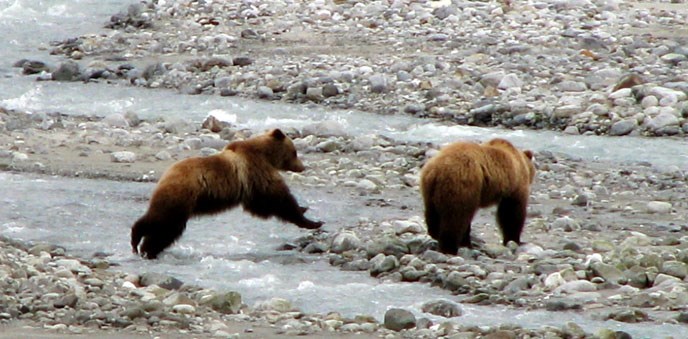 The deep fjords, islands, and mountains which characterize Southeast Alaska were shaped by a mixture of geological processes and dramatic glacial periods of advance and retreat. From the Little Ice Age until 260 years ago Glacier Bay was largely covered in ice. Since then the glaciers have receded at an unprecedented rate, exposing a new bay and a freshly sculpted land. Mammals colonized Glacier Bay as the glaciers receded. Migrating bears arrived in the new land looking for sources of food, including early successional species such as willow catkins, soapberry, alpine sweet vetch (bear root), and field oxytrope (locoweed). The glaciated mountainous landscape and wide fjords of this unique bay have geographically influenced the colonization of the bay by bears by acting as barriers and directing the flow of migration. Glacier Bay also has a wide spectrum of rapidly varying habitat, ranging from moonscape glacial outwash to rich old growth forest.

Gustavus Bear Population Study
How many bears utilize the area in and around Gustavus, Alaska?

Brown Bear Genetics Study
Discovering the history of Glacier Bay's bear populations

Glacier Bay Bear Distribution Study
Where the wild things (black and brown bears) are...

Last updated: April 20, 2018