Gustavus Forelands Bear Population Study

Black and brown bears are important for wildlife viewing opportunities within Glacier Bay National Park (GLBA) as well as provide sport hunting opportunities in areas surrounding the park such as Gustavus. GLBA and the Alaska Department of Fish and Game are collaborating on a study to assess the number of bears in a 200 km study area of the Gustavus Forelands using genetic analysis of bear hair from bear rub trees and scented hair traps. Map of Study Area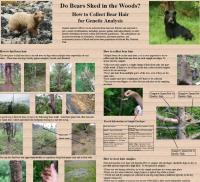 Bears rub on trees repeatedly over time, often along regularly used bear trails. The trees are identified by claw and bite marks. Bear rub trees in the study area were equipped with two small strands of barbed wire so when bears rub on the trees they leave clumps of hair on the barbs. Additionally, eight scented hair traps were deployed throughout the study area. These are enclosures of a single strand of barbed wire placed in proximity of regularly used bear corridors. In the center of these enclosures there is pile of rotten wood with a smelly attractant on it, such as a mixture of rotten cow's blood, fish fertilizer, and glycerin. The bears slip underneath the barbed wire, depositing hair on the individual barbs. Motion sensor cameras placed overlooking some of the traps suggest that bears spend very little time investigating once they determine that there is no actual food reward.

Check out the Project Photogallery.
See what our hidden cameras discovered near Gustavus!

The hair samples are sent to a lab for genetic testing. These tests provide information on individual id, species, sex, and potential genetic relatedness of other bears beyond the study area. Mark-recapture analysis will be done when the genetic tests are complete. A "mark" occurs when we obtain the first sample of an individual bear. "Recapture" occurs when we obtain hair from that same bear during another sampling session. Statistical analysis will be done to inform the probability of marking new individuals and recapturing marked individuals. The results from this analysis will give us a minimum number and an estimated population of bears using the Gustavus Forelands.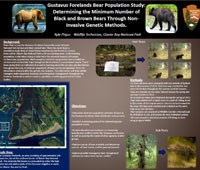 Project Poster
Gustavus Forelands Bear Population Study
Last updated: June 5, 2018