Commercial Fishing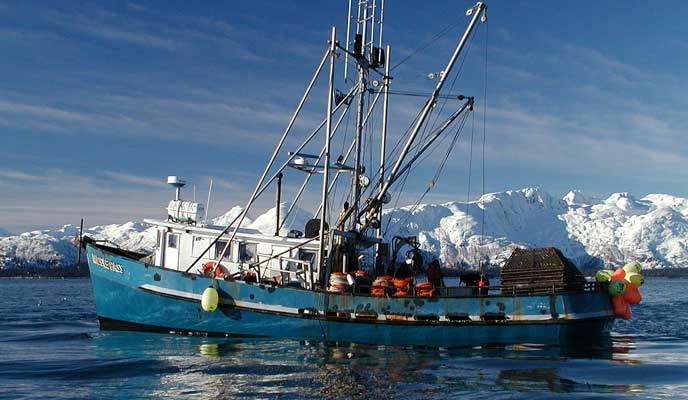 Commercial fishing is the harvest of fishery resources (fish and invertebrates) for sale and profit. National Park Service Regulations (36 CFR 2.3 (d)(4)) generally prohibit commercial fishing in parks "except where specifically authorized by Federal statutory law." As a result of a long and controversial history, involving a lawsuit and subsequent court rulings and negotiations, this activity has been authorized within Glacier Bay National Park since 1999. In contrast, recreational fishing within national parks is generally authorized unless prohibited. For Glacier Bay recreational fishing, see sport fishing.
Map of Glacier Bay Commercial Fishing areas
Pursuant to section 123 of Public Law 105-277 as amended by Public Law 106-31 and 36 CFR 13.1130-1146, commercial fishing in Glacier Bay National Park is restricted to protect park resources and values and uphold the commercial services prohibition in Wilderness in compliance with the 1964 Wilderness Act. Only specific fisheries are authorized in Glacier Bay National Park waters, and the rules differ between "Glacier Bay Proper" versus other park waters in Cross Sound/Icy Strait and along the outer coast. Commercial fishing and associated buying and processing operations are prohibited in wilderness waters. Only fisheries occurring at the time the regulations were developed are authorized to continue in park waters. Any new or expanded fisheries are prohibited.
The United States has initiated a system of marine protected areas (MPAs) to advance marine conservation and sustainable use, and in 2009 Glacier Bay was designated as an MPA. It is unclear how this designation will manifest itself in policy and regulation, but it will almost certainly lead to an even greater potential and opportunity for scientific research. For more information please see the
National Marine Protected Areas Center website.
Glacier Bay Proper
Glacier Bay Proper means all waters north of a line drawn between Point Gustavus at 135°54.927′ W longitude; 58°22.748′ N latitude and Point Carolus at 136°2.535′ W longitude; 58°22.694′ N latitude.
Fishermen must possess a Lifetime Access Permit (LAP) in order to participate in one or more of the authorized commericail fisheries within Glacier Bay Proper. The superintendent will renew lifetime access permits at 5-year intervals for the lifetime of a permittee who continues to hold a valid State limited entry or other commercial fishing permit, and for halibut a National Oceanic and Atmospheric Administration National Marine Fisheries Service (NOAA NMFS) quota share, and is otherwise eligible to participate in the fishery under Federal and State law. There are fewer than 90 LAP holders as of 2016.
LAP holders may participate in one or more authorized fisheries in Glacier Bay proper in certain areas, subject to federal and state commercial fishing regulations. Vessels engaged in authorized commercial fishing activities are exempted from seasonal (May 1-August 31) vessel permit requirements.
The authorized fisheries are halibut longline, Tanner crab rings and pots, and Chinook salmon troll.
Fishery-specific authorized areas and closures are shown and described on the commercial fishing map.
Outer Waters
Outer Waters means all of the non-wilderness marine waters of the park located outside of Glacier Bay Proper.
A Lifetime Access Permit is not required to fish in Outer Waters. However, commercial fishing, buying and processing are prohibited in Wilderness waters of Dundas Bay.
Specific commercial fisheries are authorized in Outside Waters subject to state and federal commercial fishing regulations. The authorized fisheries listed in the Glacier Bay Compendium section 13.1130(a) are king crab pot, Dungeness crab pot, weathervane scallop dredge (specific areas), shrimp pot, groundfish dinglebar and longline, Pacific halibut longline, Tanner crab rings and pots, Pacific salmon troll, and chum salmon purse seine (Excursion Inlet only).
The commercial fisheries listed above are those fisheries which have, at the time of the 1998 legislation regarding commercial fishing in the park (Public Law 105-277 section 123), been established legally in outside waters. All fisheries are subject to current federal and state commercial fishing regulations and emergency closures, which should be referred to prior to engaging in any fishery in Glacier Bay National Park.
More information
Last updated: February 25, 2021