Weddings: Frequently Asked Questions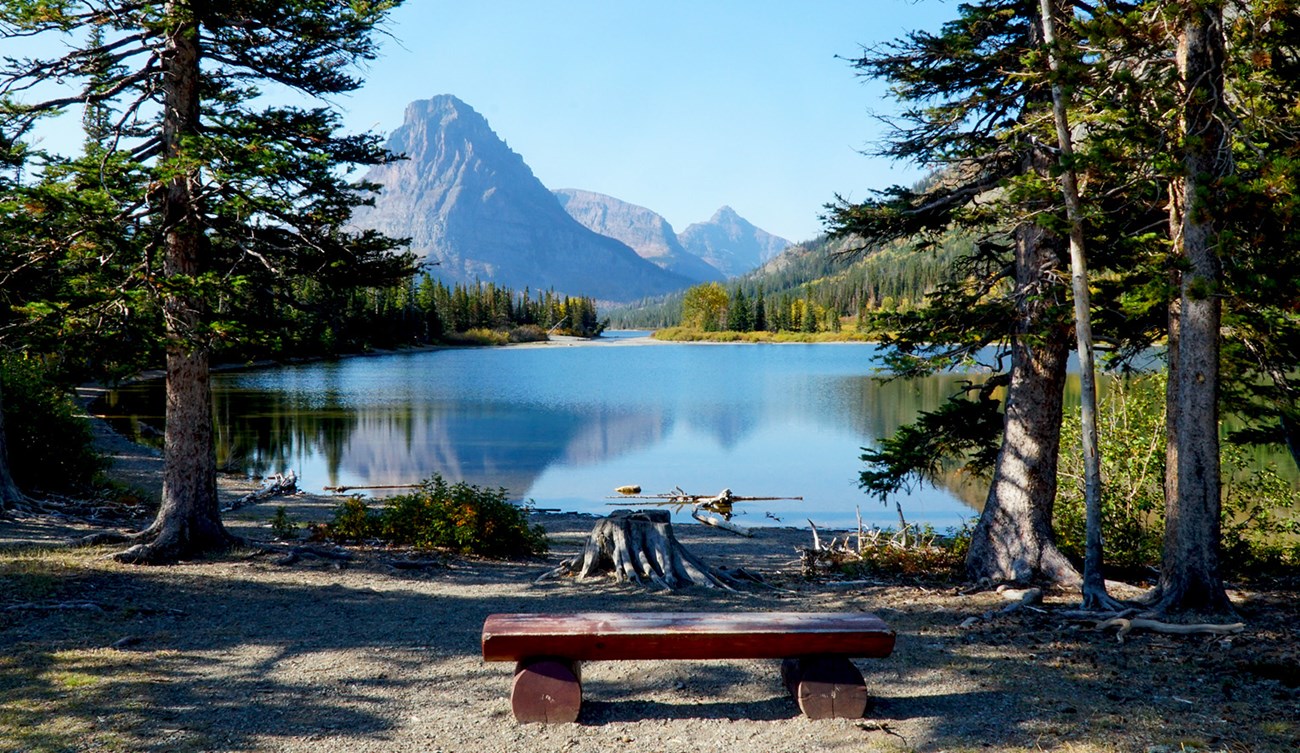 Frequently Asked Questions
Can I get married at Logan Pass?
No. We do not write permits for Logan Pass. You may take pictures at Logan Pass. Keep in mind that the Logan Pass area is CLOSED TO ALL OFF-TRAIL TRAVEL. This closure is to protect fragile alpine plants that are easily killed when stepped on and can take many years to grow back.
Are there any restrictions on group size/parking/amount of time?
Yes. Each site has limits on the number of people permitted and the equipment that can be brought in. The number of vehicles permitted depends on the number of participants. That information can be found on our Wedding Locations page. These limits are in place to protect the plants, wild animals, and scenery within the park that can be damaged or stressed by large group activities. They also help provide positive visitor experiences. Permits are written for two hours. This time covers getting into the wedding location, setting up, performing the ceremony, and vacating the wedding location. It does not include time for pictures. See below for taking wedding photographs in the park.
What is "peak season" for Glacier National Park?
Peak season is considered the second Friday in May through the second Sunday in October.
Is there a way for me to look up what is available?
We do not have a public calendar. There is no way to check what is available at this time.
What happens if my preferred choices are not available by the time you get to my application?
If your preferred choice is not available for the date/time you chose, we will work with you to find another location/time to make your event memorable. Any other issues on your permit application can be addressed at this time. We will also collect payment via credit card. Having one or more backup plans before submitting your application can speed up this process significantly.
I'm getting married outside of the park, but want to take pictures with a professional photographer in the park. Do I need a permit?/I have a permit, but want more time to take pictures. Do I need a second permit?
Current regulations are such that you do not need a permit to come into the park to take pictures, even if doing so with a professional photographer. If you have a permit to hold your wedding inside the park, you may take as much time as you want for pictures before or after your permitted time; and you may go anywhere in the park open to the general public. However, keep in mind that the same rules apply to you as to any other park visitor. These regulations include, but are not limited to: respecting area closures and closures to off-trail travel; rules regarding pets; rules against the collecting, trampling, or disturbing of plants; rules about approaching, feeding or in any way harassing wildlife; and the prohibition of scattering, spraying or releasing any items such as champagne, rice, birdseed, balloons, flower petals, bubbles, etc.
Why do you charge a fee and why is it nonrefundable?
The fee is a cost-recovery fee for the time and expense to the government for reviewing and processing your application. This is an application fee, not a fee for the final permit. This fee does not guarantee you will get a permit and is required for all applications submitted regardless if you end up cancelling or do not receive a permit.
Can I pay by credit card?
Yes. Credit cards are currently the only method of payment accepted. We will call you when your permit is ready to be processed. Payment is taken at that time. PLEASE NOTE: When we call you, the number will most likely show on caller ID as "Restricted" or "Unavailable" due us calling from a government line.
What is a "permit monitor" and why would I have to pay for one?
A permit monitor is a uniformed NPS employee who may be assigned to monitor your permitted event to ensure the terms and conditions of your permit are being followed. If a permit monitor is assigned to your event, you will be required to pay a cost-recovery fee of $50/hour for a minimum of two hours. An employee may have to monitor your event on his/her day off, and federal regulations require that employee to be paid for no less than two hours of overtime. Note that any NPS employee may ask to see your permit at any time, and may step in if you are breaking park rules and regulations even if you have not been assigned a permit monitor.
If my permit does not fall into a category that would require an assigned permit monitor, does that mean my permit will not be checked?
As a permitted special activity, all events may be spot monitored by an NPS employee. These individuals will make contact with your group to ensure that the terms and conditions of your permit are being met. Park employees may ask to see your permit and may compare the number of people and vehicles listed on your permit to those located onsite. They may also check the date, time, and location of your permit, among other things. Park employees will not interrupt ceremonies already in progress for the purpose of a routine permit check, but have the right to do so if there is an immediate and pressing threat to visitor or resource safety, or if the violation is particularly egregious. You are required to comply with any employee who is conducting a routine permit check before the event will be allowed to proceed.
What if I don't follow the regulations and limits on my permit?
All Special Use Permits are legal, binding documents under the following authorities: 54 USC §100101, §100751(a), §103104; DO #53; RM #53; 36 CFR § 2.50; 36 CFR § 1.6. Like all National Parks, Glacier falls under federal jurisdiction, meaning all park "rules" are actually federal laws. Breaking those laws can result in federal citations, fines, federal prosecution, and/or imprisonment, depending on the nature of the violation. Violations of the terms and conditions of Special Use Permits can result in Class C Federal Misdemeanors which include fines of up to $5,000 and up to six months in jail. "Terms and Conditions" of a permit include any and all instructions, definitions, regulations, or other written terminology contained in the document. This includes, but is not limited to, location, date, time, number of total vehicles, and number of total participants.

If permit holders are found to be in violation of any of the terms and conditions of their permit, their anticipated activity may be disrupted, delayed, or even cancelled. Permits that are disrupted, delayed, or cancelled due to noncompliance will not be rescheduled, moved, or allowed to continue past the time listed on the permit and refunds will not be issued.
Do I still need to pay the park entrance fee?
Yes. Your permit does not act as a park entrance pass. All visitors are required to have a valid park entrance pass (including during periods when the entrance station is not staffed).
How far in advance can I apply for a permit?/We are doing a spontaneous elopement and want to get married in the park next week! Can we do that?
You can apply for a permit up to one year in advance of your requested date, but no less than one month (20 business days) before your requested date. This time frame is in regard to when we receive the application, not when you sent it. Applications received outside of this window (no more than 1 year and no less than 1 month in advance) WILL NOT be considered. Depending on the time of year and current demand, permits can take more than a month to process, but will not be processed more than a year in advance.
Does getting a permit mean we will have an area to ourselves?
No. Getting a Special Use Permit to hold your wedding at a location in the park does not close that area off to other visitors, nor does it give you exclusive use of the area. While permits for weddings will not overlap in time/location, other visitors to the park can and will have access to the same locations as you. If you hold your wedding between the hours of 8am–6pm May–October, chances are high you will not be alone.
Can we reserve parking?
No. All parking inside Glacier National Park is first-come, first-served. Your permit does not guarantee you will be able to find parking. Reserving or saving spaces is prohibited. Carpooling is strongly encouraged.
I received a permit, but I changed my mind on location/time/etc. Can you change my permit?
Due to high demand, no changes will be accommodated once the final permit has been issued. If you want to change location, time, etc. on your permit, you will need to submit a new application and pay another application fee. Exceptions to this rule can be made if an area becomes unavailable due to a park closure.
I'm afraid the area I want won't open in time for my wedding, can I have a "backup" location on my permit?
No. Permits are issued for one time and one place only. If your permit is cancelled due to a park closure, we will try to accommodate you elsewhere or at a different time. However, there is no guarantee that other arrangements can be made. Note: refunds will not be issued for cancelled permits or applications.
What if the weather is bad the day of my wedding or there is a wildfire in the area causing a lot of smoke? Can I reschedule?
Generally speaking, no. If the area of the park for which you received a permit is closed to the public due to a fire or other emergency, we will try to accommodate you elsewhere or reschedule, though this is not guaranteed. However, heavy smoke, rain, snow, wind, and other natural and unpredictable weather patterns are just part of the potential hazards of holding a wedding in a national park and are not grounds for changing your permit. Note: refunds will not be issued for permits that cannot be rescheduled, are cancelled, or that you do not use.
How will I know if an area will be open or not?
The best resource is our website, particularly our Road, Trail, and Campground Status page. In general, however, you can anticipate most of the park being accessible mid-July through mid-September. Most roads in the park are closed and snow-covered from mid-October through the end of May. The only area of the park that is accessible year-round (conditions permitting) is the Going-to-the-Sun Road from the West Entrance to Lake McDonald Lodge. Note that Covid-19, weather, emergencies, and construction/maintenance projects can quickly change the accessibility of any location at any time. The most up to date information can be found on our website or social media platforms.
Website: www.nps.gov/glac
Twitter: @GlacierNPS
Facebook: Glacier National Park
Instagram: @glaciernps
Can I bring my pet?
Pets are allowed in developed areas such as amphitheaters, campgrounds, and picnic areas. Think "Paws on Pavement." For the safety of both your pet and the park's wildlife, pets must be kept on a 6-ft. leash and under physical control at all times. Pets are not allowed in buildings, the backcountry, on trails, or along most lakeshores/waterways. Pets are never allowed to chase or otherwise harass wildlife or other park visitors. ADA certified service animals are always welcome. Please be aware that emotional support/comfort/therapy animals do not qualify as service animals.
Can I have music?
There are noise level regulations in place, but soft music such as an acoustic guitar or phone speaker is allowed. Generally, no one outside of your group should be able to hear it. Please put it on your permit application if you plan to have any sort of music.
Anything else I should know?
All participants associated with a Special Park Uses Permit must comply with all park regulations including, but not limited to those regarding the storage and handling of food and disposal of trash.

Please follow Leave No Trace ethics throughout your entire visit to Glacier National Park. More information can be found on our Leave No Trace page.

Nothing may be spread, scattered, or released. This includes, but is not limited to rice, birdseed, bubbles, flower petals (both real and fake), balloons, and butterflies.

The area used for the ceremony is to be left in the same or better condition than it was found.
I still have more questions. How can I get in touch with you?
Please send an email to glac_sup@nps.gov. Park staff will get back to you as soon as possible by either email or phone. PLEASE NOTE: when we call, the number will most likely show on caller ID as "Restricted" or "Unavailable" due to us calling from a government line.
Last updated: March 9, 2023