Native America Speaks Presenters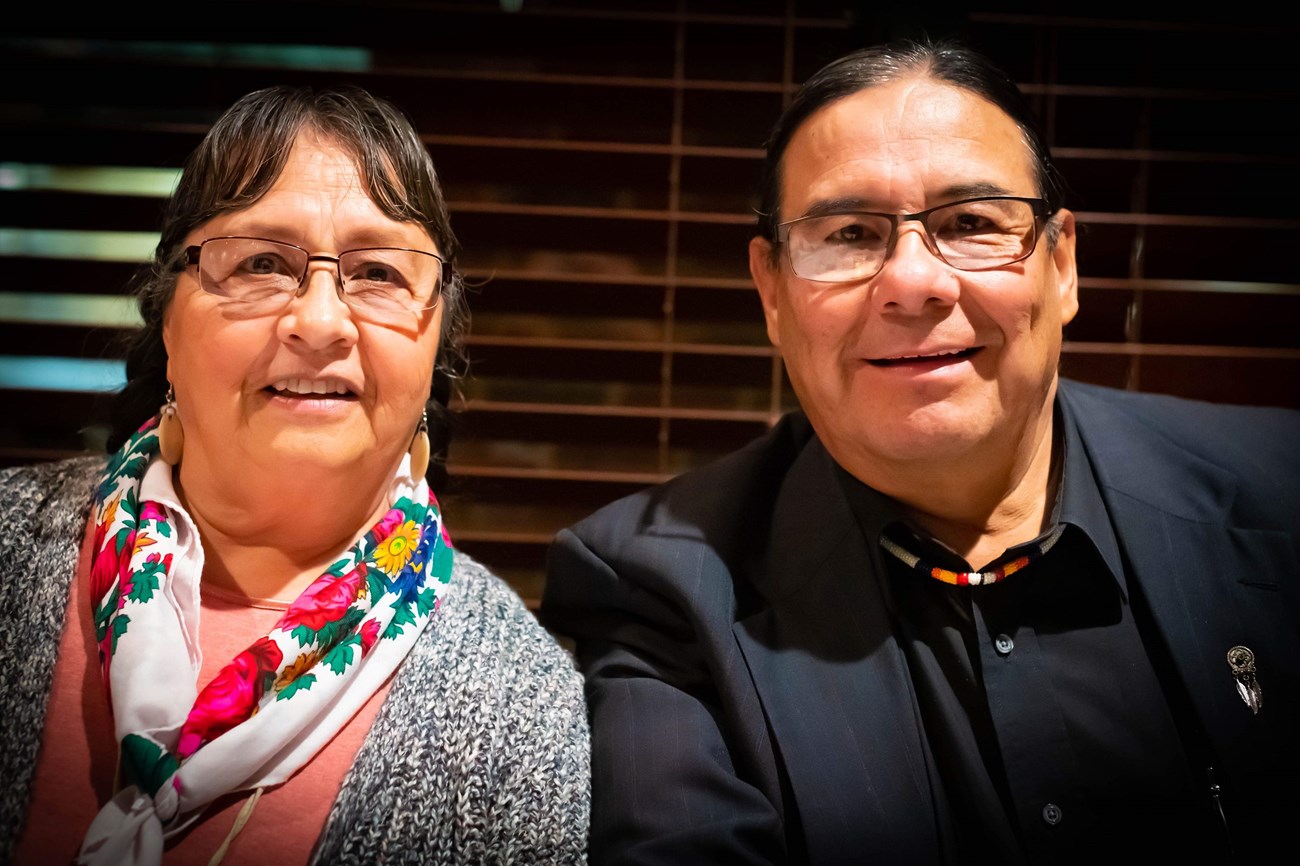 Darnell Rides At The Door
Darnell, or NiiTooKimNee (Lone Camper), is a respected Pikunii (Blackfeet) woman and comes from the Buffalo Chip band. Apprenticed to her elders who have gone before her, she is dedicated to continuing the legacy of a rich and powerfully beautiful way of life. Focusing on a greater understanding of the Pikunii World View, Darnell is driven to balance the best of both worlds.

As an Ookaan (Medicine Lodge), Thunder and Beaver Medicine Women, painted Lodge Owner, and member of many Pikunii core groups, Darnell shares the history of a proud people. She is a consultant for education, culture, traditions, Pikunii herbology and ethnobotany. She is a certified and licensed message therapist and Reiki Master.

Darnell is the honored matriarch of her family of five accomplished adults, 14 grandchildren, and two great-grandchildren, all of whom continue to take pride creating stability and equity in their heritage and world lifestyles of today. Darnell and her husband, Smokey, reside west of Kipp's Lake near the ancient wagon road crossing the Springhill Campsite of her ancestors. They have a consulting business and recently assisted in the production of the book People Before the Park and is currently officially listed as an Ambassador of Goodwill for the Blackfeet Nation.
Smokey Rides At The Door
Smokey is also known as Esstaakawn (Dependable, works for the People) of the Buffalo Back Fat Band of the Ampskapii Pikunii (aka South Peigan/Blackfeet). He is a traditional historian and respected elder who shares the balance of oral traditions of the Pikunii World View and Ways of Knowing as a teacher and mentor to all who are willing to listen, seek and honor. He inherited and carries on the storytelling skills of his Warrior grandfathers. Smokey is an accomplished educator, coach, administrator, business entrepreneur, civic and tribal leader, financial ambassador, and traditional caretaker of ancient teachings and bundles of the Blackfeet. Smokey has served as a board member, tribal councilman, minerals chairman where he has influenced and developed better relationships at the local, county, state and international levels. Smokey holds a degree in Industrial Arts with minors in History and Business. Currently he is listed as an Ambassador of Goodwill / Finance to the Blackfeet Nation.   
Steve Arca
Steve (Stipi) was named for his uncle Stephen (Stipn) Small Salmon in 1963. He was raised by his yaya, Mary Beaverhead Small Salmon and his mom, Alice Small Salmon in Ronan, Montana. His father is Jerry Arca of the Skokomish Tribe. Stipi is Ql̓ispé and enrolled in the Confederated Salish and Kootenai Tribes. Stipi started his language path when he was accepted in the Adult Intensive Language Program at Nk̓ʷusm Salish Language School in 2012. Stipi has found reawakening and vitalization of his identity through his language journey and has a renewed purpose in life, so much so, that he has been asked to be a keynote speaker at the Celebrating Salish Conference. More recently, he has decided to pursue a degree in Native Language Teacher Education through the collaborative Salish Language Educator Development program while simultaneously teaching full time within the Séliš-Ql̓ispé Culture Committee's Salish Language Apprentice program. He attributes his success to his yaya, sisile, Stipn, Patlik, other elders, his family, and his friends.
Danielle Antelope
Danielle is a member of the Blackfeet and Eastern Shoshone Tribes and recently graduated from Montana State University with her degree in Sustainable Food and Bioenergy Systems. She is the Executive Director of a local nonprofit, FAST Blackfeet. Danielle acknowledges that Glacier is part of the Blackfeet Nations' home, and the people are connected to the land. She knows that Traditional Ecological Knowledge (native science) is just as real as western science and she will share her Blackfeet traditional knowledge of plants, the history of the Blackfeet people, and family stories.
Blackfeet Singers and Dancers
The group continue the long-standing tradition of sharing Blackfeet culture with Glacier National Park visitors through traditional songs and dance. Glacier National Park has been the backyard to the Blackfeet People since long before the park was established. Since the arrival of the first train, the Blackfeet have been here to greet visitors. The Blackfeet Singers and Dancers group has been giving visitors a glimpse of the past with their singing, dancing, and narrative of Glacier National Park for over 25 years.
Termaine Edmo 
Termaine is an enrolled member of the Blackfeet/Shoshone Bannock. She is a graduate of the Cuts Wood Immersion School and Blackfeet Community College. Termaine has been an active community member her entire life and her traditional upbringing has led her to be a cultural youth mentor. Termaine is currently the Climate Change Coordinator for the Blackfeet Nation. She believes in keeping the Pikunii way of life alive.
Frank Finley
Frank is a member of the Confederated Salish and Kootenai Tribes from the Flathead Indian Reservation in western Montana. He is the eldest son of Octave Finley, the Salish War Dance Chief. His mother, Edna, is an expert beadwork artist and crafts person who taught him a great deal about Indian beadwork and jewelry. After graduating from Salish Kootenai College in Environmental Science, he took several art classes to expand his horizons. Frank now teaches at the college and wants to share his cultural background and knowledge.
Vernon Finley
Vernon is a member of the Confederated Salish & Kootenai Tribes born and raised on the Flathead Reservation located in northwest Montana. He is a graduate of the University of Montana, Oklahoma City University, and the University of Georgia with bachelor's, master's, and doctorate degrees in education. Vernon is a former chairman for the tribe.
Don Fish
Don is an enrolled member of the Blackfeet Nation, adjunct faculty member teaching Native American Studies at Great Falls College-MSU, and a traditionalist (which means practicing my native culture). Glacier National Park is part of my people's aboriginal homeland and I feel that it is my obligation to inform non-natives of our people's way of life and to help with understanding and appreciating the Native American's belief and philosophy.
Jack Gladstone
Jack is "Montana's Troubadour." An enrolled member of the Blackfeet Indian Nation, Jack is co-founder Glacier National Park's "Native America Speaks" program, the longest continuously running indigenous speaker series in National Park Service history. Jack illustrates indigenous culture through music, lyric poetry, and storytelling. His most recent album, Native Anthropology, was honored as "Best Historical Recording" by the Native American Music Association. In 2013, he was presented with the C.M. Russell Heritage Award, recognizing his contributions "to the legacy, culture, life and country of Charlie Russell's west." In the same year, Jack founded "Blackfeet Headwaters Alliance", a local non-profit conservation organization focused on watershed stewardship and conservation on and around the Blackfeet Reservation. Jack was inducted into the University of Washington's Alumni Hall of Fame, for his "innovations in the field of Speech Communications." As a scholar-athlete, Jack also was a member of the 1978 Rose Bowl championship team. In 2016, Jack Gladstone received the Governor's Art Award from the State of Montana. At the Smithsonian Museum of the American Indian, in 2022, Jack was awarded, from the National Park's Conservation Association, the prestigious Robin Winks Award "…For sharing and elevating the rich culture and history of Western land and peoples through art, storytelling and song." In 2023, Jack was inducted into the Montana Music Hall of Fame.
Mariah Gladstone
Mariah is a member of the Blackfeet Nation of Montana and the Cherokee Nation in Oklahoma. She has been speaking and performing in and around the park since she was 4 years old and continues to share Blackfeet stories across the country. Mariah graduated from Columbia University and currently focuses her efforts in cultural revitalization and Indigenous foods.
Robert Hall
Robert was born and raised on the Blackfeet Reservation where he is the director of Blackfeet Native American Studies Program for the Browning Public School District. Robert is working on revitalizing the Blackfoot languages and is one of the youngest speakers of the Blackfoot language. Robert is involved in the Native American Speaks program because he promotes his tribe and people in a positive light and bring a better understanding to the culture, land, and history of the people. Robert has two dogs not including all the rez dogs scattered through Browning and Heart Butte.
Ernie Heavy Runner
Ernie was raised on a ranch where he learned the old ways from his grandmother who taught him about his Blackfeet culture and language. He has also taught outdoor survival. Ernie Heavy Runner is known as a hero among the Blackfeet people for his life-saving actions stopping a run-away bus filled with firefighters in 1991.
Ernie's program is entitled "Blackfeet History, Culture and Animals." The program focuses on how animals play an important part in Native American cultures, how and why animal names were given to Native Americans, the history of the Blackfeet, vision quests, and how the Blackfeet relate to Glacier National Park.
Genevieve M. Huitt
Genevieve is an elder of the Confederated Salish & Kootenai Tribes who was born and raised in St. Ignatius and attended a Bureau of Indian Affairs Boarding School. She received her B.A. degree from the University of Montana and taught 3rd and 4th grade at St. Paul's Mission in Hays, Montana. She founded and is a director of the National Native American Music Association. She has represented American Indigenous people at the Smithsonian and on trips to Europe and the Philippines. She is an author who also teaches children to write books. During her program titled "American Indian Music and Storytelling," Genevieve will play cultural and contemporary native music of the American Indian and will tell stories of the Ponderay people through music. She believes that the Earth is our sacred Mother and we must take care of her as she will take care of us.
Iron Shield Creative - Lailani Upham and Carrie Bear Chief

Lailani Upham 
Lailani is an Amskapi Pikuni (Blackfeet Nation) tribal member and a descendent from the Aaniiih, Nakoda, and Dakota tribes. Lailani grew up on the Blackfeet and Fort Belknap Indian reservations where she explored her home landscapes as a kid and got into trouble for taking off into the mountains without notice on adventures. She grew up hearing the stories and history of her tribal people and was grounded in identity through the passing down of oral traditions from her grandparents on both sides of her family and tribal lineage. Lailani is also the visionary behind Iron Shield Creative LLC, a consulting platform crafting Indigenous stories and holding creative Indigenous workshops from indoors to the outdoors. She is a multidisciplinary journalist, photojournalist, and filmmaker specializing in Indigenous storytelling, land stewardship, and culturally relevant and culturally lively activities. She is passionate about land conservation efforts as well as traditional and contemporary Blackfeet and Native cultures. She says her experience and passion have led her to a closer connection to nature and like-minded storytellers while vamping up a hunger to encourage others to tap into their voice through written and visual storytelling. Above all, Lailani loves being a grandmother, mother, sister, daughter, auntie, and friend; and takes these roles very seriously. Lailani is a U.S. Army veteran and woman owner of an Indigenous business where she promotes tribal and cultural values every day by living her best, strongest, fearless, and hilarious life.
Carrie Bear Chief
Carrie is a Native American and enrolled in the Blackfeet Tribe. For 18 years, Carrie worked for her Tribe helping elderly community members with Long Term Care Services, including five years as the managing director. She has dedicated many years of her life to helping the elderly and disabled in her community, which has helped her build a strong relationship with the elders and caregivers on the Blackfeet reservation. Carrie has always worked in her community, both paid and volunteer, because she has a heart and passion for her people. She has always tried to inspire Indian people to rise up and take their place in today's society. She tries to be a voice that encourages them and let them know they have worth and talents that they can contribute to the Blackfeet Nation and the world.

Carrie has had the opportunity to speak at many venues across the United States and across Indian Country, representing and advocating for her fellow Native people. She has always been a spiritual person, and being around her elders has taught her to look at life through that spiritual lens. This led Carrie to becoming an ordained minister, and she currently serves as the associate Pastor of Faith Dominion Center on the Blackfeet reservation.

Carrie is excited to have the opportunity to continue to strengthen a bridge of understanding and share cultural values through her knowledge of the Blackfeet customs, stories, and history. Carrie lives by words of wisdom from her elders, including these from her uncle Chief Earl Old Person, "We have learned to live with what we have while we hope for a better future for our children, more dignity for our old people and better opportunity for ourselves. All we need is time and cooperation."
Kevin Kicking Woman
Kevin is a tribal member of the Blackfeet/Cree Nation in Montana. Kevin served in the Navy for four years, based on the USS Sacramento AOE-1, in Bremerton, Washington. He completed three tours overseas and one tour in the Desert Storm conflict. He earned his bachelor's degree in Native American Studies and Anthropology, he graduated from the University of Montana in 2014 with a master's degree in Interdisciplinary Studies (Cultural Anthropology, Linguistics and Music Ethnology). Most recently he began working at Browning High School as a Blackfeet Native American Studies teacher. Kevin has been raised, lives and practices his native ceremonies, traditions, singing and dancing. He is an active member of many of the societies. His passion for singing has brought him respect, acclaim and knowledge. His singing, sharing and teaching others has impacted and enriched many lives.
Edwin "Sooney" Little Plume Sr.
Sooney is a full blood Blackfeet Indian who practices his native culture and has knowledge of his ancestors' costumes, traditions, and language. Sooney is a singer and traditional dancer. He will share stories of the mountains and why they are so important to the Blackfeet people.
Joseph Running Crane
Joseph is a singer songwriter born and raised in Browning and Heart Butte, Montana. He spent the 12 years with various punk and country bands as they traveled across the country. For the last five years, Joseph has made a fickle living as a western troubadour, while maintaining a spartan approach to songwriting and performance. He was named a 2019 Artist in Business Leadership Fellow. Joseph has been featured in Montana writer Aaron Parett's book Montana Americana Music: Boot Stomping in Big Sky Country. He is thrilled by any opportunity to share his thoughts and songs in the place that has inspired so many of them.
Alicia & Taos Yellow Owl
Alicia is the coordinator of the Native Science Field Center at Blackfeet Community College. As the coordinator, Alicia teaches a Native Science Institute afterschool program and works to connect students with Blackfeet Science. Alicia also oversees the Native Science Field Center's Fellow's program. This program is for BCC students in any STEM field. Alicia is interested in furthering people's knowledge about the Blackfeet and building a working relationship with Glacier National Park.

Taos attended Cuts Wood Blackfeet Language Institute from K-8th grade. He is now in the 10th grade and goes to Heart Butte High School. Taos is fluent in the Blackfeet language and knows traditional sign language.
Treyace Yellow Owl
Treyace is an enrolled member of the Blackfeet Tribe. She was born and raised in Browning. From the age of 5 she attended a Blackfeet Language Immersion School and is fluent in her native language. Treyace has extensive knowledge in the history and language of the Blackfeet People. She is involved in this program to spread positive, accurate, and dependable knowledge of her people.
Jay Young Running Crane

Jay is an enrolled member of the Blackfeet tribe and is a self-taught artist. Today, he mostly works with beads, making bracelets, medallions, dance outfits, and beaded pictures. In recent years, he has sold his arts and crafts at the Museum of the Plains Indian as well as at craft shows and bazaars. When beads arrived to Blackfeet Country, the people started using beads on their clothing and war items. Today, the Blackfeet still use beads for dance outfits, jewelry, and arts and crafts. Public schools are also starting to teach beading in their art classes. Jay feels that beaders need to show and pass on their knowledge to youth and all those who want to learn.
Last updated: June 5, 2023