NPS Announces 2010 Native America Speaks Program Schedule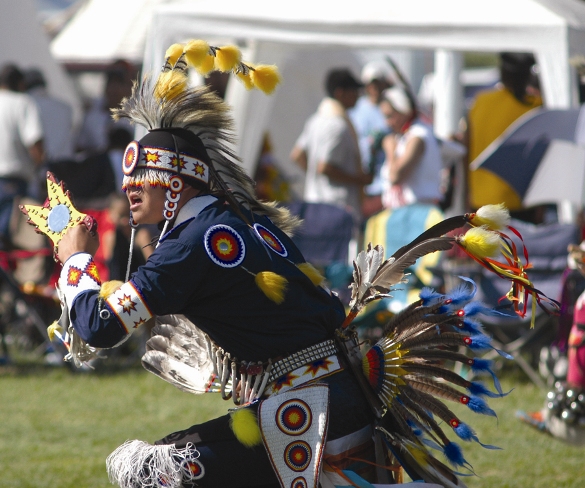 News Release Date:
June 16, 2010
Contact: Amy Vanderbilt, 406 888-5838
Contact: Wade Muehlhof, 406 888-7895
WEST GLACIER, MONT. – Glacier National Park officials are pleased to announce the entire Native America Speaks schedule for the 2010 season. Now in its 29th season, the Native America Speaks program provides park visitors the opportunity to hear from members of the Blackfeet, Salish and Kootenai Tribes as they share their perspectives about their culture, traditions, mythology and personal connection to this place now known as Glacier National Park.
All programs are free except for Two Medicine Lake Singers and Dancers performances held on Wednesday evenings at the St. Mary Visitor Center Auditorium. Tickets go on sale the morning of the performance and are available at the St. Mary Visitor Center Bookstore ($5 for adults and free for children 12 and under). Seating is limited. 

Glacier National Park 2010 Native America Speaks Programs:
Date

Time

Program

Speaker

Location

 

 

 

 

 

June

June 22 Tues.

8:00 pm

Native America Speaks

Kenneth Eagle Speaker

Many Glacier Campground

June 23 Wed.

8:00 pm

Native America Speaks

Ernie Heavy Runner

Two Medicine Campground

June 24 Thurs.

8:00 pm

Native America Speaks

Edward North Peigan

Rising Sun Campground

June 25 Fri.

8:00 pm

Native Anthropology

Jack Gladstone

Lake McDonald Lodge

June 26 Sat.

8:00 pm

Native America Speaks

Ernie Heavy Runner

Two Medicine Campground

June 27 Sun.

8:00 pm

Native Anthropology

Jack Gladstone

Many Glacier Hotel

June 28 Mon.

8:00 pm

Native America Speaks

Jack Gladstone

Apgar Campground

June 29 Tues.

8:00 pm

Native America Speaks

Jack Gladstone

Many Glacier Campground

June 30 Wed.

8:00 pm

Native America Speaks

Ernie Heavy Runner

Two Medicine Campground

June 30 Wed.

7:30 pm

Two Medicine Lake Singers and Dancers

Joe McKay, Clinton and Ray Croff

St. Mary Visitor Center

July

July 1 Thurs.

8:00 pm

Native America Speaks

Jack Gladstone

Rising Sun Campground

July 2 Fri.

8:00 pm

Native Anthropology

Jack Gladstone

Lake McDonald Lodge

July 3 Sat.

8:00 pm

Native America Speaks

Kenneth Eagle Speaker

Two Medicine Campground

July 4 Sun.

8:00 pm

Native Anthropology

Jack Gladstone

Many Glacier Hotel

July 4 Sun.

8:00 pm

Native America Speaks

Gen Huitt

Lake McDonald Lodge

July 5 Mon.

8:00 pm

Native America Speaks

Jack Gladstone

Apgar Campground

July 6 Tues.

8:00 pm

Native America Speaks

Jack Gladstone

Many Glacier Campground

July 7 Wed.

8:00 pm

Native America Speaks

Brad Hall

Two Medicine Campground

July 7 Wed.

7:30 pm

Two Medicine Lake Singers and Dancers

Joe McKay, Clinton and Ray Croff

St. Mary Visitor Center

July 8 Thurs.

8:00 pm

Native America Speaks

Edward North Peigan

Rising Sun Campground

July 9 Fri.

8:00 pm

Native America Speaks

Gen Huitt

Lake McDonald Lodge

July 10 Sat.

8:00 pm

Native America Speaks

Brad Hall

Two Medicine Campground

July 11 Sun.

8:00 pm

Native Anthropology

Jack Gladstone

Many Glacier Hotel

July 12 Mon.

8:00 pm

Native America Speaks

Vernon Finley

Apgar Campground

July 13 Tues.

8:00 pm

Native America Speaks

Jack Gladstone

Many Glacier Campground

July 14 Wed.

8:00 pm

Native America Speaks

Edward North Peigan

Two Medicine Campground

July 14 Wed.

7:30 pm

Two Medicine Lake Singers and Dancers

Joe McKay, Clinton and Ray Croff

St. Mary Visitor Center

July 15 Thurs.

8:00 pm

Native America Speaks

Jack Gladstone

Rising Sun Campground

July 16 Fri.

8:00 pm

Native Anthropology

Jack Gladstone

Lake McDonald Lodge

July 17 Sat.

8:00 pm

Native America Speaks

Brad Hall

Two Medicine Campground

July 18 Sun.

8:00 pm

Native Anthropology

Jack Gladstone

Many Glacier Hotel

July 19 Mon.

8:00 pm

Native America Speaks

Jack Gladstone

Apgar Campground

July 20 Tues.

8:00 pm

Native America Speaks

Ernie Heavy Runner

Many Glacier Campground

July 21 Wed.

8:00 pm

Native America Speaks

Ernie Heavy Runner

Two Medicine Campground

July 21 Wed.

7:30 pm

Two Medicine Lake Singers and Dancers

Joe McKay, Clinton and Ray Croff

St. Mary Visitor Center

July 22 Thurs.

8:00 pm

Native America Speaks

Edward North Peigan

Rising Sun Campground

July 23 Fri.

8:00 pm

Native Anthropology

Jack Gladstone

Lake McDonald Lodge

July 24 Sat.

8:00 pm

Native America Speaks

Brad Hall

Two Medicine Campground

July 25 Sun.

8:00 pm

Native Anthropology

Jack Gladstone

Many Glacier Hotel

July 26 Mon.

8:00 pm

Native America Speaks

Vernon Finley

Apgar Campground

July 27 Tues.

8:00 pm

Native America Speaks

Jack Gladstone

Many Glacier Campground

July 28 Wed.

8:00 pm

Native America Speaks

Edward North Peigan

Two Medicine Campground

July 28 Wed.

7:30 pm

Two Medicine Lake Singers and Dancers

Joe McKay, Clinton and Ray Croff

St. Mary Visitor Center

July 29 Thurs.

8:00 pm

Native America Speaks

Jack Gladstone

Rising Sun Campground

July 30 Fri.

8:00 pm

Native Anthropology

Jack Gladstone

Lake McDonald Lodge

July 31 Sat.

8:00 pm

Native America Speaks

Kenneth Eagle Speaker

Two Medicine Campground

August

Aug. 1 Sun.

8:00 pm

Native Anthropology

Jack Gladstone

Many Glacier Hotel

Aug. 2 Mon.

8:00 pm

Native America Speaks

Jack Gladstone

Apgar Campground

Aug. 3 Tues.

8:00 pm

Native America Speaks

Jack Gladstone

Many Glacier Campground

Aug. 4 Wed.

8:00 pm

Native America Speaks

Ernie Heavy Runner

Two Medicine Campground

Aug. 4 Wed.

7:30 pm

Two Medicine Lake Singers and Dancers

Joe McKay, Clinton and Ray Croff

St. Mary Visitor Center

Aug. 5 Thurs.

8:00 pm

Native America Speaks

Jack Gladstone

Rising Sun Campground

Aug. 6 Fri.

8:00 pm

Native Anthropology

Jack Gladstone

Lake McDonald Lodge

Aug. 7 Sat.

8:00 pm

Native America Speaks

Brad Hall

Two Medicine Campground

Aug. 8 Sun.

8:00 pm

Native Anthropology

Jack Gladstone

Many Glacier Hotel

Aug. 9 Mon.

8:00 pm

Native America Speaks

Vernon Finley

Apgar Campground

Aug. 10 Tues.

8:00 pm

Native America Speaks

Jack Gladstone

Many Glacier Campground

Aug. 11 Wed.

8:00 pm

Native America Speaks

Edward North Peigan

Two Medicine Campground

Aug. 11 Wed.

7:30 pm

Two Medicine Lake Singers and Dancers

Joe McKay, Clinton and Ray Croff

St. Mary Visitor Center

Aug. 12 Thurs.

8:00 pm

Native America Speaks

Jack Gladstone

Rising Sun Campground

Aug. 14 Sat.

8:00 pm

Native America Speaks

Kenneth Eagle Speaker

Two Medicine Campground

Aug. 15 Sun.

8:00 pm

Native Anthropology

Jack Gladstone

Many Glacier Hotel

Aug. 16 Mon.

8:00 pm

Native America Speaks

Jack Gladstone

Apgar Campground

Aug. 17 Tues.

8:00 pm

Native America Speaks

Jack Gladstone

Many Glacier Campground

Aug. 18 Wed.

8:00 pm

Native America Speaks

Ernie Heavy Runner

Two Medicine Campground

Aug. 18 Wed.

7:30 pm

Two Medicine Lake Singers and Dancers

Joe McKay, Clinton and Ray Croff

St. Mary Visitor Center

Aug. 19 Thurs.

8:00 pm

Native America Speaks

Jack Gladstone

Rising Sun Campground

Aug. 20 Fri.

8:00 pm

Native Anthropology

Jack Gladstone

Lake McDonald Lodge

Aug. 21 Sat.

8:00 pm

Native America Speaks

Brad Hall

Two Medicine Campground

Note: Time for outdoor campground programs changes to 7:30 pm as of August 22nd due to earlier sunset.

Aug. 22 Sun.

8:00 pm

Native Anthropology

Jack Gladstone

Many Glacier Hotel

Aug. 23 Mon.

7:30 pm

Native America Speaks

Jack Gladstone

Apgar Campground

Aug. 24 Tues.

7:30 pm

Native America Speaks

Kenneth Eagle Speaker

Many Glacier Campground

Aug. 25 Wed.

7:30 pm

Native America Speaks

Edward North Peigan

Two Medicine Campground

Aug. 25 Wed.

7:30 pm

Two Medicine Lake Singers and Dancers

Joe McKay, Clinton and Ray Croff

St. Mary Visitor Center

Aug. 26 Thurs.

7:30 pm

Native America Speaks

Jack Gladstone

Rising Sun Campground

Aug. 27 Fri.

8:00 pm

Native Anthropology

Jack Gladstone

Lake McDonald Lodge

Aug. 28 Sat.

7:30 pm

Native America Speaks

Ernie Heavy Runner

Two Medicine Campground

Aug. 29 Sun.

8:00 pm

Native Anthropology

Jack Gladstone

Many Glacier Hotel

Aug. 30 Mon.

7:30 pm

Native America Speaks

Ernie Heavy Runner

Apgar Campground

Aug. 31 Tues.

7:30 pm

Native America Speaks

Kenneth Eagle Speaker

Many Glacier Campground

September

Sept. 1 Wed.

7:30 pm

Native America Speaks

Ernie Heavy Runner

Two Medicine Campground

Sept. 2 Thurs.

7:30 pm

Native America Speaks

Edward North Peigan

Rising Sun Campground

Sept. 3 Fri.

8:00 pm

Native Anthropology

Jack Gladstone

Lake McDonald Lodge

Sept. 4 Sat.

7:30 pm

Native America Speaks

Kenneth Eagle Speaker

Two Medicine Campground

Sept. 5 Sun.

8:00 pm

Native Anthropology

Jack Gladstone

Many Glacier Hotel

Sept. 6 Mon.

7:30 pm

Native America Speaks

Jack Gladstone

Apgar Campground

Sept. 7 Tues.

7:30 pm

Native America Speaks

Kenneth Eagle Speaker

Many Glacier Campground

Sept. 8 Wed.

7:30 pm

Native America Speaks

Edward North Peigan

Two Medicine Campground

Sept. 9 Thurs.

7:30 pm

Native America Speaks

Ernie Heavy Runner

Rising Sun Campground

Sept. 11 Sat.

7:30 pm

Native America Speaks

Kenneth Eagle Speaker

Two Medicine Campground

- NPS -
Last updated: March 31, 2012