Glacier National Park to be Featured on New Quarter
Date:
April 5, 2011
Contact:
Ellen Blickhan, 406-888-5838
Contact:
Bill Hayden, 406-888-7927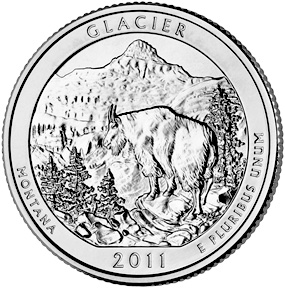 WEST GLACIER, MONT. – Glacier National Park is pleased to join the United States Mint for the launch of the seventh coin in the America the Beautiful Quarters® Program. The ceremony will take place on April 13, 2011 at the Columbia Falls High School Gymnasium at 1:00pm, and the public is invited to attend. At the ceremony, B. B. Craig, Associate Director of Sales and Marketing, United States Mint and Chas Cartwright, Superintendent of Glacier National Park will be joined by dignitaries, and their representatives, from throughout the state of Montana. Following brief remarks, a coin exchange will take place where the public can swap their currency for $10 rolls of the new Glacier National Park quarters. All children 18 and under will receive a free quarter.
The new coin, one of five new coins honoring National Parks to be released this year, features a mountain goat surveying the high country with Reynolds Mountain in the background. Superintendent Cartwright noted, "The design of the coin is one of the iconic views of Glacier National Park and will be very familiar to the thousands of visitors that drive over the Going-to-the-Sun Road each summer. Fans of the park can now carry a little bit of Glacier with them in their pockets." Cartwright continued, "This event would not have been possible without the enthusiastic support of our partners in the local community, and in particular the Columbia Falls High School staff and students. Everyone at the park would like to thank them for their hospitality and for allowing us to share part of their day."
Immediately following the brief ceremony there will be a coin exchange where the public can swap their currency for $10 rolls of the new Glacier National Park Quarters. The coin exchange is being made possible through the generous assistance of Freedom Bank in Columbia Falls, MT., who has worked with the Federal Reserve to ensure a supply of the coins is available and who will also provide staff at the event.
The evening before the Glacier National Park launch ceremony—Tuesday, April 12, at 5 p.m.—the United States Mint will hold a Coin Forum in the Community Building at Park Headquarters in West Glacier. The Coin Forum is an opportunity for the public to express their views about our Nation's coinage, and to learn about upcoming United States Mint coin programs and initiatives.
Last updated: February 24, 2015