Glacier's Jeff Harker Receives Top Honors for Work with Park Water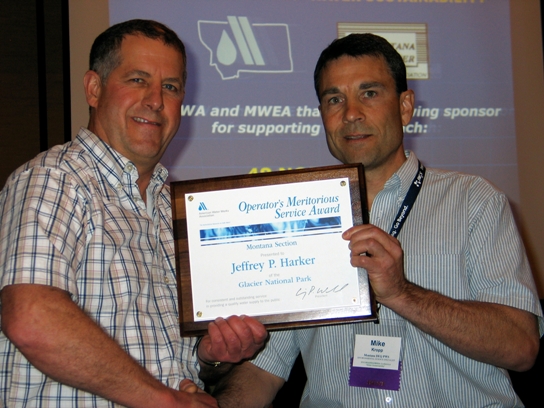 News Release Date:
May 19, 2010
Contact: Amy Vanderbilt, 406 888-5838
Contact: Wade Muehlhof, 406 888-7895
WEST GLACIER, MONT. – Glacier National Park officials today announced that park employee Jeffrey Harker earned state recognition for his work with Glacier's water systems. Harker recently received the Operator's Meritorious Service Award from the American Water Works Association (AWWA) Montana Section. The annual award is given by the AWWA for consistent and outstanding service in providing a quality water supply to the public.
Harker's duties include supervising all work related to plumbing, water treatment, sewage treatment and general utility maintenance on the west side of Glacier National Park. The water systems on the west side of the park vary greatly in source type, treatment needs, volume fluctuations, monitoring requirements and classification. With this variety comes the responsibility to meet a multitude of water and wastewater rules.
Mike Kropp, with the Montana Department of Environmental Quality, presented the award. Kropp said of Harker's work,"Imagine trying to keep up with ground water rules, surface water rules, ground water under the direct influence of surface water, wastewater regulations, transient systems, non-transient non-community systems, community systems, seasonal systems, year round systems and every monitoring, operational and managerial aspect associated with each. This would be a daunting task for anyone in the best of circumstance, but becomes increasingly more difficult in remote wilderness areas with seasonal employees."
Glacier's chief of Facilities Management Jim Foster added, "Jeff is able to effectively complete his duties because he maintains an obvious connection with his staff, keeps his staff trained, routinely speaks to appropriate State entities to stay current on requirements, takes a preventative approach to his job rather than a reactive and he keeps State entities up to speed on system changes, modifications and corrections. Jeff is truly one of the most exceptional operators I have ever met."
Harker received the Operator's Meritorious Service Award at the Montana Section AWWA annual conference earlier this month in Kalispell.
- NPS –
Last updated: February 24, 2015