National Park Service Honors Glacier Centennial Volunteers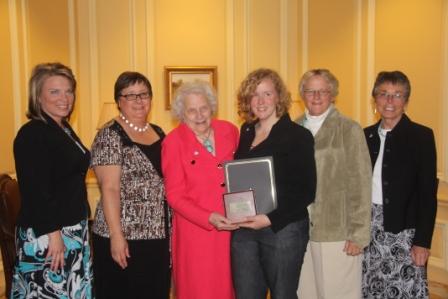 News Release Date:
May 14, 2010
Contact: Amy Vanderbilt, 406 888-5838
Contact: Wade Muehlhof, 406 888-7895
WEST GLACIER, MONT. – The National Park Service and the National Park Foundation honored the recipients of the 2009 George and Helen Hartzog Awards for Outstanding Volunteer Service at a ceremony yesterday in Washington, DC. National Park Service Deputy Director Mickey Fearn congratulated the recipients and recognized the contributions made by all park volunteers. "Volunteers increase the energy of the National Park Service and allow us to continue to do what needs to be done, including all things that could not be done without them."
The Hartzog Volunteer Group Award was given to the Glacier Centennial Program from Glacier National Park in Montana. To celebrate the park's 100th anniversary, a group of more than 75 volunteers from 43 different organizations planned and implemented a community-driven Centennial Program. Representing the Glacier Centennial Program were Glacier National Park Deputy Superintendent Stephanie Dubois, Glacier Centennial Coordinator Kassandra Hardy, volunteer Jan Metzmaker, and volunteer Alicia Thompson.
The volunteers invested more than 1,000 hours of service and embraced the mission of celebrating the park's rich history and inspiring personal connections. The group coordinated 108 centennial activities with 58 various organizations. They also helped 61 local businesses reduce their carbon footprint, developed 184 centennial products with 47 vendors, sponsored an art contest with 113 artists, and produced a book of selected stories with contributions from 240 authors.
The George and Helen Hartzog Awards for Outstanding Volunteer Service were started eight years ago to recognize the time, talent, innovation, and hard work contributed to national parks through the Volunteers-In-Parks (VIP) Program. Last year, 196,000 volunteers spent 5.9 million hours assisting the National Park Service. George B. Hartzog, Jr., served as the director of the National Park Service from 1964 to 1972 and created the VIP Program in 1970. In retirement, he and his wife established a fund to support the program and honor the efforts of volunteers. His widow, Helen, and children attended the awards ceremony and congratulated each recipient.
The Hartzog Individual Volunteer Award was presented to Tony Valois from Santa Monica Mountains National Recreation Area in California. The Hartzog Youth Volunteer Award was given to 16-year-old Holly Marsh from Mississippi National River and Recreation Area in Minnesota. The Hartzog Enduring Service Award was presented to Richard Meissner from Cape Lookout National Seashore in North Carolina. The Hartzog Park Volunteer Program Award went to the Lake Mead National Recreation Area Volunteers-In-Parks Program.
- NPS -
Last updated: February 24, 2015