Logan Pass Designated First Important Plant Area in Montana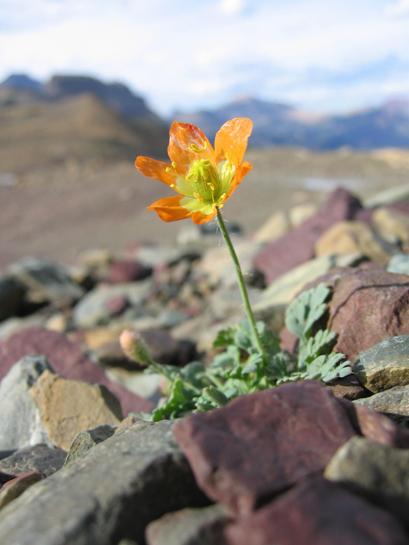 News Release Date:
April 30, 2010
Contact: Amy Vanderbilt, 406 888-5838
Contact: Wade Muehlhof, 406 888-7895
WEST GLACIER, MONT. – The Logan Pass area in Glacier National Park is well known for spectacular displays of summer wildflowers. This area is home to popular flowers like glacier lilies, beargrass, spring beauties, paintbrush and wandering daisies; but the area also harbors an exceptional number of rare arctic-alpine plants. There are more than 30 different rare plants and mosses in an area that covers less than three percent of the park.
As a result of the unique assemblage of sensitive species found in this small region, the Montana Native Plant Society recently designated the Logan Pass area as the first Important Plant Area (IPA) in the state of Montana.
An IPA is a special designation modeled after Important Bird Areas identified by the Audubon Society, a global program to identify and conserve areas that are vital to birds and biodiversity.
Jack Potter, Glacier's Chief of Science and Resources Management, says "While these areas are not legal site designations, the IPA's are a great tool for identifying and highlighting locations in which to focus conservation actions, research, and funding for plants and habitats." Potter also reminds park visitors that "this IPA, as with all high elevation areas in Glacier, is very sensitive to trampling and human disturbance. Sections of the Logan Pass area are even subject to seasonal closures when the soil is saturated from snowmelt. We ask visitors to follow the 'leave no trace' principles and stay on the trails which are the best place to view these spectacular wildflowers."
The Logan Pass IPA straddles the Continental Divide. It is located at the headwaters of the St. Mary drainage and ranges in elevation from 5,100 feet along Reynolds Creek north of Heavy Runner Mountain to 10,000 feet on Mount Siyeh. The Logan Pass region is a particular hot spot due to a wide diversity of habitats, including alpine meadows, wetlands, turf, hanging gardens, fellfields, moist and dry dwarf shrublands and more.
Within the new IPA you can find eight globally rare species and 27 different state listed sensitive species representing about 30 percent of the state-listed species found in the park. Logan Pass provides habitat for the world's largest population of goose-grass sedge. It the only place in Montana to view glaucous gentian, running pine, Macoun's draba, and several moss species.
The Montana Native Plant Society anticipates designating additional Important Plant Areas in coming years, as many other special areas across the state qualify for designation. More information on the program and the Logan Pass designation is available at: www.mtnativeplants.org/Native_Plant_Conservation.

- NPS –

Editor's Notes: Public domain pictures of relevant wildflowers and the Logan Pass IPA can be downloaded at: www.flickr.com/photos/glaciernps/sets/72157623793566357/
Please credit the National Park Service (NPS). An interview with one of the park's wildflower experts is available upon request.
Last updated: February 24, 2015