Glacier National Park and Blackfeet Transit Partnership Provides Maintenance for Sun Road Shuttle and Six Shuttle Buses for Blackfeet Transit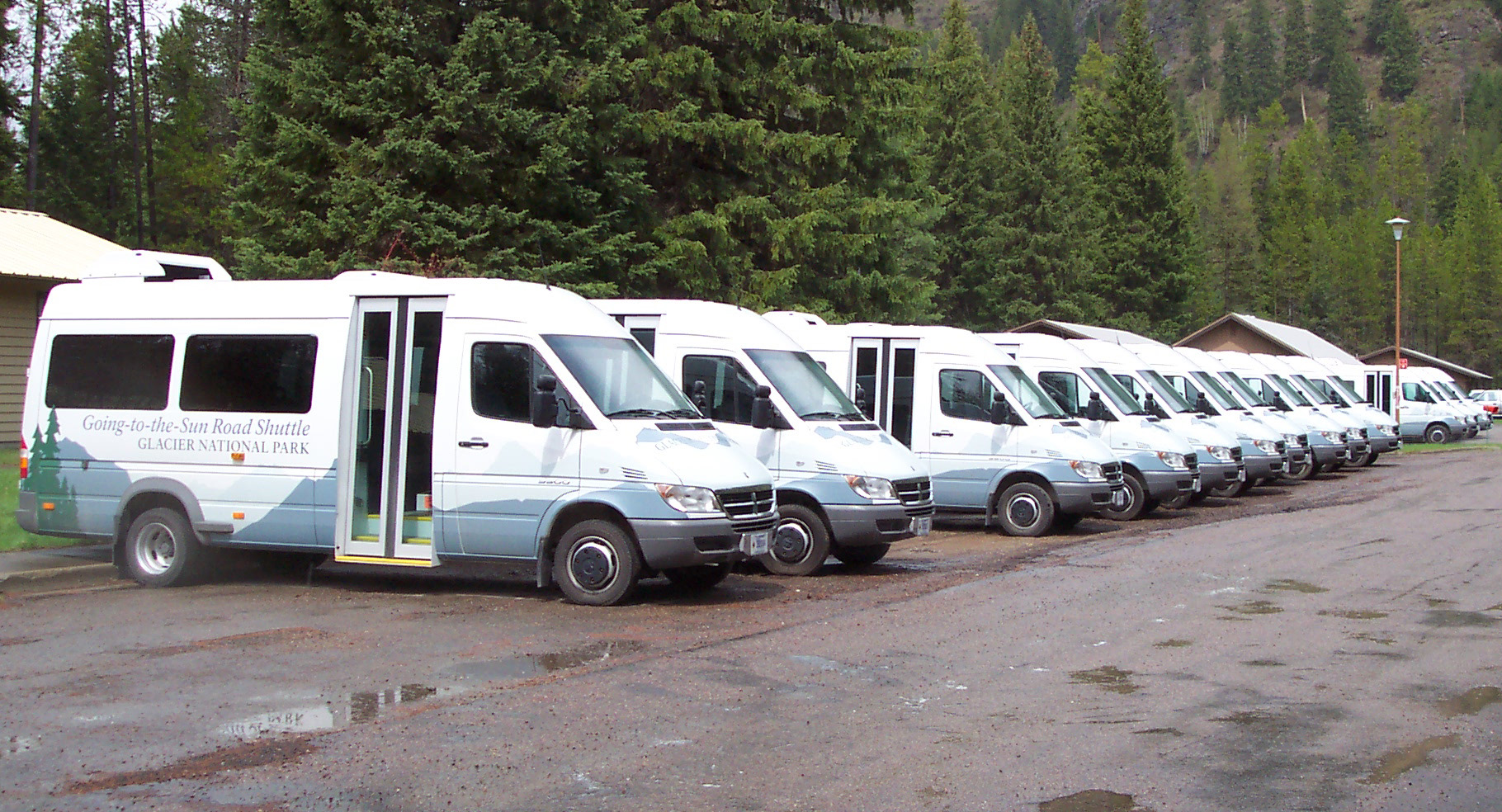 News Release Date:
June 19, 2009
Contact: Amy Vanderbilt, 406-888-5838
Contact: Wade Muehlhof, 406 888-7895
GLACIER NATIONAL PARK, MONT. – As part of the ongoing partnership between Montana Department of Transportation (MDT), Flathead County (Eagle Transit) and Glacier National Park, service and major maintenance operations for the east side Going-to-the-Sun Road (Sun Road) transit shuttles will now occur at the new Blackfeet Transit facility in Browning.

As part of that agreement, six 12-passenger 2006 Sprinters with wheel chair lifts were transferred to Blackfeet Transit. Blackfeet Transit has been providing transportation service since 1978. The six buses more than double their fleet. Blackfeet Transit provides more than 24,000 rides per year to people with disabilities, those going to medical appointments, senior citizens and other community service needs.

Ellen Baker, Program Manager of Blackfeet Transit, says the addition of the six shuttles means they'll be able to greatly expand their radius of service, with plans for service to Great Falls, Cut Bank, and Heart Butte. Baker added, "Blackfeet Transit is really glad to be part of the grant that Glacier National Park received to coordinate this agreement." The Going-to-the-Sun Road shuttle routes are simplified this year as the buses continue to provide alternate transportation on the Sun Road during the ongoing reconstruction project. The smaller fuel-efficient Sprinters operate on the narrow and winding alpine section of Sun Road, larger buses operate on all other sections.

The optional free shuttle service is not intended to replace the popular Sun Road guided interpretive tours currently provided by Sun Tours (Blackfeet perspectives) and Glacier Park, Inc. (historic red buses). The Sun Road shuttles only provide step on, step off, point-to-point transportation. Those park visitors wishing to enjoy an interpretive guided tour should contact Glacier Park, Inc. (406-892-2525) and/or Sun Tours (1-800-786-9220 or 406-226-9220).
-NPS-
Last updated: February 24, 2015