Going-to-the-Road Shuttle System Ends Second Season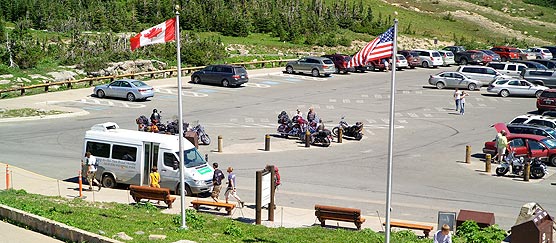 News Release Date:
September 11, 2008
Contact: Norma Sosa, 406 888-7895
WEST GLACIER, MONT. – Glacier National Park's Going-to-the-Sun Road transit system concluded its second year of operation on Labor Day, September 1st, reporting a small decline in the number of riders.  
The transit system had fewer riders this past season than in 2007, with a total of 105,639 riders, compared to 132,093 riders in 2007. This decline is attributed to operating the system fewer hours per day and fewer days than in 2007. 
Heavy winter snows required an opening that was later than usual of the Going-to-the-Sun Road, and the transit system began operations on July 3rd.    
The total ridership included 80,375 riders in the West side of the Park and 25,264 in the East side of the Park. Mechanical issues on four of the 53 passenger East Side buses required temporary substitution with smaller, 12-passenger buses.
The shuttle system ran for 12 hours each day beginning at 7:00 a.m. The last riders boarded buses at 7:00 p.m. The bus fleet consists of twenty-two 12-passenger buses and eight larger, 53-passenger buses.  
New in 2008 was the installation and implementation of an Intelligent Transportation System (ITS). The system monitors bus location, number of riders on the bus, number of riders boarding or alighting at each stop, and the current status of the bus schedule. This information enables transit managers to recognize trends in ridership in real time and to make adjustments as necessary.
The shuttle system is made possible by a cooperative agreement among three organizations, including the Montana Department of Transportation (MDT), Flathead County, and Glacier National Park. The plan includes a provision for the shuttle buses' use throughout the state in the Park's off-season.
For more information about MDT, please visit the Department's official website at http://www.mdt.mt.gov/ or call 406-444-6200. 
For more information about Eagle Transit, please visit the Flathead County website at http://www.co.flathead.mt.us/Eagle/index.htm or call 406-758-5728. 
For more information about Glacier National Park, please visit the Park's official website at https://www.nps.gov/glac or call 406-888-7800.
-NPS-
Last updated: February 24, 2015