Park Visitor Centers Named to National Register of Historic Places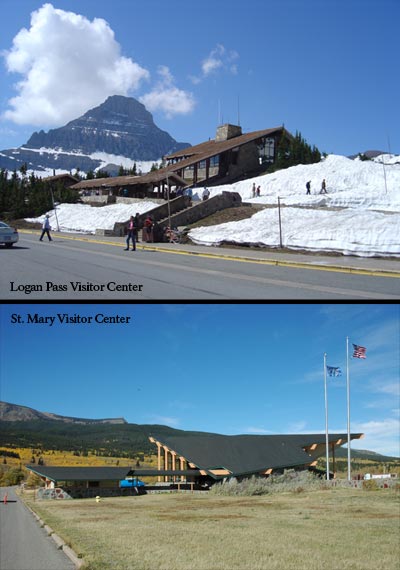 News Release Date:
July 15, 2008
Contact: Norma Sosa, 406-888-7895
WEST GLACIER, MONT. – Glacier National Park is pleased to announce that two park buildings, the St. Mary and Logan Pass visitor centers, have been listed by the National Register of Historic Places.
The National Register is the nation's official list of historic properties worthy of preservation. It is part of a national program to coordinate and support public and private efforts to identify, evaluate, and protect our historic and archeological resources. With the addition of these two visitor centers, Glacier NP has 334 buildings, structures, and sites that have received this distinction.
"It is exciting to see both the St. Mary and Logan Pass visitor centers listed on the National Register," said Glacier National Park Superintendent Chas Cartwright. "Although both visitor centers are less than 50 years old, they are eligible for listing as exceptional examples of the National Park Service (NPS) Mission 66 planning and development program."
Mission 66's goal was to improve park facilities for visitors and employees before the 50th anniversary of the NPS in 1966 to meet escalating visitor demands in the post World War II era. The economic boom that followed WWII meant that more American families were able to travel in personal automobiles. This increased mobility led to an increase in the number of visitors at the national parks. NPS Director Conrad L. Wirth responded to the increase by conceptualizing and implementing the massive multi-year rehabilitation program dubbed Mission 66.
The Logan Pass Visitor Center, at the summit of Glacier NP's Going-to-the-Sun Road, reflects the introduction of modernist architecture in the park. Primary design features include an imposing gabled roof of wood shingle echoing the chalet theme that has been used elsewhere in the park, window walls that provide expansive views of the natural features of the surrounding mountains, and walls of stone-embedded concrete and glass. Its two-level floor plan met Mission 66 goals of accommodating multiple functions while encouraging visitor flow through the building. Earlier NPS visitor facilities spread functions out in individual rustic-style buildings, creating a kind of park village. The Logan Pass Visitor Center was designed by Brinkman and Lenon Architects and Engineers of Kalispell in collaboration with NPS architects and was built between 1963 and 1966.
The St. Mary Visitor Center and its Entrance Station and two Checking Stations sit on Going-to-the-Sun Road near the park's east entrance. The modernist-themed visitor center has a dramatic sweeping roof and a wood frame with walls of stone-embedded concrete. The visitor center also reflects Mission 66's vision for the management of visitor services by providing a centralized location for a staffed information desk, exhibits, bathrooms, administrative offices, and a meeting space for interpretive programs. The buildings also were designed by Brinkman and Lenon and built between 1964 and 1968.
Rehabilitation of these historic buildings continues today but will not impact the historic character of either original building.
"As we look toward the future and the upcoming Centennial of Glacier National Park in 2010 and the National Park Service in 2016, it is exciting to recognize these buildings that were constructed for the 50th anniversary," said Cartwright. "The St. Mary and Logan Pass visitor centers remind us of a significant period in NPS history."
Last updated: February 24, 2015