David Restivo Wins National Interpretive Award
Date:
November 16, 2007
Contact:
Melissa Wilson, 406 888-7895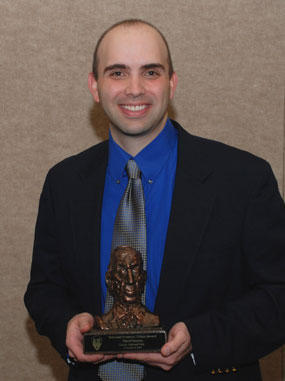 WEST GLACIER, MONT. – Glacier National Park Visual Information Specialist David Restivo was awarded the National Freeman Tilden Award for excellence in Interpretation, Nov. 8, 2007, at the National Association for Interpretation's national workshop in Wichita, Kansas.
Restivo was honored for creating a series of innovative interpretive exhibits for the park's Going-to-the-Sun Road that convey trip planning information while also encouraging visitors to experience Glacier National Park in new ways. The project uses creative solutions and tools such as interactive computer kiosks and electronic flat-panel LCD screens. These tools capture the interest of younger generations.
"David has elevated traditional park exhibits to a new level by incorporating technology and interactive activities," said National Park Service (NPS) Director Mary A. Bomar. "His multi-sensory exhibits utilized videos, computers, podcasts, three-dimensional reproductions, journaling exercises, and family-oriented games to encourage visitors of all ages to experience the park in new and innovative ways. David's text was also very effective in educating the public about park resources by linking the park's history of human transportation to universal concepts like travel, movement, and change."
"David turned traditional informational panels into interpretive moments, providing opportunities for visitors to form their own intellectual and emotional connections to the park," Glacier National Park Superintendent Mick Holm added. "David's creative solutions provide a unified interpretive message on historic and contemporary transportation and travel in the park, while also encouraging visitors to take public transportation. I know his work played a vital role in the success of our new Going-to-the Sun Road shuttle system."
Restivo, the NPS Intermountain Region Freeman Tilden Award nominee, competed against nominees from the other six regions of the NPS. These nominees had been recognized for projects that included environmental education, special exhibits on the Women's Army Corps and Soviet Forced Labor Camps, podcast creation, and interpretive tours of a historic slave plantation.
The Freeman Tilden Award, sponsored in partnership by the NPS and the National Parks Conservation Association, is an annual award recognizing outstanding contributions to the public through interpretation by an NPS employee. The award was created in 1982 to stimulate and reward creative work by NPS employees that result in positive impacts upon the visiting public. Nominees for this award are judged upon their creativity, originality, and positive contributions to enhancing the public's understanding of the NPS and the resources it protects.
- NPS -
Last updated: February 24, 2015