Glacier National Park Superintendent Mick Holm Announces His Retirement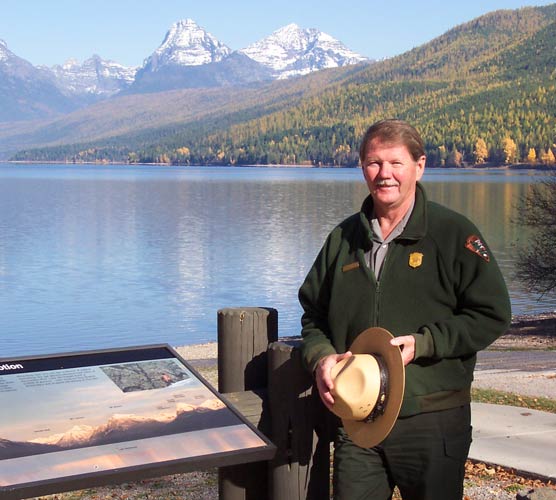 News Release Date:
November 15, 2007
Contact: Melissa Wilson, 406 888-7895
WEST GLACIER, MONT. – Mick Holm, Glacier National Park's Superintendent since 2002, has announced that he will retire on January 3, 2008, concluding his National Park Service (NPS) career that spanned more than 32 years.
Holm's career trail covered five states and six parks. He began his career in 1975 at Grant-Kohrs Ranch National Historic Site, where he worked initially as a seasonal park technician and then as a museum aid. In 1977, he transferred to Knife River Indian Villages National Historic Site as a ranger intake historian. His career also included: district interpreter at Bighorn Canyon National Recreation Area from 1979 to 1985, park manager at Knife River Indian Villages National Historic Site from 1985 to 1992, deputy superintendent at Mammoth Cave National Park from 1992 to 2000, and superintendent at Carlsbad Caverns National Park from 2000 to July 2002.
"It is bittersweet to be moving on to the next phase of my life. I will truly miss the many great people I have had the privilege to work with over the years. But, I will take with me many fond memories from my NPS career," Holm commented.
"One of the most emotional just happened this past September when I became an honorary chief of the Blackfeet Tribe of Montana. Blackfeet Tribal Chief Earl Old Person, and several other members of the Blackfeet tribe, performed the capture ceremony," Holm said. "My tribal name is "Spii Piita" which means High Eagle. I was touched to be given such an honor." The ceremony took place at the Parks, Peace, and Partnership Conference which celebrated the 75 Anniversary of the Waterton-Glacier International Peace Park.
Holm has been honored numerous times throughout his career with Special Act or Service Awards. Additionally, in 1984, he was awarded the Superior Service Award.
Holm and his wife plan to remain in northwestern Montana to be close to family and friends.
Glacier National Park Deputy Superintendent Stephanie Dubois will serve as Acting Superintendent until the position is filled.
- NPS -
Last updated: February 24, 2015